The grounds from your morning cup of go, converted to biofuel, means we get two sips at the cappuccino. JASON AGNEW reports
THE announcement that Transport for London (TfL) would be using a coffee-derived biofuel to run some of the capital's bus fleet is potentially important for the environment – but it's another twist in the city's hot and cold relationship with the bean.
A collaboration between bio-bean, Shell and Argent Energy could be adding a cleaner kick to London's famous double-decker buses. The fuel tanks will be filled with a biofuel mix of diesel and oil which has been extracted from coffee grounds. Production is slow, so far, with only enough on hand to power one London bus for a year. But think about the 20 million cups of coffee going down Londoners' throats every day; there is theoretically enough waste to power a third of London's bus transport needs.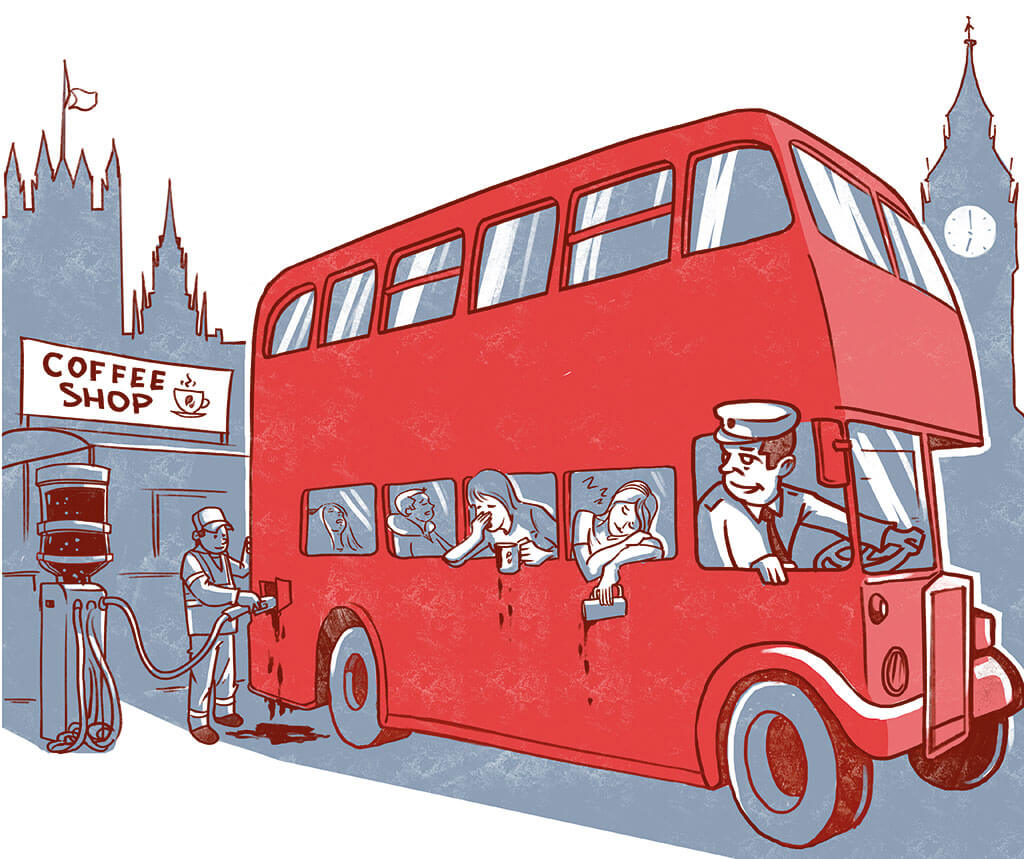 London's torrid love affair with java began back in 1652 when its first coffee house (a stall in reality) was opened just off Cornhill by a Greek, Pasqua Rosée, who had worked for a British Levant merchant in Smyrna (now Izmir), Turkey, where he had developed a taste for the brew. Before long he was selling more than 600 cups a day.
Fast-forward to 1998, when Starbucks acquired the UK-based Seattle Coffee Company and started the expansion into the European market with 56 outlets. By July 2016 that number had mushroomed to 884. With rivals Caffè Nero boasting 613 outlets nationwide and Costa over 2,000, it was clear that coffee consumption was again taking off. There was a 31 percent increase in coffee shops in the UK between 2011 and 2016. There are now 22,845 coffee shops in the UK, a six percent increase year on year, with 2,300,000,000 coffees being bought and consumed away from home.
All that extra coffee being consumed means a lot of coffee grounds. The company bio-bean (all written in trendy lower-case), was founded by Arthur Kay in 2013. bio-bean states on its website that the UK produces 500,000 tonnes of grounds a year, which is disposed of in landfill – emitting methane, which is 28 times more damaging than carbon dioxide. This is also costly due to the UK landfill tax.
Kay says there is "no such thing as waste, just resources in the wrong place". And he might be right. Spent coffee grounds are highly calorific; ideal for producing coffee logs, which can produce 20 percent more energy than wood when burnt. It takes the grounds from 25 cups of coffee to make one carbon-neutral log so – with an estimated 1,000 cups being made every second – this could be a viable alternative fuel.
In 2015 bio-bean opened the world´s first coffee recycling factory just north of Cambridge, and a year later its team, now over 40 strong, launched the log, a sustainable briquette for use in wood-burning stoves and fireplaces.
Theirs is a lean operation, forming partnerships with waste management companies such as Biffa and Veolia, which collect on their behalf from the likes of Costa – and they are always looking for innovative solutions. They give a good instance of their integrated approach on their website: Greggs bakery chain delivers products from its distribution centre in Kettering, East Midlands, to its bakery in Enfield, north London, every day. The delivery vehicles would be empty on their return to Kettering. Now, by only adding a few miles onto their 150-mile round trip, they carry coffee grounds collected from their retail outlets.
Known as backhauling, this practice enables bio-bean to receive tonnes of coffee waste daily, and means Greggs doesn't have empty lorries on the road.
bio-bean won the Grow category at Virgin Media's Voom competition in June 2016 – impressing a panel of judges which, of course, included Sir Richard Branson – and the future looks bright for the start-up with a vision of a world powered by coffee. It now it has the contract with TfL.
Afterwards Branson said: "The Paris Talks said the world should be carbon- neutral from 2050, and if we're going to get there we need tonnes of businesses like we've seen today all ploughing ahead, we need government support, we need every entrepreneur out there to move into clean energy."
Coffee might be the latest commodity to fuel buses, but it has been fuelling humans for centuries.
In the era of Cromwell's puritanical Commonwealth, coffee came to be seen as a catalyst for pure thought, sophistication and wit – as opposed to alcohol, which was associated with violence and lust. Even the plague of 1665 and the Great Fire a year later could not halt its growth.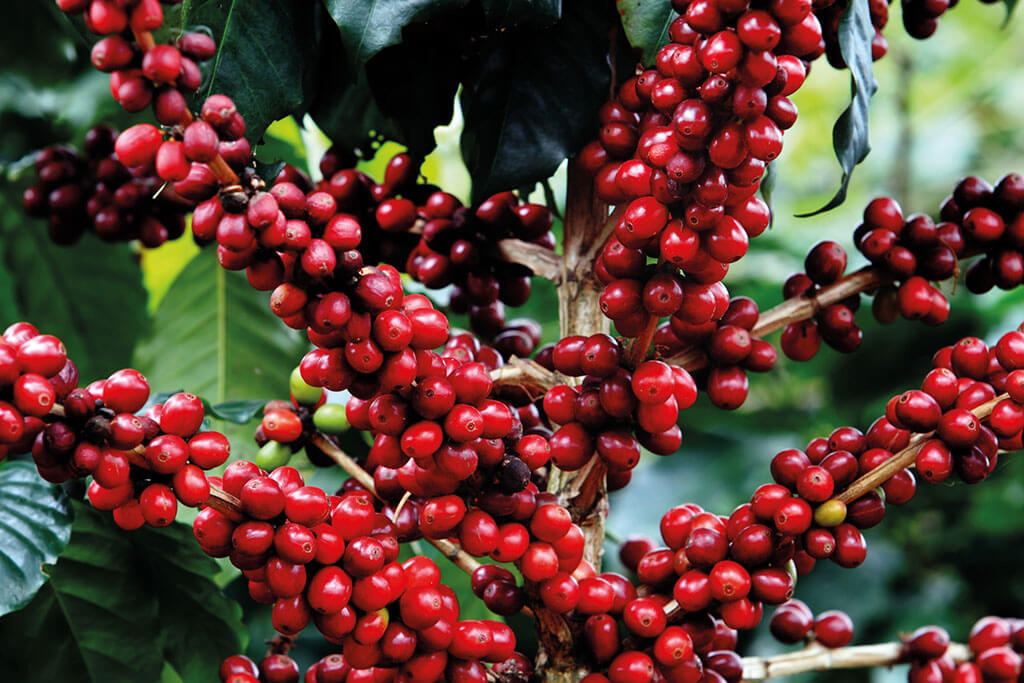 Between 1680 and 1730, London consumed more coffee than anywhere else on earth, and was second only to Constantinople for the number of coffee houses. The most conservative survey conducted in 1734 counted 551 (but that failed to include unlicensed establishments).
Coffee also played a large, but often unacknowledged, part in business. One particular coffee shop was founded by a Welshman, Edward Lloyd, in Tower Street in 1688. Three years later he moved to Lombard Street, the epicentre of the maritime business district. In 1696, as a service to his patrons, Lloyd started a paper called Lloyd's News, reporting on all matters maritime, and held shipping auctions. His business grew, and in 1774, long after Lloyd himself had passed on, the members of Lloyd's, having outgrown their premises, moved into the Royal Exchange. They started transacting solely as underwriters… and Lloyd's of London was born.
The coffee of yesteryear would have been a far cry from today's double decaf-latte with mocha sprinkles. A huge cauldron would have been brewed in the morning and kept bubbling away all day. The old Turkish proverb recommended that it should be "black as hell, strong as death, sweet as love", but contemporaries evoked a "syrup of soot and essence of old shoes" and was referred to as the "bitter Mohammedan gruel" by the 17th century equivalent of Brexiteers.
The English had always drunk ale, weak and watered-down (small beer), as the fetid water of the Thames and its tributaries even then proved too perilous to drink. A brew that didn't leave you in varying states of inebriation was a novelty that led to explosive growth. Indeed, the creation of the Bank of England, The Stock Exchange, the establishment of the insurance industry and auction houses all happened in the new era of coffee, and many were founded in coffee establishments.
However, coffee houses' promotion of political discourse and new ideas earned the mistrust of King Charles II, whose father had, after all, been beheaded. He issued a proclamation outlawing the sale of coffee, chocolate, sherbet or tea from any house on December 29, 1675 (it was repealed two days before it was due to come into effect).
As no self-respecting woman would ever be seen in one of these establishments, any place which caused husbands to be absent from the home faced disapproval. In The Women's Petition Against Coffee (1674) they condemned the "excessive use of that new-fangled, abominable, heathenish liquor called coffee" which, as they saw it, had reduced their virile men into effeminate layabouts.
Tea became a necessity, not a luxury, and the popularity of coffee was slowly eclipsed. But coffee wasn't going anywhere. Through the Mods era, where late-night cafes were all the rage, to the new millennium, where Seattle-style coffee culture ("second-wave coffee") has taken hold, Britain is still coffee-mad.
If the bus bio-fuel idea takes off – and it looks promising so far – the majority of Londoners will soon be waking up and smelling the coffee.