There are 171 UK billionaires in 2023, six fewer than last year. Oh dear, who screwed up…?
HARRY Kane, Harry Styles, Dua Lipa and the Duke of Westminster all feature in the new edition of The Sunday Times 35 under 35 Rich List.
A 68-page special edition of The Sunday Times Magazine spills (and counts) the beans on the 350 richest people in Britain.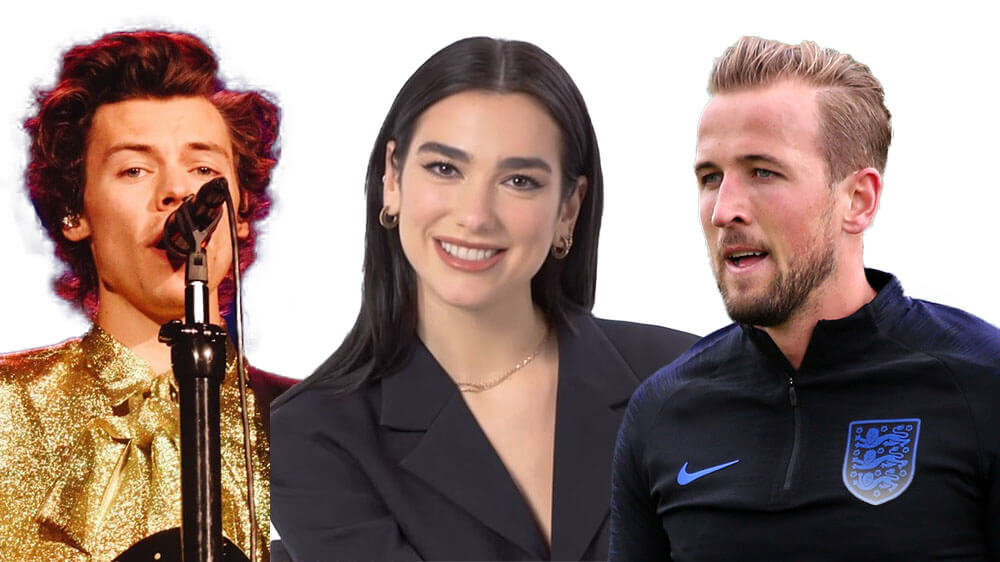 There are six fewer billionaires than last year, with a still impressive tally of 171 — but that's the first fall for 14 years. Their combined wealth is up, though: £683.856bn, or £30.734bn more than last year.
The Duke of Westminster heads the list; he inherited his title and a vast land and property portfolio — including 300 acres of Mayfair and Belgravia — when he was just 25. Now 32, he oversees the dynasty's company portfolio, which has real estate in 43 cities across 10 countries. His family's total wealth is estimated at £9.878bn.
Others in the list are self-made stars and entrepreneurs who have made it big with fashion, vodka, lingerie and perfume. Most have taken advantage of social media and the new age of Instagram to market directly to their peers.
Ben Francis has built a £900m fortune in just over a decade with sports clothing brand Gymshark. Athleisure and fashion brands feature strongly, with Dan and Melanie Marsden's Lounge Underwear, AYBL, run by Reiss and Kris Edgerton, and Manière De Voir, founded by former England footballer Reece Wabara.
Gen Z's appetite for gaming, and a generation of coding expertise, have boosted the fortunes of Johnny Boufahrat, Christian Owens, Christian Facey, and Daniel Knight, all of whose tech firms make the list.
Robert Watts, compiler of the list, said readers were fascinated by those from humble backgrounds who start their own businesses, work hard, and succeed.
"Many of these young guns are already employing hundreds of people," he said, "and some will go on to be the future of the British economy."
Many on the list — including Ben Francis, Harry Kane and Raheem Sterling — share tips for success. They emphasise the importance of giving back and supporting others.
Analysis of the list reveals that the majority made their own fortunes, while nine were born with "the silver spoon". Those who inherited wealth are worth comparatively more. Of the 35 listed individuals, 33 made it alone, with a combined worth of £5.8bn; the other five, who owe at least some of their wealth to inheritance, account for £13.1bn.
Four were born outside the UK, the others mostly come from London or Worcestershire. About half attended state schools, and a third didn't go on to further education.
The Sunday Times Rich List 2023: the wealthiest 35 under 35 in UK
| 2023 Rank | Name | Source of Wealth | 2023 Wealth |
| --- | --- | --- | --- |
| 1 | The Duke of Westminster and the Grosvenor family | Property: Grosvenor Group | £9.878bn |
| 2 | Lady Charlotte Wellesley | Brewing: Casa Cruz | £2.167bn |
| 3 | Johnny Boufahrat | Video conference app: Hopin | £1.714bn |
| 4 | Ben Francis | Sportswear: Gymshark | £900m |
| 5 | India Rose James | Property and Art: Soho Revue | £758m |
| 6 | Oliver & Alexander Kent-Braham | Car insurance: Marshmallow | £455m |
| 7 | Ed Sheeran | Music | £300m |
| 8 | Rory McIlroy | Golf | £200m |
| 9 | Adele | Music | £165m |
| 10 | Timothy Goodwin | Engineering: The Goodwin business | £163m |
| 11 | Lewis Morgan | Property and sportswear: Gymshark | £160m |
| 12 | Dan & Melanie Marsden | Lingerie brand: Lounge Underwear | £151m |
| 13 | David Campbell | Manufacturing: SureScreen | £150m |
| 13 | Anthony Joshua | Boxing | £150m |
| 13 | Harry Styles | Music and film | £150m |
| 16 | Christian Owens | Software: Paddle | £101m |
| 17 | Vishal Karia | Perfume: Affinity Fragrances | £98m |
| 18 | Daniel Radcliffe | Film | £92m |
| 19 | Reece Wabara | Fashion: Manière De Voir | £83m |
| 19 | Charlie Wilson | Property | £83m |
| 21 | Dua Lipa | Music, model and podcast | £75m |
| 22 | Gareth Bale | Football | £70m |
| 23 | Raheem Sterling | Football and property | £61m |
| 24 | Reiss & Kris Edgerton | Jewellery: Tayroc and Sportswear: ABYL | £60m |
| 24 | Josh Stevens | Retail: One Retail Group | £60m |
| 24 | Emma Watson | Film, drink, investment: Hestia Hebe | £60m |
| 27 | Charlie Morgan | Drink: AU Vodka | £55m |
| 27 | Jackson Quinn | Drink: AU Vodka | £55m |
| 29 | Niall Horan | Music | £54m |
| 29 | Ayman Rahman & Fateha Begum | Energy: Dare International | £54m |
| 29 | Louis Tomlinson | Music | £54m |
| 32 | Harry Kane | Football | £51m |
| 33 | Cara Delevingne | Model and actress | £50m |
| 33 | Christian Facey | Advertising: Audiomob | £50m |
| 33 | Daniel Knight | Developer: Kinetic Games | £50m |
Photo credits
Harry Styles: Lovclyhes, CC BY-SA 4.0, via Wikimedia Commons
Dua Lipa: VOGUE Taiwan, CC BY 3.0, via Wikimedia Commons
Harry Kane: Кирилл Венедиктов, CC BY-SA 3.0 GFDL, via Wikimedia Commons
Related: Millennial billionaires