A decade of minute-by-minute data shows a 1,700 percent increase in digital engagement
DOMO has released the annual glimpse at how much data is generated on the internet — every minute — by the ways people interact online.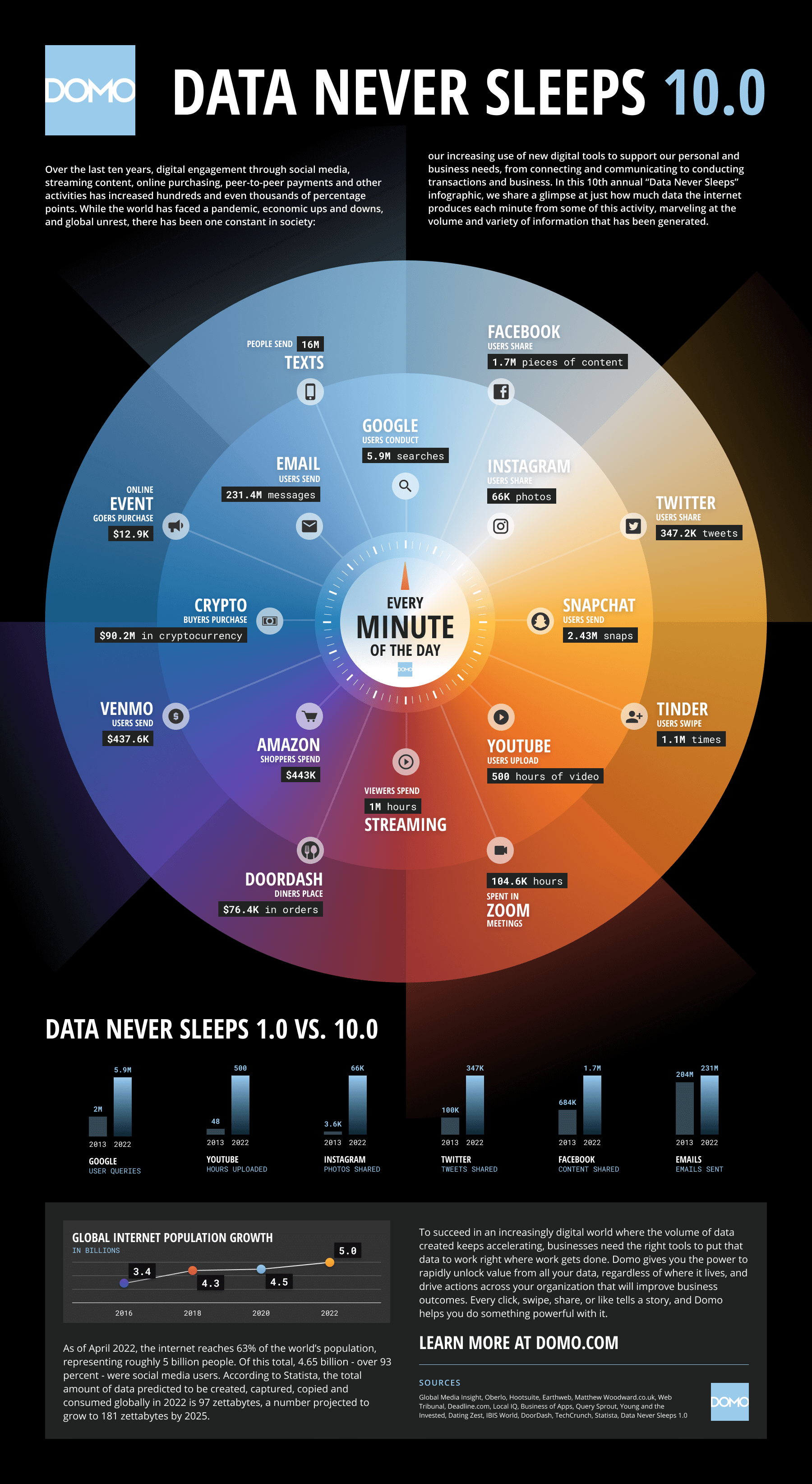 Domo (Nasdaq: DOMO) is a low-code data app platform that combines data and "puts it to work across any business process". The study found that the use of services such as Instagram, YouTube, Amazon and Venmo has increased hundreds and even thousands of percentage points.
CEO John Mellor said that "each click, post, swipe and share" contributed to the volume of created data — "and it's no secret that this acceleration of data is not slowing down".
A few highlights…
Connecting the World: In the past decade, the frequency of digital connection has skyrocketed. Instagram users went from posting 3,600 photos per minute to nearly 66,000 — a 1700 percent increase. Zoom users log 104,000 hours, Tinder users swipe 1.1 million times (up 164 percent), and smartphone owners send 16 million texts a day: three times as many as they used to.
Not Everyone Wins: While Twitter posts are up nearly three times since the inaugural Data Never Sleeps (2013), the platform has seen a 40 percent decline in user postings. Email has seen a relatively modest 13 percent increase, but other communications platforms have seen usage rise by hundreds of percentage points.
Digital Dollars: Every minute, shoppers spend $443,000 on Amazon, buyers spend $90.2m on cryptocurrency, and event-goers spend $12,938 on tickets. Venmo users today send $437,595 more in payments than in the previous decade, up 750 percent.
For more information click here