By RICHARD THOMAS
IT HAS been a busy year for electric vehicle manufacturers.
Tesla's Model Y, an SUV based on the Model 3, has been spotted "in the wild" for the first time. A prototype was snapped on a road in the US and a photo posted to Twitter by charging network company ChargePoint.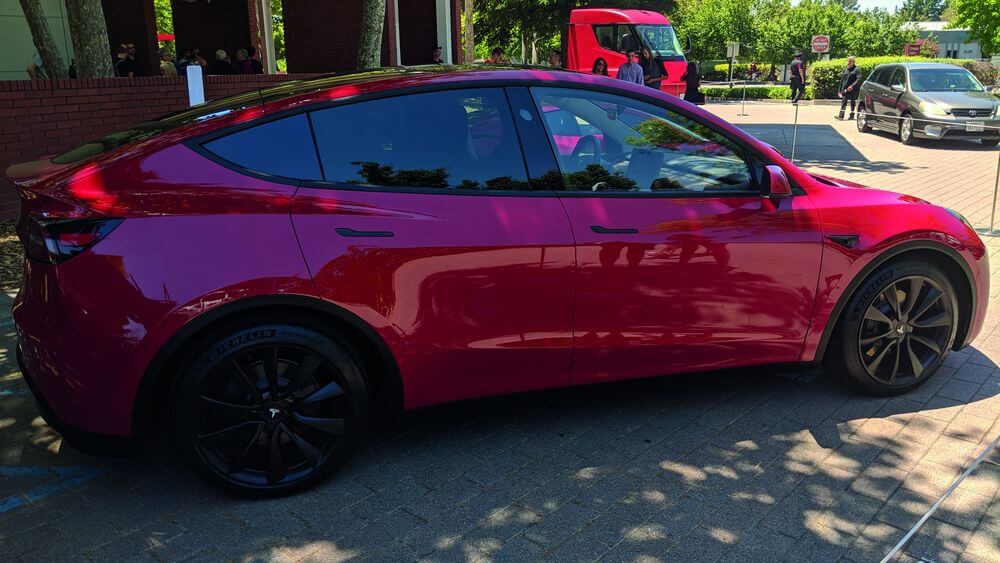 Tesla's Model 3 can now be ordered in Europe… with a tow hitch. Weekend caravanners have no excuse not to ditch the internal combustion engine in favour of something less polluting. With the accessory fitted, the Tesla can pull up to 910kg. (So a small caravan, then…)
***
Following our article in the Autumn 2018 issue of BV covering Dyson's venture into the EV world, setting up research and development at an old airfield, more details about their plans have possibly been revealed in a new patent application. As Dyson himself explained in an email to staff published by Auto Express, a patent doesn't necessarily lead to a commercial product — but at least we can say with a little more confidence how a Dyson EV might look.
***
Bucking the trend towards small electric cars, the patent describes a seven-seat crossover car with 24-inch wheels and good ground-clearance. Dyson wrote: "This makes a vehicle suited to city life and rough terrain, but could also contribute to increased range and efficiency." He added, "It is important to keep this in perspective and remember that we do not always use patents or make products based on patents that we have filed."
***
Fastest man on Earth Usain Bolt's company is already well-known in the world of electric scooters, but its latest project is an electric four-wheeler. The $10,000 Nano — which you can reserve with a deposit of $999 for late 2020 delivery — is a two-seater microcar designed for city use. It will come with a swappable battery pack. Alongside the car, Bolt will be launching an app that will allow owners to "car-share". This can earn money for the owner, and the swappable battery pack will avoid the need to recharge.
***
If you read our Winter 2018-19 issue (sold-out, but still available on the website), you might remember our article on Formula E, the all-electric challenger in the world of Formula racing. The 2016 F1 World Champion Nico Rosberg recently said that he believed Formula E will drive the conversion to electric vehicles.
"Racing series like ABB Formula E promote e-mobility in such an awesome way — and make it look so cool, feel so cool," Rosberg told Australian EV news website The Driven, "and this is important to help enhance the transition [to electric vehicles] and to get people to embrace it and to want to go try an electric car, experience it and maybe consider buying one.
"Clearly EV is the future. It's just a matter of time."