By RICHARD THOMAS
BUYING an electric car is getting easier (read, cheaper) in Europe.
France has announced a motor industry package that includes discounts of €7,000 (€5,000 for fleet buyers). In Germany, the current incentive of €3,000 will be doubled to €6,000. Spain is bringing in a scrappage scheme where scrapping a car more than 10 years old and buying a new one will receive between €400 and €4,000 (matched by the dealer) depending on the new vehicle's emissions — and zero emissions EVs attract the highest subsidy.
In addition, the EU is considering an EU-wide sales tax exemption for zero emission cars. Even without the cut, a dealership in Germany is offering an electric Renault Zoe on a two-year lease for free. (Or it was just seven days ago, but at the time of writing it is listed as AUSVERKAUFT or sold-out.)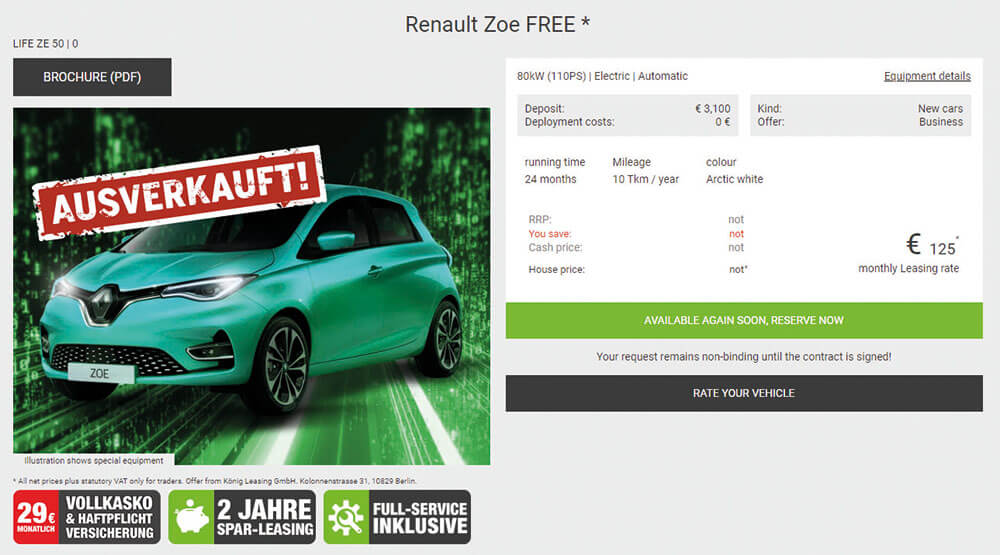 In terms of market share, in the UK in June EVs (battery EVs plus plug-in hybrids) accounted for 9.5 percent of new vehicle registrations. Germany and France had similar figures with 8.4 and nine percent respectively. Spain is playing catch-up, with just over three percent, but the industry is hoping that the new incentives will change that.
***
We covered the Ionity charging network in the Winter 2019-20 issue of BV. The company, which is a joint venture of several major car manufacturers, has just been celebrating the opening of its 250th charging station. Its target was 400 by the end of 2020, but with the strange circumstances that this year has thrown up, it remains to be seen whether that target will be met.
On the subject of charging, bi-directional charging and the use of connected cars as grid storage is being explored by makers such as Honda and Nissan. As reported in BV's 2019 Spring issue, eMotorWerks already has a network of charging stations in California that does just this. Until now, the biggest fish in the EV pond, Tesla, has resisted this innovation. There has been no official announcement, but recent analysis of the latest Model 3 by an engineer for EV news website Electrek indicates that Tesla has quietly made the car ready for bidirectional charging. Maybe there will be a policy announcement soon.
***
Meanwhile in Denver, Bye Aerospace is making good progress with its two-seater electric plane. In June, it started the process of choosing the propeller for its fully functional demonstrator. In July, it announced it had completed a critical design review and secured $10m of venture capital funding to build serial number 001, the first eFlyer2 conforming to the production specifications.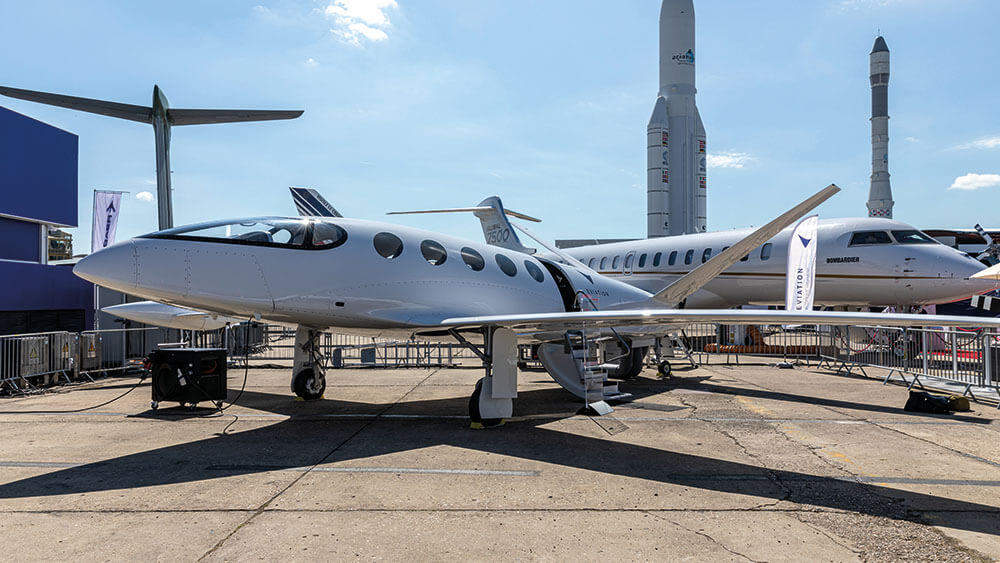 Israeli company Eviation recently launched its nine-passenger (plus two crew) electric air-taxi, "Alice", at the Paris Air Show. With a range of 540 nautical miles, plus 45 minutes of reserve power, it demonstrates the potential of electric planes. Like the eFlyer, Alice is on the path to certification and commercial production.
Yet more competition is coming from across the Atlantic, where US company Magnix has converted a five-passenger Cessna Grand Caravan to electric. It is hoping to pass certification by the end of 2021. The current Magnix can carry four or five passengers for up to 100 miles, but in an interview with Flight Global, company CEO Roei Ganzarski, predicted that by the time it is certified battery tech will have improved sufficiently for it to operate 100-mile flights carrying nine passengers.
***
Moving briefly to Sri Lanka, the BBC Travel Show recently reported on two projects to produce electric tuk-tuks, which it is hoped will start to take over the market within five years. One local tuk-tuk manufacturer has a working electric prototype, and a university engineering lecturer has won a UN award for creating a simple conversion kit.
***
Back in the Winter 2018-19 issue of BV, we featured Formula 1's younger sibling, Formula E. From a dubious start in 2014, the pioneering formula seems set to be joined by an off-road series to be known as Extreme E racing 550hp lightweight electric off-road SUVs. The vehicles are designed and built by French company Spark, which also makes cars for Formula E. Five off-road race locations have chosen around the world to highlight areas where humans have already damaged the environment, but the whole kit and kaboodle (cars, teams, workshops) will be moved around on a repurposed mail ship rather than flown. The series, described as an environmentally friendly cross between Star Wars Pod Racing and the Paris-Dakar, is due to start in early 2021. Anyone doubting its chances should take on board the fact that it's the brainchild of Alejandro Agag, the founder of Formula E.
Nissan has unveiled its new all-electric SUV/crossover, the Ariya. First launched as a concept in 2019, production is to start this year. Unusually for an SUV, it is slated to do 0-60 in around five seconds, closer to Nissan's 370Z ICE sports car than the more sedate, all-electric Leaf. Among the various battery options is one that will give a range of 300 miles on a single charge.
***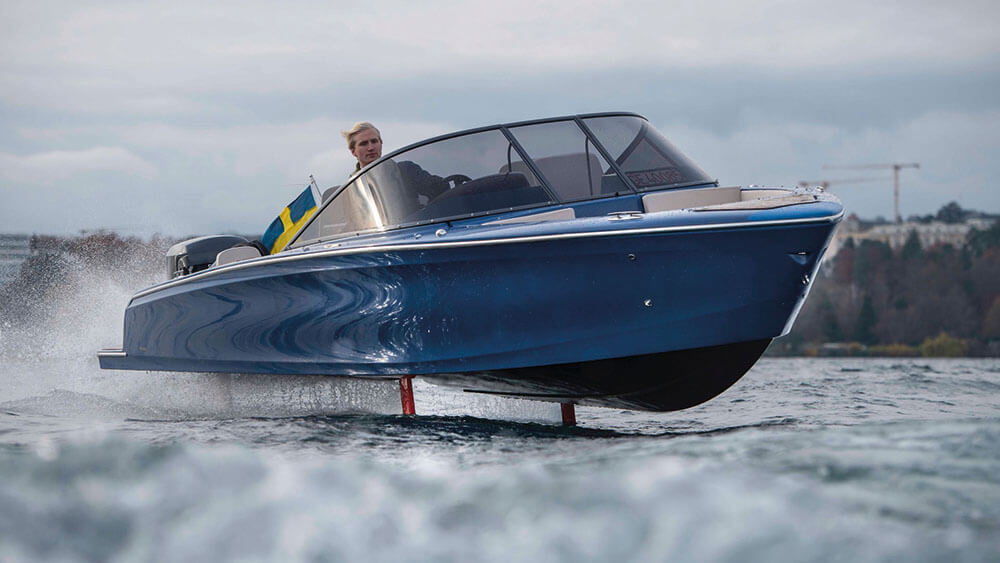 Following air and land, our attention turns to the sea. We haven't covered electric boats yet in BV, but here's the Candela Seven speedboat from Sweden. It's 100 percent electric, but its major USP is hydrofoil technology. When the hydrofoils are deployed, as in the photo above, energy consumption is cut by 80 percent — which cuts fuel costs by 95 percent compared with a similar-sized conventional boat. The company has been working on the tech since 2015, and started production at the end of 2018. Fifteen boats have been delivered far.