GOLDMAN Sachs is opening a new office in Birmingham — a move welcomed by Neil Rami, CEO of the West Midlands Growth Company.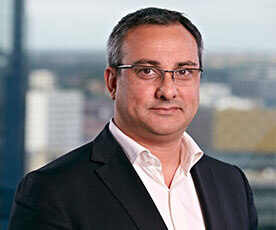 Rami's investment promotion agency was instrumental in securing the investment. He says the move spotlights the West Midlands' growing influence on the national economy, and a wider levelling-up of recovery agenda.
The investment is the latest in a string of BPFS (business, professional and financial services) firms choosing to relocate or expand outside of London – HSBC UK and Deutsche Bank are among the others. Public sector departments such as the Ministry for Housing, Communities and Local Government (MHCLG) and Department for Transport have also made the move.
Rami said Goldman Sachs was renowned for its focus on recruiting the best and brightest and its data-driven, customer-centric technologies. "It will harness the region's entrepreneurial talent to develop its mission-critical digital expertise," he said, and create "hundreds of jobs".
The West Midlands Growth Company put forward what he calls "a compelling appraisal" of the region's digital engineering workforce, academic facilities and influence on banking and finance.
"The region boasts the largest financial and professional services sector outside the capital," Rami said, "and is supercharging the UK's innovative potential through SuperTech, the UK's first and only dedicated professional services-tech accelerator.
"Already the home of client-facing operations for investors such as Deutsche Bank and HSBC UK's headquarters, the West Midlands is successfully recasting typically London-centric banking structures, offering a premium but far more cost-effective base."
Rami hopes this is just the beginning of a surge in momentum in foreign investment, with the 2022 Commonwealth Games and Coventry's City of Culture status opening up new international avenues to strengthen trade and investment.
"Goldman Sachs' investment undoubtedly cements the West Midlands' prominence on a global scale," he said.