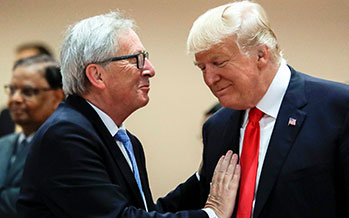 THERE are moves afoot to ease looming trade barriers between the US and the EU.
US president Donald Trump met with European Commission chief Jean-Claude Juncker and they agreed on a new phase of negotiations, working towards zero tariffs. The two leaders agreed to increase trade in services and agriculture.
A trade war had been brewing, with tit-for-tat tariffs threatened on international imports between the US, the EU, Canada, Mexico and other countries.
The two leaders de-escalated tensions caused by the US's proposed 25 percent tariffs on European steel and aluminium exports. American-made motorcycles, food, clothing and drinks were threatened with reciprocal taxes by the EU.
There had been fears that the tariffs would extend to other vehicles, including cars.
After the meeting with Juncker, Trump declared a "new phase in the relationship" between the trading blocs. "We are starting the negotiation right now, but we know very much where it's going," he was quoted as saying.
Juncker expressed gratitude to Trump for his approach to a "constructive meeting".
"We agree today, first of all, to work together toward zero tariffs, zero, non-tariff barriers, and zero subsidies on non-auto industrial goods," Trump said at a media conference.
The EU is now likely to increase purchases of liquefied natural gas from the US, Trump said, adding that the US and EU will set up a working group to focus on trade and reassess the existing tariffs with the aim of more equitable trade.
"We're starting the negotiation right now but we know very much where it's going," Trump was quoted as saying.