By HEATHER LEAH SMITH
BEFORE the sentiments of gratitude expressed over Thanksgiving dinner have had time to fade, throngs of Americans begin queuing up and camping out for Black Friday discounts.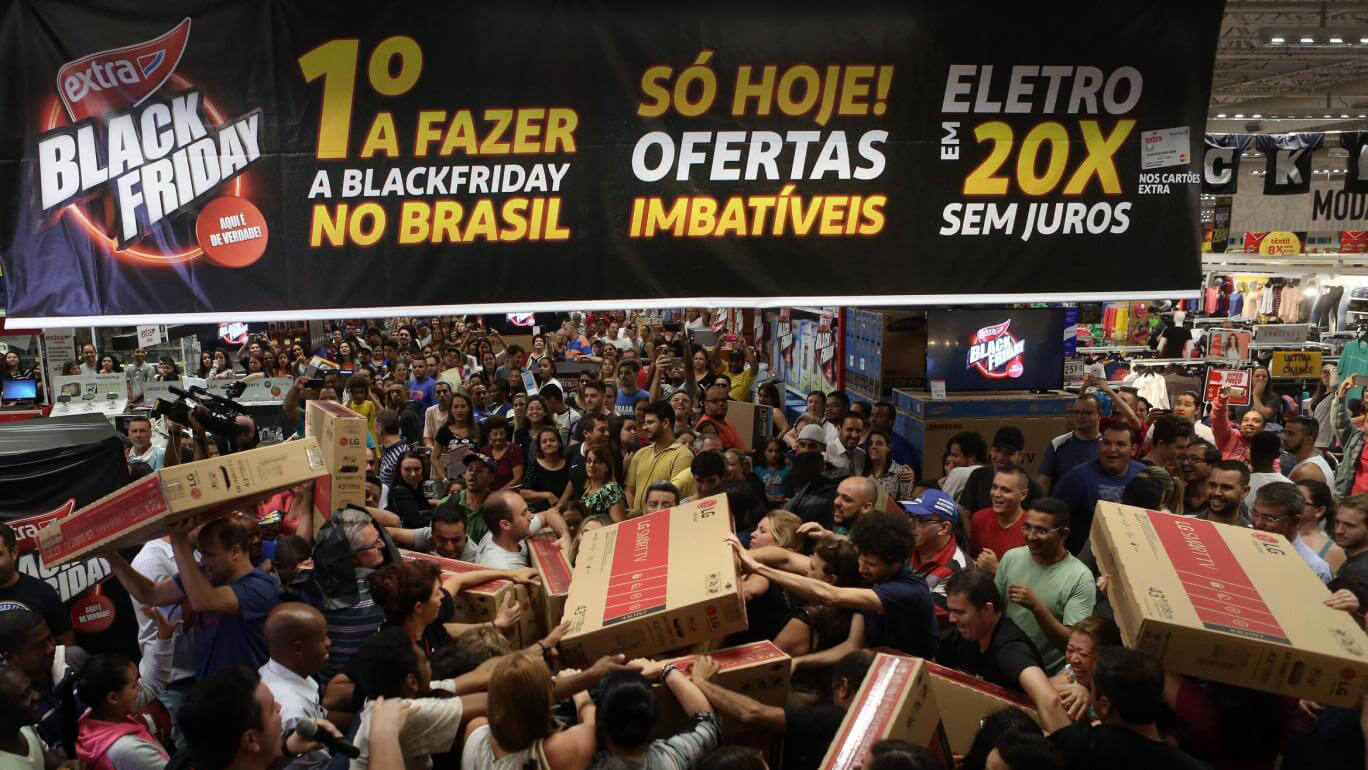 But this isn't just shopping, and it isn't just America. In an annual discounting frenzy, international retailers slash prices on limited-inventory, high-demand products, inciting shoppers to take part in some good old cut-throat consumerism. Many retailers open their doors in the small hours of the morning… and the waiting crowds stream in, pushing and shoving. And worse. For the most coveted items, there are always more people than product — leading to violent outcomes.
In the past decade, Black Friday has ramped up in popularity and intensity. There is no consensus on its origins. Some lay the blame / credit at the door of president Franklin D Roosevelt, who in 1939 moved the Thanksgiving holiday to the fourth Thursday of November to lengthen the holiday shopping season for retailers fearing bankruptcy. Others say the term was coined in 1966 by overworked police in Philadelphia to refer to the bargain-hunting mayhem.
Since 2010, 10 deaths and 111 injuries in the US have been attributed to the annual fervour. Most violence in America happens at the giant discount retailer, Walmart. The heavy markdowns, particularly on electronic goods, bring out the most ruthless side of the shopping public.
At a Los Angeles Walmart in 2011, a woman pepper-sprayed a crowd as she struggled to claim a Wii game console featuring a 60 percent discount. In 2008, some 2,000 people broke down the doors of a New York Walmart and trampled seasonal worker Jdimytai Damour to death. He died of asphyxiation in the stampede, and 11 other shoppers were injured – including a pregnant woman.
This trend has led some to label the day as Black-Eye Friday; however, the sales figures reported on Black Friday lend a more positive meaning to the term. Retailers rake in so much money on this day that it typically puts them "in the black" for the year. The reference is a throwback to the time period when businesses recorded losses in red and profits in black.
Sales figures from Black Friday are interpreted as a gauge of consumer confidence. Black Friday sales predictions are forecast, and if the numbers meet or exceed the expectation, then the strong numbers and consumer confidence are reflected in the stock market.
As Thanksgiving is a North American tradition, it makes sense that Black Friday sales have been — until recently — a predominantly North American fad. But the kick-off to the holiday shopping season has become global, and markets around the world are participating in the craze.
The sales event now takes place over a period rather than a day, and online retailers are keen to claim their portion of profits for Cyber Monday – the online equivalent to Black Friday. In the US alone last year, online sales on Cyber Monday increased by 16.8 percent, to reach $6.6b. According to Adobe Analytics, online holiday sales this year are expected to increase by 14.8 percent, outpacing the 2.7 percent growth predicted for brick-and-mortar locations.
UK shoppers spent an estimated £7.8 bn between Black Friday and Cyber Monday. According to research from the Centre For Retail Research, German sales last year totalled £5.7 bn, with France trailing close behind at £4.7 bn. Canada's holiday sales totalled £2.9 bn, Italy's £2.7 bn, and Spain's £1.7 bn.