The first research carried out on the impact of economic relations with China on the volume and quality of employment in the region highlights the lack of knowledge on the subject, and sheds light on a relationship that has intensified and is taking on "growing complexity".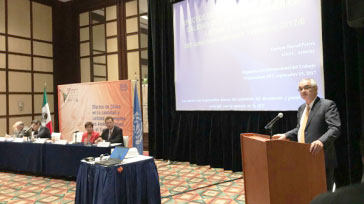 MEXICO CITY (ILO News) – The ILO has presented the first study on the impact of economic relations between China and Latin America and the Caribbean on jobs in the region. It finds that, between 1990 and 2016, at least 1.8 million net jobs were created as a result of trade, investment and infrastructure projects.
That amounts to almost 4 per cent of the employment created in the region over the period, and is probably an underestimate, according to the study.
"It is a neglected subject, with a vast knowledge gap. The objective of this first study, which is truly ground-breaking, is to start filling that gap", said José Manuel Salazar, ILO Regional Director for Latin America and the Caribbean, in the Mexican capital as he presented the technical report "Effects of China on the quantity and quality of jobs in Latin America and the Caribbean ".
The first ILO estimates of the impact of these economic relations on the world of work in the region include a review of the available statistical data, as well as methodological recommendations for more in-depth investigation.
"For the ILO, we think it is important to have a sound understanding of both opportunities and objectives, not only at an economic level, but also in relation to labour issues," Salazar added.
He emphasized the need to "put into perspective the reality of a relationship which, for various countries in the region, is the main trading partner or the primary source of foreign direct investment or financing, particularly as everything points to Chinese presence and involvement in the region growing in the years to come."
The report covers the relations between China and Latin America and the Caribbean since the 1990s, when they intensified and became more dynamic, accompanied by "a growing complexity which requires analysis, reflection and proposals", according to the researchers who prepared the study, Enrique Dussel Peters and Ariel Armony.
The report analyses separately the impact of Chinese trade, foreign direct investment (FDI) and infrastructure projects in Latin America and the Caribbean.