Just as the Canadian firm looked like it was being grounded by massive US tariffs, a European saviour with a long-term plan comes to the rescue…
(Click here to see stock prices for the companies mentioned in the article)
By Darren Parkin
THE bitterness of the battle between Bombardier and its US neighbours has taken its toll on relations with Canada and the States.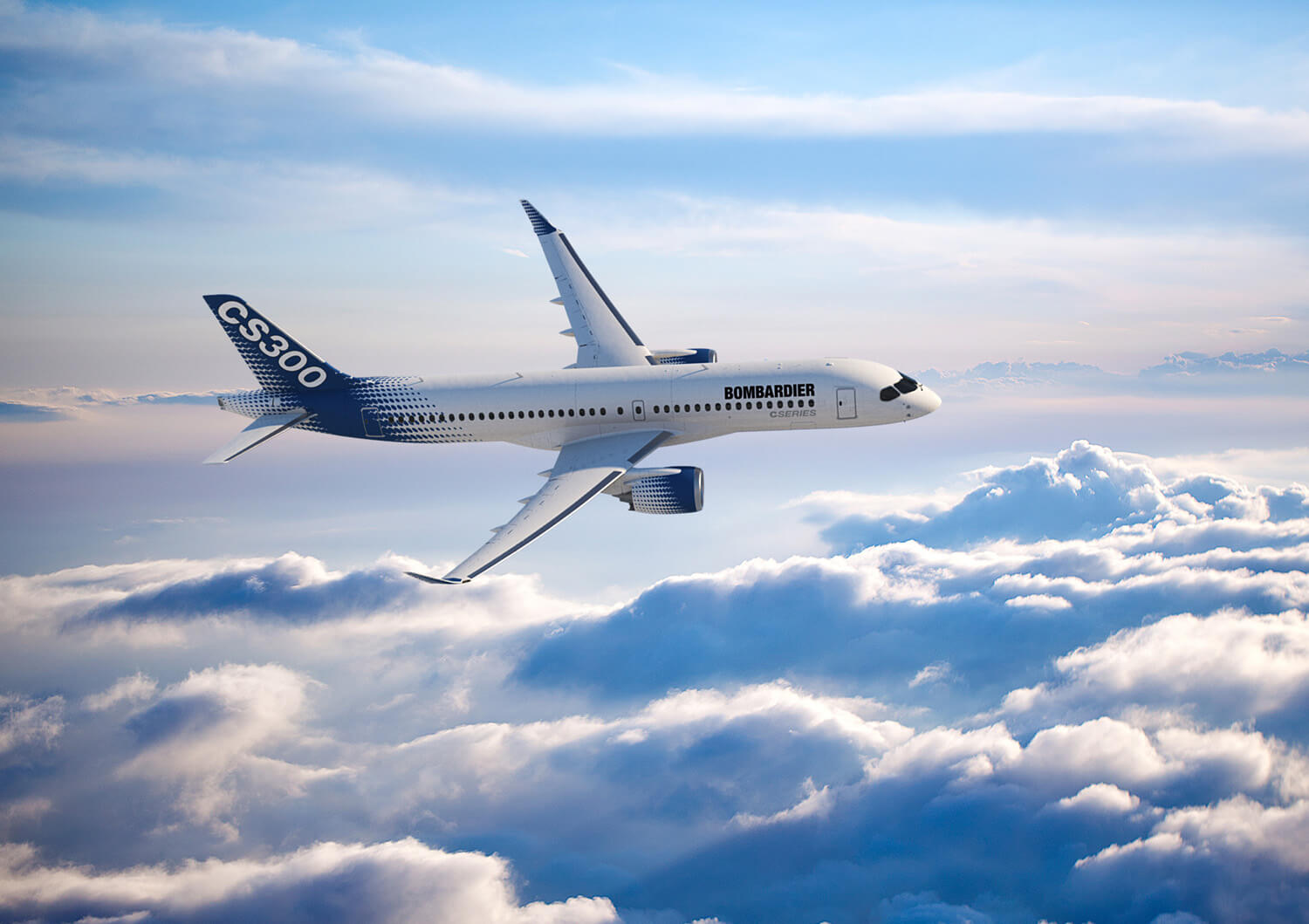 When Boeing first aired its discontent after Quebec-based Bombardier won a contract to supply Delta Airlines with 125 of its C-Series aircraft, it was regarded as little more than harsh words from a rival firm which had failed to secure a deal.
However, that complaint has since escalated to nothing short of a trade war which has threatened businesses and jobs on both sides of the Atlantic.
Even US President Donald Trump became embroiled in the fight – which hinges on Boeing's unhappiness with the Canadian government's involvement with Bombardier – by agreeing to impose massive tariffs on the importation of the Bombardier aircraft into the US. The sanctions have resulted in Bombardier being forced to scale down its Canadian operations, as well as a threat of closure for its Northern Ireland plant where the C-Series wings are made. Thousands of jobs in Montreal and Belfast have been under threat.
The US Department of Commerce agreed to impose a 219% tariff (rising to 300%), believing that Boeing's rival had been able to complete the Delta deal at a falsely low price because of subsidies from the Canadian and UK governments.
Trade tensions have been running high since, with various large firms in Canada and the UK threatening to boycott Boeing deals in the future, not to mention some awkward telephone conversions between the leaders of the three nations.
However, the story has taken on a sudden and unexpected twist after aerospace firm Airbus came up with a plan it believes will broker a lasting peace between all parties, as well as ensure long-term jobs for the industry.
Airbus has negotiated a 50.01% controlling stake in the C-Series programme, with Investissement Quebec holding 19% and Bombardier dropping just shy of 31%.
The move means Airbus – a huge player in the aerospace industry – can now add some serious weight to the international negotiating table where, thus far, a Donald Trump-backed Boeing has been seen as something of a corporate bully.
Although based in Toulouse, France, Airbus has enough of a presence in the US to appease Washington's authorities and see them potentially back down from the aggressive stance against Bombardier and its partner organisations.
In fact, there has already been talk from the Airbus hierarchy about the possibility of establishing a production plant for the C-Series in Alabama – a move that would certainly force the White House to rethink its attack stance over the Boeing-Bombardier dispute.
There are other considerations too. To the untrained eye, this sudden dive into the market by Airbus may appear like a fairy tale knight riding to the rescue of the fair maiden Bombardier being trapped in a tower by a bullying sheriff and a mildly twisted wizard, but it's also a potentially genius move with a remarkable business vision.
There's little doubt in the minds of most observers that Boeing has, for quite some time, felt deeply threatened by the C-Series, and crying foul over the involvement of Canadian and British governments triggered a robust legal strategy that quickly gave off the distinct aroma of a plan designed to destroy the C-Series programme before it had a chance to take off. Almost literally.
Boeing's hard-line tactics may actually come back to bite them on the backside, if Airbus have got their vision right.
By taking the controlling stake, they also take control of the programme and, given their financial clout, can suddenly begin to make the decisions that Bombardier alone could not.
Airbus has, effectively, taken over half of the C-Series without paying a single cent while, at the same time, landing a jackpot in the shape of cheap warrants on Bombardier shares.
In talking about a potential assembly plant in Alabama, Airbus may also have set a course for bypassing the hugely-inflated tariffs by simply having aircraft ordered by American customers actually going through final assembly in the US.
Genius. If it works. After all, there's no guarantee that Airbus's legal grounds are entirely solid.
Boeing's response? Well, they're clearly rattled by this sudden development. No doubt celebrations were being prepared at the thought of squishing the upstart Bombardier under its own massive footprint, but a rattled Boeing's press office was predictably bullish over the affair.
"This looks like a questionable deal between two heavily state-subsidised competitors to circumvent the recent findings of the US government," a curt statement said.
Although viewed as a sudden move by Airbus, it shouldn't be seen as altogether unpredictable. Executives from Toulouse, Montreal and Belfast had met several times before in 2015 for discussions about the highly respected C-Series programme.
It is thought Airbus's advances were rebuffed at the time, which may explain Bombardier's slice of the cake being drastically reduced to 31% in this deal. Although, 31% of the cake is better than nothing, which is what Bombardier may have been left with had Boeing and its Washington heavies continued with their tactics.
There is, without doubt, a certain brilliance in the Airbus move that must be respected, even if its chief executive played down suggestions of a tactical move to sweep up a bargain from under the nose of a rival.
"Discussions started basically in August and we've been extremely fast, and the teams worked very well together and, no, this is not motivated by anything our competitors were doing," Airbus CEO Tom Enders told a press conference.
"It was motivated by the sheer recognition that the stars were all aligned this time."
Meanwhile, let's not forget the other victim in this sorry case – Delta Airlines. The 93-year-old operator with more than 80,000 staff throughout the world has no doubt been nervous about issues over the C-Series and the tariff its order for 125 aircraft was attracting. Delta operates one of the world's largest Boeing fleets, as well as a sizeable Airbus contingent. They are, however, slowly retiring many of their wide-bodied Boeing aircraft – hence the C-Series order and previous orders for the Airbus A350.
If Delta executives are anxious about their planes, they're certainly not showing it. At least not now Airbus have muscled their way to the front of the fight.
Delta's CEO – Ed Bastian – has dug his heels in against Washington and Boeing, claiming Boeing should have brought their own rival aircraft to the C-Series into the market instead of taking their 'nonsensical' complaint to the government.
"We're not going to be forced to pay tariffs or anything of the ilk," he bluntly stated.
The deal between Airbus and Bombardier, subject to regulatory approval, should be completed by mid-2018. And, although it looks like they have the upper hand in this battle, there's still plenty of time for Boeing to mastermind a response strategy.
Advantage Airbus.
Publicly traded companies in this story:
| | |
| --- | --- |
| Airbus | AIR 122.76 +1.48 +1.22% |
| Bombardier | BBD.B 1.66 +0.07 +4.40% |
| Delta Airlines | DAL 33.23 +0.01 +0.03% |
| Boeing | BA 206.78 +0.74 +0.36% |