Perfection is often the outcome of fortuitous circumstance – not necessarily of a carefully traced design process. That's how a West Sussex precision engineering company ended up as the manufacturer of the world's best tonearms – the mechanical contraption that guides the cartridge over a vinyl record.
Formed in 1946 to manufacture scale models for the engineering trade and, a bit later, parts for aircraft and office machines, the Scale Model Equipment Company of Steyning – a town of about 6,000 in the South Downs – had by the 1950s gained some recognition for its expertise in precision machining.
Sometime in 1959, the company's founder and managing-director, Alastair Robertson-Aikman, asked his craftsmen to build him a pick-up arm for his turntable at home. Eager to comply with their boss' request, they set to work and came up with an exquisitely machined part that instantly enthralled all who saw – and heard – it. Mr Robertson-Aikman promptly received a deluge of requests from family, friends, acquaintances, and even complete strangers who all wanted a tonearm just like the one he had fitted to his own turntable.
Sensing a business opportunity, Mr Robertson-Aikman gave the go-ahead for production to start and by September 1959 the first weekly batch of 25 tonearms – built entirely of individually machined metal components – was ready for shipment. Not long after, the company changed its name to SME Limited in order to de-emphasise its scale modelling roots.
During the 1960s, SME Series II tone arms became the industry standard in broadcasting and de rigueur amongst audiophiles. The famous 3009 and 3012 models were, literally, eons ahead of the competition. American-made Rek-o-Kut tonearms, arguably the next best thing, looked rudimentary by comparison – a nonchalantly thrown-together assembly of crude parts.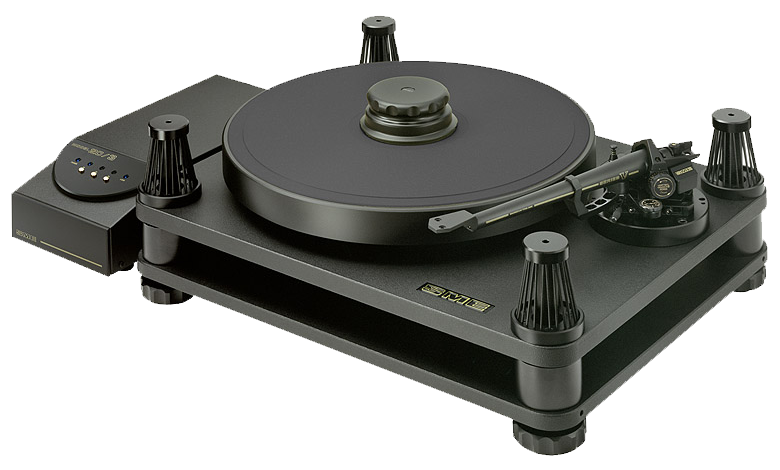 SME tonearms were made out of a polished stainless steel tube with a lightweight head shell, to accommodate the cartridge, and pivoting on knife-edge horizontal bearings. To add a measure of endearing British quirkiness, anti-skating bias was provided by a tiny cylindrical weight – a piece of beauty in its own right – suspended from a nylon string.
Up to the present day, the basic design of SME tonearms remains largely unchanged with many tens of thousands original 3009s and 3012s still in daily service – and still a good few notches above the competition. Over time, the metals employed became slightly more esoteric in order to further reduce weight and friction. The SME Series III, whilst a commercial success, never quite attained the popularity of the preceding design – not because it was in any way inferior; but rather because the Series II was as close to perfection as it was possible to get.
The Series V, launched in the mid-1980s and still the company's flagship model, is widely considered the best tonearm available for any money, anywhere. It was designed to offer an optimal platform for the superior moving coil cartridges that had come into vogue and called for a significantly lower tracking force – imposing the need for friction-free lightweight tonearms: right up SME's Steyning alley. The Series V retails for around €3,700.
Building on its precision engineering heritage and the company's reputation for peerless quality, SME in the early 1990s released its own turntables – massive affairs that dampen any and all vibrations and, uniquely, lack any sonic footprint. Predictably, the Models 20 and 30 turntables were instantly hailed as engineering masterpieces. An entry-level Model 10 – still a beast weighing in at over 16kg – will set an audiophile back some €4,800: a small price to pay for a slice of perfection.
SME Model 20s and 30s turntables, equipped with Series V tonearms, are used for transcription and archiving purposes when nothing but the best will suffice. Renowned for its excellent and personalised service to clients, SME still services all products it ever sold and will oftentimes replace abused tonearms – they seldom fail on their own – for a token sum .
Over the past two decades, the Steyning company has invested heavily in the development of its in-house precision engineering services to enhance design and toolmaking capabilities throughout the manufacturing process.
However, SME's unique products are as much a result of superior engineering as they are of originality. The company's tonearms and turntables not only look stunning; they stand out from the proverbial crowd and resemble nothing else on the market – they constitute, in fact, a class all their own.