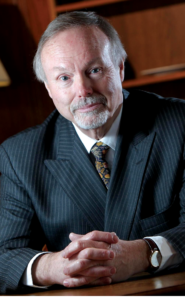 Bon viveur, tech giant, inspirational leader, history enthusiast, family man – Sir Terry Matthews can be viewed from many perspectives. But for the Welsh, he will always be the man who brought the Ryder Cup to Wales in 2010. Hosted by the Celtic Manor, which he owns, Sir Terry was the visionary behind securing the landmark event – having ploughed £150m into the state-of-the-art hotel site to ensure it would land the deal.
Now the billionaire Welsh-Canadian is putting his business might behind the UK's beleaguered steel industry. Following announcements by Tata Steel to sell its behemoth Port Talbot site, Sir Matthews is helping to build a consortium of public and private sector figures focussed on a rescue deal for the steel town.
Sir Terry Matthews was Wales' first billionaire. In 2015, he was named as Wales' fourth richest man, according to The Sunday Times Rich List. He now ranks amongst five Welsh billionaires and is famous for championing local causes.
The fixer has been a driving force – a necessary bulldozer, some might say – behind the creation of the Swansea Bay City Region (SBCR). He chairs this over-arching body which is heavily involved in directing the regeneration of south West Wales.
A serial tech entrepreneur, Sir Terry made his fortune primarily through technology and telecoms. He is founder and chairman of Wesley Clover International, an investment management firm, and has founded or funded more than 140 companies, making his millions by building them up and selling them on.
"I helped to build Mitel and then Newbridge and lots of other companies, developing a tight team relationship and a fighting spirit that wins. I love kicking ass," is how he described the process.
Passion, or hwyl in Welsh, is part of the local DNA. And it's not just in his ambassadorial role that Sir Terry Matthews shows that "you can take the boy out of Wales, but you can't take Wales out of the boy;" his choice of company names, such as Newbridge, often hark back to his heritage. March Networks was inspired by the Welsh Marches – the much-disputed border country between England and Wales in bygone days.
The telecoms tycoon is famous for his tenacious approach to business and life – guided by his own motto: "Make a mark; don't be part of the living dead."
There are shades of Owain Glyndwr, last prince of Wales, to Sir Terry – the Welsh business hero and de facto king of broadband. As well as championing tech-focussed regeneration to replace the manufacturing industries of South Wales, Sir Matthews has been an advocate for turbo-charging innovation in Wales and the UK.
Appointed an Officer of the Order of the British Empire in 1994, Terry Matthews was awarded a Knighthood in 2001. He was also appointed Patron of the European Cancer Stem Cell Research Institute in 2011.
"I don't think I'm stubborn. I just focus on the task at hand and do what it takes. Persistence is the single most important thing for success," he said. It's certainly a formula that worked for him.