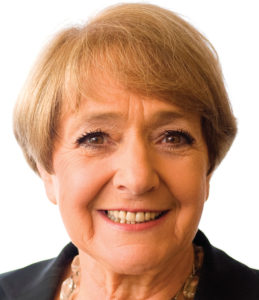 The pinnacle of Margaret Hodge's four decades in public life has arguably been the five years spent as the very high profile scourge of government profligacy and corporate tax avoiders. The House of Commons Public Accounts Committee (PAC) holds the government to account for its use of public money, ensuring transparency and accountability in its financial operations. As the chair of the PAC Mrs Hodge has earned a reputation for her incisive and insightful interrogation of senior public and private sector figures whose financial dealings affect UK tax payers.
Historically, the task of the committee has been to analyse Whitehall spending and highlight malpractice. This approach has uncovered devious practices, including the outsourced tagging scandal that saw G4S and Serco charging the government for tracking offenders who were dead. However, it is in the arcane recesses of tax legislation that Mrs Hodge has hit the headlines as she filleted and then flayed bosses of big corporations that have avoided paying tax. For a population hard-hit by austerity this uninhibited, often outspoken criticism of affluent fat cats has provided a measure of vicarious enjoyment.
Like all parliamentary committees, the PAC can call high level executives in the public and private sector to give evidence and justify their behaviour in public. In recent years, the committee has become increasingly outspoken. PAC hearings can be very dry, but sharp intellect and meticulous preparation enable the fourteen committee members to cut through obfuscation, ensuring that on occasions the televised meetings make for riveting viewing.
Mrs Hodges told her constituents: "The issue of tax avoidance has struck a real chord with people. It makes the rest of us furious that while we pay our taxes without question, a few at the top are using every trick in the book to get out of making their fair contribution. I am pleased that the committee has helped persuade the government to get tougher on tax avoiders but there is still a long way to go and it is a fight I intend to keep up."
Mrs Hodges one-liners often make headlines.
Earlier this year, an official from the tax department of HMRC (Her Majesty's Revenue and Customs) got short shrift: "Honestly, I want to put a bomb under you guys," she expostulated. She did not mince words calling "either naive or totally incompetent" the BBC Trust chair who was also a non-executive at HSBC in charge of audit at the time it allegedly facilitated tax evasion in Switzerland.
Mrs Hodge, a member of parliament for the Barking constituency since 1994, served as a minister in Labour governments. In 2010, she was elected chair of the PAC, a role traditionally taken by a member of the opposition. She is now standing down saying: "I've done the job for five years and it has been really hard work but fantastically rewarding. I've really loved it. However, I have given it a lot of thought and decided before the general election that I want to try some new challenges."
She will be a hard act to follow.
Margaret Hodge (née Oppenheimer) was born in Cairo in 1944. Her parents were affluent Austro-German Jews who spent the Second World War stateless and stranded in Egypt. After the 1948 Arab-Israeli War, the family settled in London where her father started a steel-trading company.
After attending boarding school, Mrs Hodge went on to take a degree in Government Studies at the London School of Economics. She subsequently worked in market research, later finding employment as a senior consultant to PricewaterhouseCoopers.
She cut her teeth in London local politics and was elected as a local councillor in the "loony left" Borough of Islington in 1973. Nine years later, Mrs Hodge became council leader, retaining this position for ten years. She became MP for Barking in east London in a by-election in 1994. She has stated that of the most important achievement of her political life was doubling her majority to defeat British Nationalist Party leader Nick Griffin in the constituency in 2010. During her political career, Mrs Hodge has been embroiled in various controversies, at times incurring the odium of the right-of-centre media.
Notwithstanding the fact that she is in her eighth decade, Margaret Hodge's energy and passion are likely to see her continue investigating the tax system. She has called the privatisation of public services "the most important policy issue of our time." As she enters the latter stages of her long and distinguished political life, it will be fascinating to see how she influences the forthcoming debate.