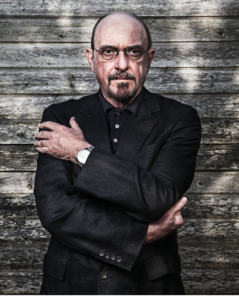 When Ian Anderson, the lead singer of the celebrated band Jethro Tull bought a 15,000-acre estate on the Isle of Skye, the locals were less than enthusiastic. "He'll probably grow poppies," said one, alluding to the widely-held belief that all rock stars are drug-crazed idiots. They were wrong.
From the late 1970s to the 1990s, Mr Anderson turned the Strathaird Estate from a run-down hill farm into an impressive salmon-farming enterprise which, at its height, employed 400 people and turned over £10 million annually.
The pipe-smoking, fly-fishing laird of that rugged and remote peninsula, was a long way from Mr Anderson's stage persona. In the summer of 1969, the band's major commercial hit Living in the Past was the anthem for a generation of hippies and free lovers.
The long-haired and bearded Ian Anderson, with his flamboyant posturing, flailing arms, staring eyes, and that standing-on-one-leg-while-playing-the-flute fixation, epitomised a period when popular music began to go a bit wild.
And yet Mr Anderson was a most unlikely rock god: "I was put off by all of that drugs and free sex. I took to a life of early-to-bed, early-to-wake. After a concert, I'd be tucked up in bed with a sandwich by 10.30pm."
Ian Anderson was born in Fife, hence his desire to return to Scotland at some stage in his life. However, his family moved to Blackpool where, as a rebellious grammar school boy, he learned to play the guitar and gathered a little band around him. Mr Anderson took up the flute after he heard Eric Clapton play, realising that there can only be one god.
It was the same with singing. "I became the singer because the others [in the band] were worse than I was," he says. Even his flute-playing wasn't really up to scratch. It was only when Ian Anderson's daughter came home from school with a how-to-play-the-flute manual that he figured out how to properly play the instrument.
When Mr Anderson and his fledgling band arrived in London in the late 1960s, their manager changed the group's name on an almost nightly basis in order to get rebooked at clubs. Jethro Tull stuck after one particularly well-received performance.
The real Jethro Tull was an 18th century agronomist: "It was only later that I realised we'd been named after a dead guy who'd invented a seed drill."
Mr Anderson's musical influences are broad. He became interested in the big band sound of Glen Miller thanks to his father's record collection. Later on he developed a love for blues kings such as Muddy Waters and Howlin' Wolf. Mr Anderson also admits to being inspired by Beethoven, church music, and Scottish folk songs.
Mr Anderson sold his interest in salmon farming in the late 1990s to concentrate on music. He and the band – now a completely different line-up – continue to perform regularly at concerts and festivals, defying all attempts to categorise their style – prog rock, folk rock, jazz, or blues?
"Jethro Tull remains an underground group. We still play to upwards of 15,000 people, but if you ask the man in the street, some may have heard of us, others haven't. I think that's great – to be somehow anonymous."
The band has released thirty studio and live albums – including Aqualung, Thick as a Brick, and Homo Erraticus – selling more than sixty million copies since their 1968 debut in London. They still play dozens of concerts a year.
Next summer, Mr Anderson will celebrate his 70th birthday. He has no plans to retire – ever. Ian Anderson hates inactivity and still spends his days writing and recording at the Home Counties farm he shares with Shona, his wife of 38 years. No-one could ever accuse Ian Anderson of living in the past.