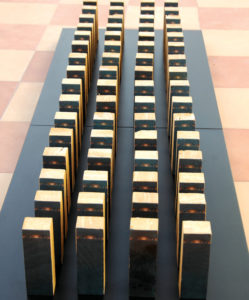 A dynamic contemporary art movement is emerging in the Kingdom of Saudi Arabia, the traditional heart of Islam. The art scene is one where women can play a full part, making uninhibited and substantial contributions to the development of national culture in the broadest sense.
Eiman Elgibreen is one of the new breed of Saudi artists. She leads a busy life, engaging across a wide cultural spectrum. A practicing artist, she also lectures in Art History and Criticism at the Princess Norah University in Riyadh and freelances as an art critic and reviewer for the Al-Riyadh and Al-Jazirah newspapers.
Ms Elgibreen was born in Al Hada in 1981 and raised in Riyadh. Her impressive academic credentials bridge the cultures of the Middle East and the western world. Ms Elgibreen's list of academic interests include postcolonial feminism, Middle Eastern contemporary art, women artists, and Saudi women artists. She holds first class honours degrees in art education at both bachelor and masters level from Saudi universities and earned a diploma in Professional Photography in New York.
In 2014, Ms Elgibreen was awarded a doctorate in Art History at the University of Sussex for her thesis on the work and career of noted Saudi female artist Safeya Binzagr. She observes that: "Safeya Binzagr was able to make a huge difference not only in the Saudi art scene, but also on a social, cultural, and historical level. She is now the only Saudi artist who has her own museum, and she did all that without trying even once to breach the norms of her society. I strongly believe that conservative women are as influential as radicals or liberals, but to appreciate that we need to change the ways we assess their work."
Ms Elgibreen's own work has been included in art exhibitions across the Gulf countries. Her oeuvre incorporates photography, painting, and sculpture and challenges the stereotypical view of women who adhere to conservative Saudi dress codes. Her Out of Context collection presents veiled women in scenarios that challenge the viewer. Her clever diptych, Banksy and I, has a veiled Ms Elgibreen self-mirroring the silhouette of the celebrated faceless UK graffiti artist Banksy.
In 2012, she curated A Statement of Identity, an exhibition of Saudi female artists at Brunel University in London. A year later, Ms Elgibreen exhibited work at the 55th Venice Biennale as part of the seminal Rhizome Exhibition curated by Edge of Arabia. Her contributions include a sculpture entitled Does the Face Make a Difference and a series of six photomontage paintings entitled Do Not Judge Me, Just Look at my Work!
Of the Rhizome Exhibition she says: "Of course I feel proud to have been selected. The message of my current collection might seem shocking to some, as I portray veiled women in different and surprising contexts. These women have made their own choices and refuse to compromise, regardless of the context. I believe that I have an obligation to tell the other side of the story of what it means to be a Saudi woman."
Edge of Arabia was founded 12 years ago by collaboration between British artist Stephen Stapleton and Saudi artists Ahmed Mater and Abdulnasser Gharem to provide a platform for dialogue and exchange between the Middle East and western world. Rhizoma, the Greek word for the underground root of a plant, is a metaphor for a new generation of Saudi artists whose projects are emerging from a subterranean grassroots network and challenging the mainstream.
Ms Elgibreen says: "Saudi Arabia is an extremely large country, so we still need more artists to represent the diversity of its cultural groups. However, the young generation is certainly shaping current events in the country and decision makers find themselves more obliged to hear what they have to say. The Rhizoma Exhibition presents very conflicting ideas, especially in the work of female artists, which is what I am most excited about. I think it will give the audience an opportunity to understand that women in my country are opinionated and capable of discussing their own issues."