BRITAIN has entered the top five rank of the Global Services Location Index (GSLI), rising from eighth place last year.
Management consultancy Kearney has published the 12th edition of the index, which studies the vital factors that make countries attractive as potential locations for offshore business services.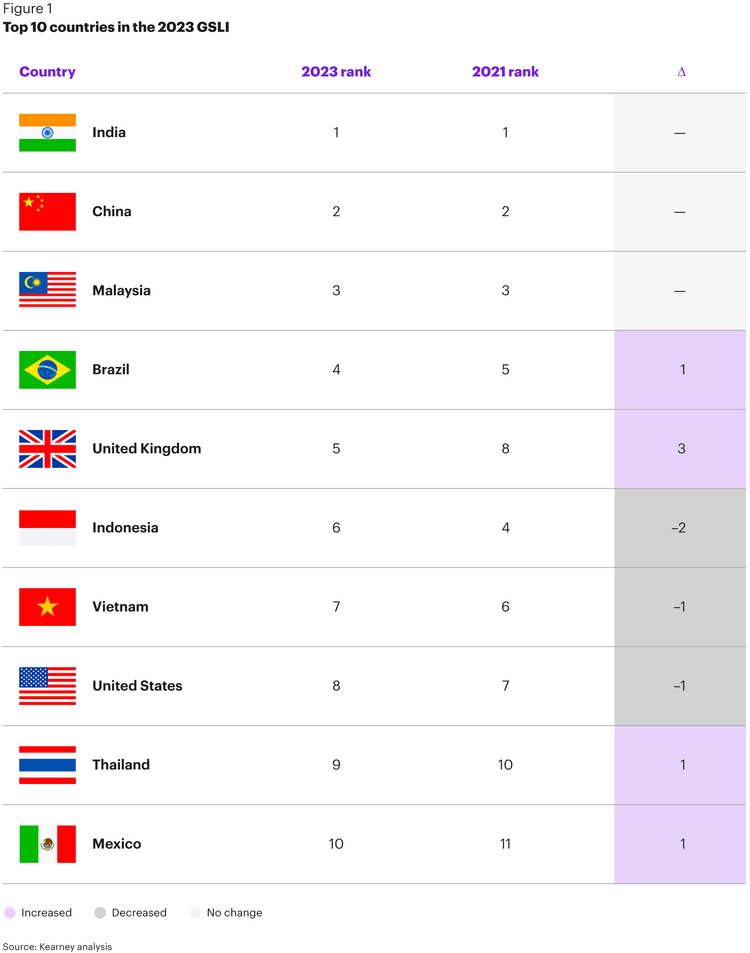 India, China, and Malaysia continue to lead this year, with the UK and Brazil rounding out the top five. The UK's rise to fifth position marks the first instance of a Western economy entering the top five.
In an era of rapidly evolving technology and ever-changing trends, business services such as IT, business process outsourcing and engineering are increasingly being delivered across borders as companies seek to lower their costs, scale their talent, and become more efficient.
The global market for business services has also grown from $624bn (£476bn) in 2022 to $681bn (£519bn) in 2023 — and it is expected to rise at a compound annual growth rate of eight percent through 2027.
This year's GSLI ranks 78 countries based on 52 metrics.
A key trend in this year's GSLI is the criticality of talent regeneration. With the emergence and adoption of digital technologies, some service locations are at risk of losing their competitiveness to more technologically advanced countries.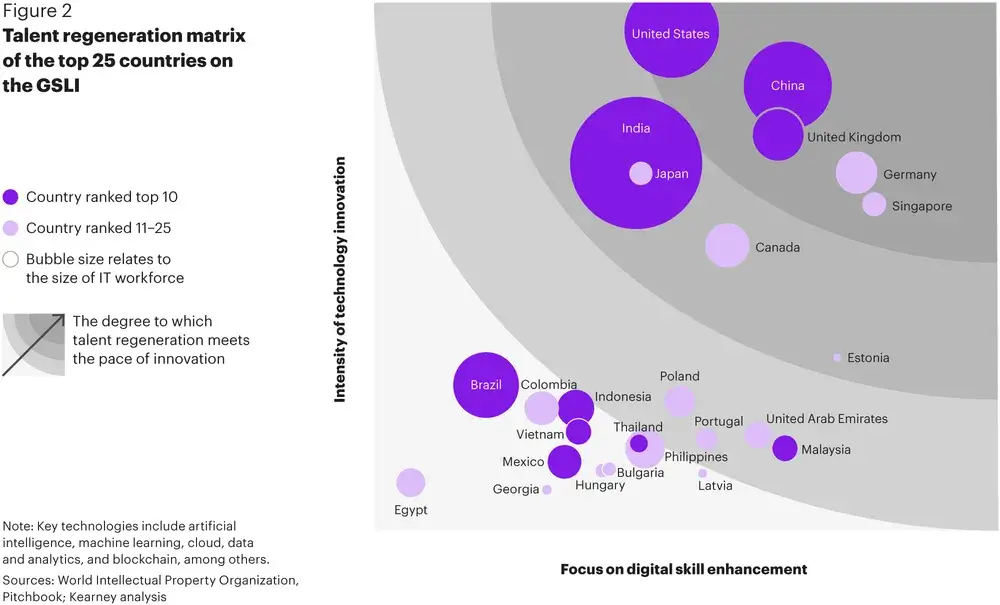 The UK's tech sector has become a $1tn (£800bn) economy, trailing only the US and China. Earlier this year, the government announced it would invest £100m in its Foundation Model Taskforce. The body is responsible for accelerating the UK's capability in AI. The investment is part of the UK's ambition to be a science and technology superpower by 2030.
The country boasts the highest number technology patents filed in AI/ML, automation, blockchain, robotics, and other digital technologies.
Ramyani Basu, partner at Digital Transformation, says digital skills and outputs are becoming key differentiators of a country's performance. "The UK's climb up the ranking is partly due to its heavy investment in digital training, newly announced government programmes and funding for businesses," he said. "We're seeing a large shift in Asia's dominance."
The ranking methodology:
The 78 countries in the 2023 Global Services Location Index were selected based on corporate input, current remote services activity, and government initiatives to promote the sector.
They were evaluated against 52 metrics across four major categories: financial attractiveness, people skills and availability, business environment, and digital resonance. This year, Kearney refocused the index to be more forward-looking. A few metrics were dropped from the people skills availability and digital resonance pillars that were focusing on traditional IT, and new digitally focused parameters were added.
This, along with global trends and key local disruptors, led to differences in the rankings.