By RICHARD THOMAS
EV SALES in the US grew by 95 percent between January and April, compared with a 36 percent increase in the overall car market.
That's according to a report from Experian. A slight reduction in range anxiety may have something to do with it. There are now 12 models — from manufacturers including Tesla, Ford, BMW, Mercedes, Nissan and GM — that claim a potential of 300 miles (483 km).
Morgan Stanley, meanwhile, has produced figures for February showing Tesla's market share dropping to 69 percent (from 81 percent a year earlier). Tesla's loss was Ford's gain, in the shape of the Mustang Mach-E.
In Australia, sales doubled over the same period, headed by Tesla, MG, Porsche and Nissan — in that order. In the UK, the Tesla Model 3 became the most popular BEV (Battery Electric Vehicle), as measured by the number of them on the road, overtaking the UK-built Nissan Leaf for the first time.
In Europe, according to JATO Dynamics, April's best-selling EVs were the Volkswagen ID.4 and ID.3, the first time an SUV model has topped the list. VW now has twice as many BEVs on the road in Western Europe as Tesla, 34 percent of the market.
Other manufacturers worth keeping an eye on in Europe are newcomers from China. Aiways order numbers quickly reached four digits and Xpeng delivered its first EVs to buyers in Norway last December. Nio is also planning to enter the European market this year.
***
Guess which ICE vehicle manufacturer has appointed a Chief Electric Vehicle Officer, possibly only the second in the industry following GM?
None other than two-wheeled icon Harley-Davidson.
Ryan Morrissey, formerly senior partner and head of the automotive and mobility practice at Bain & Co, started his new C-Suite post in April. He has oversight of the Hardwire Plan, Harley Davidson's five-year strategic outlook for the development of the LiveWire electric range.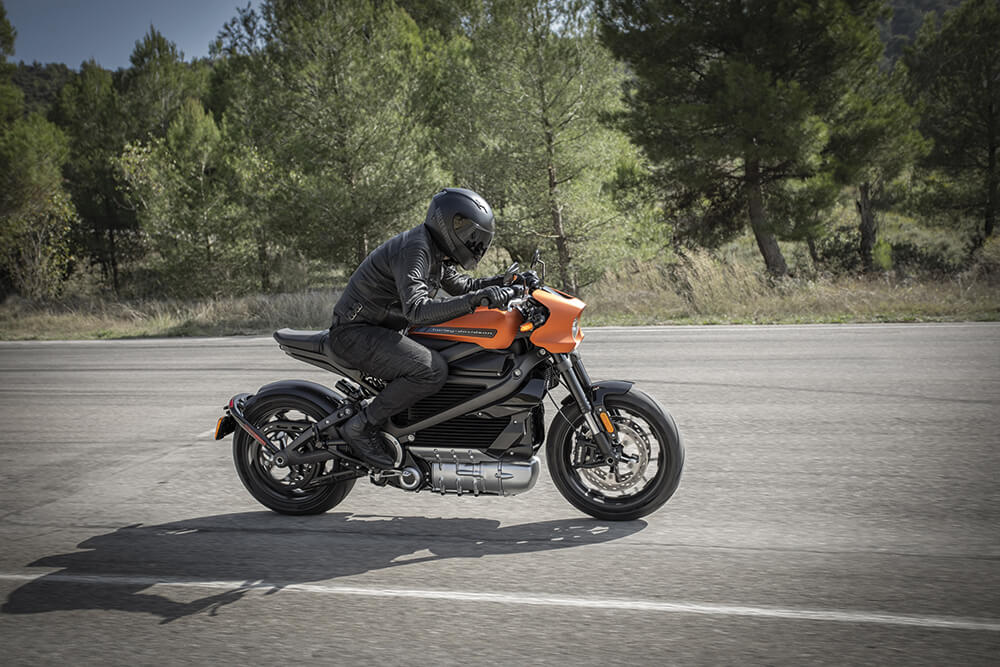 It's being treated as a stand-alone brand, with a new logo and brand identity. Harley-Davidson first unveiled the LiveWire in 2018 with a listing price of $29,799. The bike has had good reviews, but it has a way to go to overcome resistance from the Harley faithful, petrolheads to (almost) the last rider.
***
Regular readers will be familiar with the C-7 electric speedboat from Swedish company Candela. Its wake is massively by running on hydrofoils, which is good news for Venice.
Fast motorboats used for transit on the canals are causing two problems. Exhaust fumes are eroding the façades of historic buildings, and— unique to Venice — wake is eroding city foundations. That's where Candela comes in.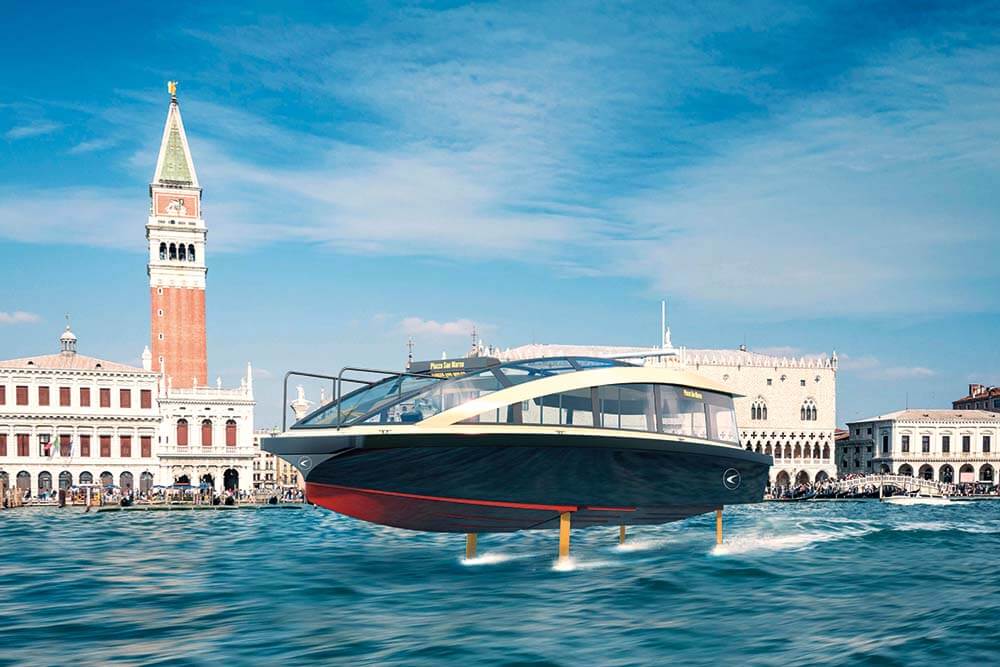 When running on hydrofoils the C-7's wake is less than 5cm, comparable to the city's traditional gondolas. Candela is also developing a commuter electric boat using the same technology. It is hoped that the P-30, carrying 30 passengers, will be a viable alternative to water taxis.
From Australia comes news of an EV unicorn. Fast-charger manufacturer Tritium has been acquired by a US investment company in a deal that values the company at $ 1.2bn. It will be listed in New York on NASDAQ and receive $520m to fund expansion. Plans include a factory in Europe to supply growing demand.
***
Battery manufacturer Panasonic has always had a love-hate relationship with Tesla. It supplied the batteries for the original Roadster model, then partnered in Tesla's first Gigafactory in Nevada; Panasonic makes the cells and Tesla assembles the packs. In 2019, Tesla said that the Panasonic side of the factory was holding up production of its Model 3.
Panasonic says differences in management style were at the root of the problem, with Elon Musk's "nano-management" clashing with Panasonic's more modern policy of local autonomous units. In 2019, Tesla started making its own batteries to its own design. In June of this year, Panasonic announced that it is ready to start production of Tesla's proprietary 4680 cell — if its prototype production line is successful.
It has also emerged that Panasonic has sold its investment in Tesla. It bought shares worth around $30m in 2010 and sold them in March for around $3.6bn. That which will certainly go some way to covering the start-up costs of producing those new batteries.
Tesla started installing 120kW public chargers in 2012, when it released the Model S. By November 2020, it had upgraded these to 250kW, renamed them Superchargers, and has now installed 25,000 globally.
The network has been available only to Tesla owners, but it seems it will be opened-up to other manufacturers, at least in Norway, by September 2022. Whether this will apply globally has yet to be clarified, but Tesla has been involved in talks in Germany. This will be easier in Europe, where Tesla uses the standard CCS connector; in the US it uses a proprietary connector.
***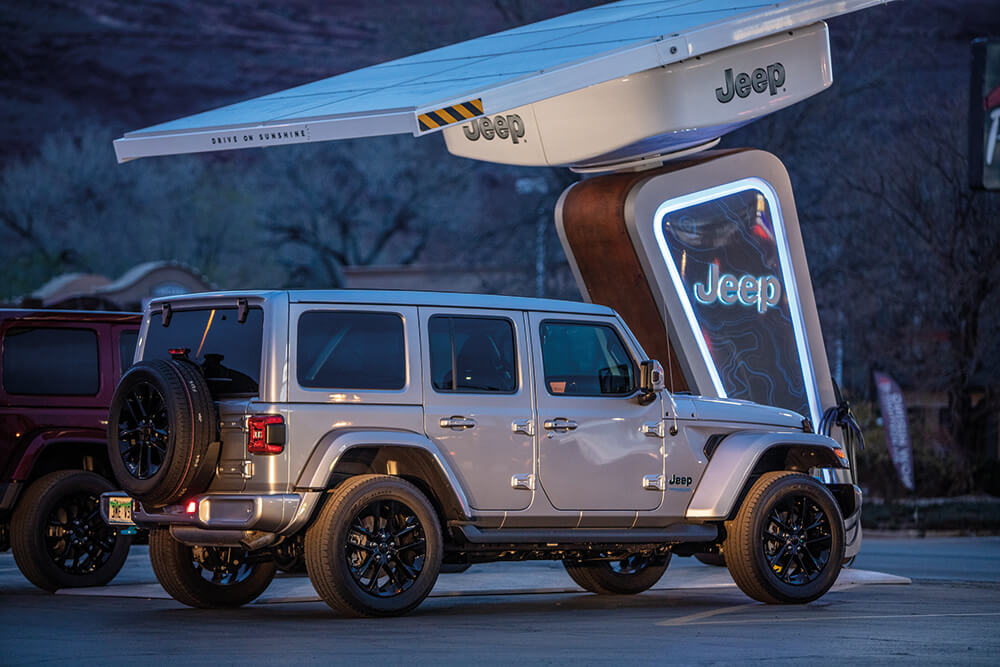 Jeep, part of the Stellartis group, has launched the Wrangler 4xe Hybrid, a PHEV (Plug-in
Hybrid Electric Vehicle) version of the classic off-roader. It is also installing a charging network on popular US trailheads. The chargers, run by Electrify America and partially powered by solar panels, will be open to anyone — but Jeep users get free access.
***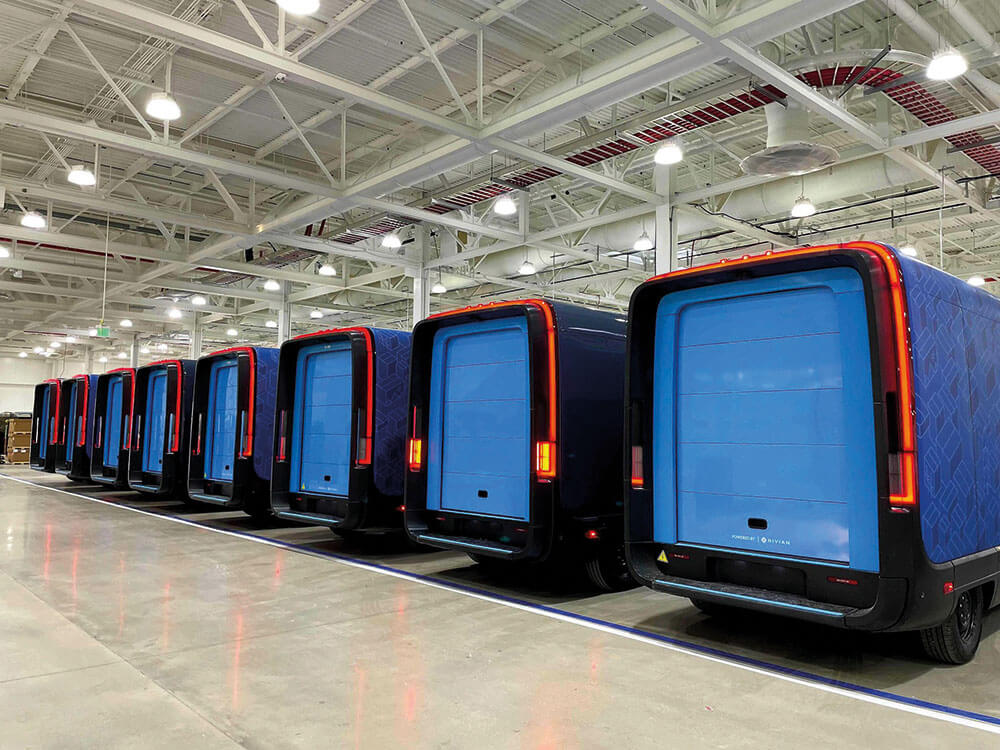 Privately-held EV start-up Rivian, based in Michigan, already produces an electric pickup truck and an SUV. But its latest development could make it a household name — Amazon is switching its US delivery fleet to the Rivian van. The first units are already in use in Los Angeles.
***
Australia's Graphene Manufacturing Group (GMG), in conjunction with the University of Queensland, has announced a battery using aluminium-ion nanotechnology. GMG claims three times the energy storage of comparable aluminium-based cells and 10 times the charging speed of lithium-ion units. The automotive cells will be launched in 2024. GMG was launched on the Canadian TMX Venture Exchange in April and has a market cap of $153m.
***
GMG isn't the only company showing off new tech, but there are doubts about some of the claims coming out. QuantumScape says it has a solid-state battery with a lithium metal anode and a ceramic separator. Its claimed energy density of 400 Wh/kg could revolutionise the field, but some question these claims. Company's shares are trading on the NYSE at a fifth of their peak December 2020 value, but VW has invested $300m in a joint venture to start using its batteries in 2025. Time will tell…
***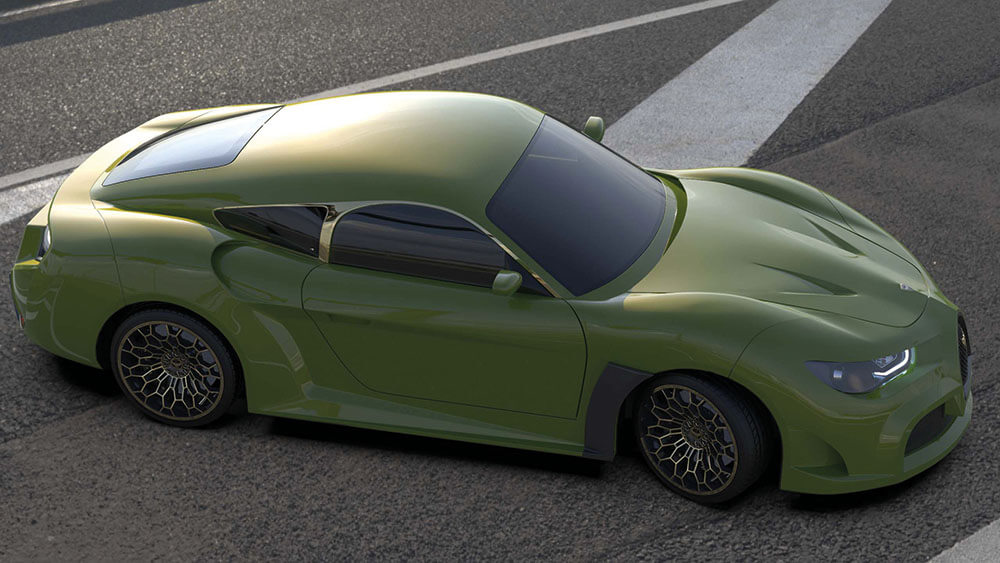 The first car ever to be built in Lebanon is the sporty looking Quds Rise from Electra EV. It has a claimed range of 450km and is expected to sell for $30,000. Power supply in the crisis-hit country could be an issue; there are frequent power cuts, and what electricity there is comes mainly from fossil fuels. But Electra has plans for a nationwide network of charging stations powered by wind and solar.
***
British-American manufacturer Arrival has announced an electric van with a range of 180 to 340 km, depending on the model. Eight options cover four lengths and three heights. Road trials will start this summer with production due to begin in 2022.
The firm had a 10,000-vehicle pre-order from UPS last year for Europe and the US, and a second American factory will fulfil that. Arrival was listed on NASDAQ last year and is currently valued at $9.3bn.
***
Hybrid pioneer Toyota launched a concept SUV at the recent Shanghai Motor Show. The bZ4X will be the first in the Japanese firm's Beyond Zero range.

Toyota is planning to release 15 BEVs by the end of 2025, seven of which will be branded "bZ". They are based on the battery electric car platform that Toyota has been developing with Subaru. No surprise, then, that Subaru has teased a new BEV of its own, the Solterra. The photo is in silhouette, but similarities with the bZ4X are clear.
***
In last Autumn's EV News, we reported on Tesla's annual Battery Day, and Elon Musk's intention to be selling a fully-autonomous car for $25k within three years.
Well, it isn't here — but if Autocar is correct, there could be a $25k hatchback version of the Model 3 saloon on sale by 2023. This would extend Tesla's influence from the premium market into the European compact car space.
***
The long awaited BMW i4 was finally launched in March. Based on the 4 series, it's due to start production in 2022, a four-door sedan/saloon with an EPA-certified 300-mile range, a 0-60 time under four seconds, and 530hp.
BMW has also announced the iX, an SUV due at the same time as the i4. According to CEO Oliver Zipse, BMW has the timing right. "We waited for the moment when electromobility is really getting into higher volumes," he said in an interview with Reuters.