Obituary: Liliane Bettencourt: 1922 – 2017
Controversy and questionable politics were never far away to divert attention from some remarkable skill at leading an industry giant through decades of ups and downs…
By Darren Parkin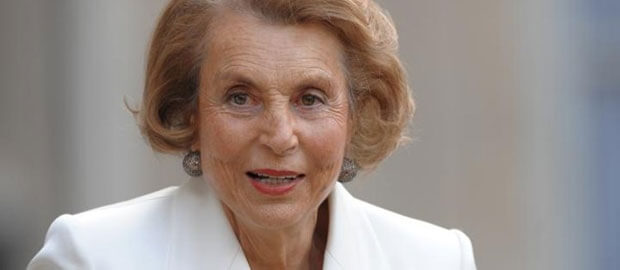 WITH a business brain as sharp as her tongue, Liliane Bettencourt cut a formidable figure as the driving force of the L'Oreal beauty empire.
Inheriting L'Oreal from her father Eugene Schueller who founded it as a hair dye supplier in 1909, it went on to become the world's biggest cosmetics company under her stewardship, making her an incredibly wealthy woman in the process.
Earlier this year, her net worth was estimated at €33bn (£30bn/$40bn), making her the richest woman in the world.
Bettencourt's phenomenal business success did not, however, come about without personal sacrifice and controversy. In fact, her eccentric ways left a string of public outcries, estranged a daughter, and almost brought down a president. Her 94 years were the canvas for a very colourful life.
Born in Paris on October 21 1922, Liliane Henriette Charlotte Schueller was the only child Eugene and Louise Schueller. Eugene had founded L'Oreal 12 years before Liliane's birth, and the company had already brought about enough wealth to provide his daughter with a highly privileged childhood.
Her early years were rocked, however, by the death of her mother. The loss marked the beginning of an inseparable bond with her father that lasted until his death in 1957. It was Eugene who decided that his daughter should dispense with education and join L'Oreal at the age of 15. Disregarding the privileges of being the rich boss's daughter, she was put to work mixing cosmetics and sticking labels onto shampoo bottles.
By the time the Second World War broke out just two years later, Liliane was developing an interest in politics. Unfortunately, the solid bond she had with her father meant his own questionable political views would cloud her youthful opinions.
For several years, Schueller had been using his vast wealth to assist in the bankrolling of a violent fascist organisation called La Cagoule. He had even used the extravagant boardrooms of L'Oreal's headquarters to host lavish meetings of the anti-Semitic and anti-communist group. It was his money which helped to fund La Cagoule's leader to form Mouvement Social Revolutionnaire – the political party which rose in support of Vichy after the Nazis marched into France as an occupying force.
Under the Nazi occupation, L'Oreal and Eugene Schueller were allowed to continue their business unmolested. Following liberation, Schueller gave jobs to many former members of La Cagoule and MSR – including Andre Bettencourt, who had been one of La Cagoule's most prominent members. Curiously, as the war was drawing to a close and swinging heavily in the Allies' favour, Bettencourt chose to join the French Resistance and fight against the Nazis he had once supported.
After the war ended, Andre Bettencourt was awarded the Croix de Guerre and named a Chevalier of the Legion of Honour. A close friend of Eugene Schueller, he went on to marry Liliane in 1950, but his earlier allegiances would come back to haunt the family years later.
Before the skeletons began to emerge, however, there was work to be done. Liliane Bettencourt, so devoted to her father, was plunged into a steep and sudden depression when he died, aged 76, in 1957. She quickly masked her misery and threw herself into the company she had just inherited at the age of 35.
At the time, there were fears that emotional fragility and a lack of business acumen might prove too much to handle a large corporation like L'Oreal, but she quickly proved her critics wrong. As it turned out, Liliane Bettencourt was a phenomenal businesswoman and she quickly grew L'Oreal to become one of the biggest cosmetics brands in the world.
Her leadership of L'Oreal was tested several times throughout the sixties and seventies when market conditions and key brand decisions saw the business's fortunes fluctuate, but, throughout it all, her steadfast and often brusque management style resulted in a return to stability and growth.
On numerous occasions she was hailed as a visionary when it came to putting the business and its employees first during skirmishes with the French government and their various attempts to downscale L'Oreal.
Unfortunately, her noteworthy successes were recurrently overshadowed by the controversies that were liberally scattered across her life.
Notwithstanding the political ghosts of both her father and husband, there was a regularly updated list of curious scandals that would propel Bettencourt in and out of the French media.
Most famous of all, was the 'L'affaire de Bettencourt' itself – a twisted, sordid tale of corruption and deceit; the tangled complexities of which few experts can successfully decipher to this day.
It began as a seemingly innocuous spat between Liliane Bettencourt and her family, but the dispute over finances quickly escalated until it engulfed the reputation of then president Nicolas Sarkozy. The complex web of names, claims, denials and connections is still being unpicked to this day, but when it all blew up in 2012 it sent shockwaves through the two colliding worlds of French business and politics.
The scandal centred around Bettencourt's friendship with louche celebrity photographer Francois-Marie Banier. The pair had been friends for two decades, with Bettencourt seemingly paying for Banier's company with expensive gifts and huge cash allowances. All in all, it was estimated that Banier – who was often seen by house staff being highly disrespectful to both Bettencourt and her property – had received something in the region of €1bn from his elderly benefactor.
There soon followed whispers among the staff that Bettencourt was talking about 'adopting' Banier and leaving the rest of her fortune to him. It was at this point when Liliane's daughter – Francoise Bettencourt Meyers stepped in, supported by her husband Jean-Pierre Meyers (whose rabbi grandfather died at the hands of the Nazis in the concentration camp of Auschwitz).
Mrs Bettencourt Meyers filed a lawsuit against the photographer in 2007 for 'abus de fablesse' (abuse of weakness) after producing evidence Banier had been asking for, and taking, huge sums of money and artworks after it was revealed Liliane Bettencourt was suffering with dementia.
The family feud was played out in public, but soon escalated into a scandalous political outrage and courtroom drama when an investigation began to look at how much of the money had been used to fund Nicolas Sarkozy's presidential campaign.
A lack of clear evidence meant charges were dropped against Sarkozy in 2013, but secret audio tapes made by Liliane Bettencourt's butler exposed a string of financial requests and coverups that led to the imprisonment of several of the heiress's entourage.
In 2015, Banier himself was sentenced to three years behind bars and ordered to return €172m. Earlier this year, the photographer and Mrs Bettencourt Meyers reached an out-of-court settlement that ended any further legal proceedings. He also had his sentence reduced to a suspended four years imprisonment, with a fine of €375,000.
The scandal that had become the final chapter of Bettencourt's colourful, yet often tragic, life had echoed throughout French courtrooms for almost a decade. She was rarely without controversy or sorrow, although she took some small comfort from the fact that she was reconciled with her daughter shortly before her death.
It seems something of a heart-breaking notion that someone born into a world of ill-considered politics and unimaginable wealth through no fault of their own will be defined by the scandals that surrounded them, rather than the smart business foresight and thought leadership which they had meticulously fostered.
By that notion, L'Oreal CEO and chairman Jean-Paul Agon perhaps gave Bettencourt's passing the respect it deserved…
"We all had a deep admiration for Liliane Bettencourt who has always watched over L'Oreal – the company and its employees – and who was very attached to its success and development," he said.
"She personally contributed a lot to its success for very many years.
"A great woman of beauty has left us and we will never forget her."