An independent Belgian wealth manager specialising in discretionary management and estate planning
ITS MISSION is to protect the wealth of its clients and to achieve the sustainable growth of assets through a prudent but proactive investment philosophy and concise estate planning. The bank's strategy and vision is inspired by core company values which ensure a personal and family-orientated approach, efficiency, sustainability, and prudence.
Asset management and estate planning are tailored to client needs with dedicated relationship managers on-hand. To René Havaux, CEO of Delen Private Bank, the importance of the personal element cannot be underestimated in private banking. "Wealth management is fundamentally an emotional matter," he says. "That's why our personal service is so essential.
"We want our clients to feel at home in our offices. It's a prerequisite to start an open and tactful conversation about complex or delicate subjects."
Next to that all-important personal touch, Delen Private Bank offers clients a powerful digital platform of tools, like the Delen app and Delen OnLine. Since its establishment, the bank has pioneered the use of state-of-the-art technology as a means to improve the quality of its services and clients experience, not as an end in itself.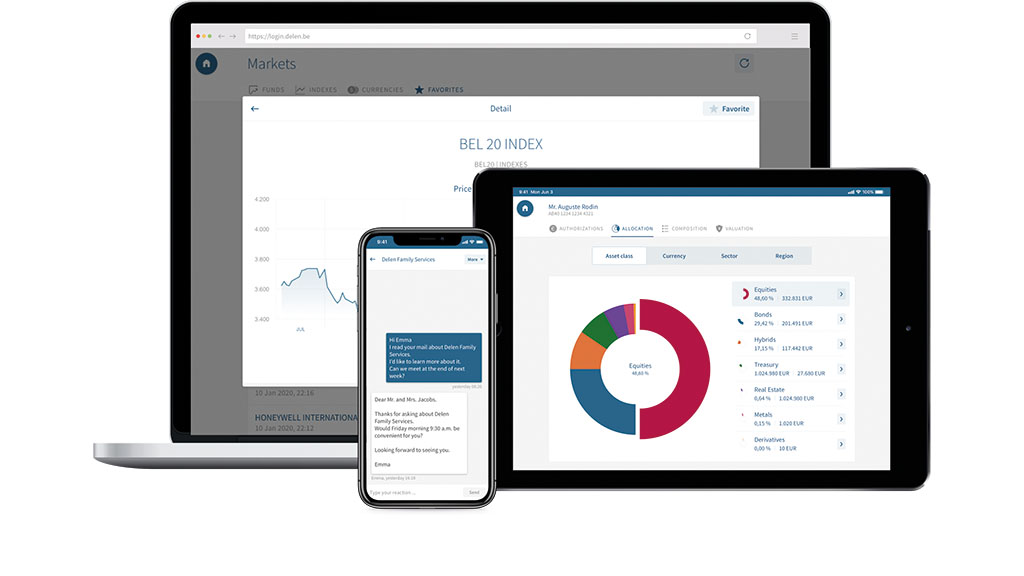 "The client chooses how he or she wants to enjoy our services: online or the traditional way," says head of IT and executive committee member Alexandre Delen. "It's up to the client, not us."
Since its launch in 2016, the Delen app has been through a process of continuous improvement. Starting as a tool to get 24/7 insight into the return and composition of a client's portfolio, it has steadily evolved to become a convenient way to manage financial affairs, as well as to communicate — effectively and securely — with the relationship manager.
Recent features include remote signing for contracts and account and credit openings, a digital archive to store important documents, the itsme® log-in and the "discrete" mode.
"We constantly look for new ways to add efficiency, agility and comfort to our clients' lives," says Alexandre Delen. "In times where physical contact is not always the best option, the digital channels offer true value. Lots of clients happily use online video calls to keep in touch with us."
In addition, the recently launched Delen Family Services allows the client to get a detailed overview of total assets, including real estate, group insurance contracts and works of art.
A family-tree format includes insights into current property rights, a perfect starting point for projections, simulations and tax calculations, navigating the client to concise and proactive estate planning.
Delen Private Bank was established by André Delen in 1936, operating as an exchange office. In 1975, his son, Jacques Delen, the current president of the board of directors, was appointed CEO.
In 1992 holding company Ackermans & van Haaren became a shareholder of the bank, besides the Delen family. The company gradually but steadily increased its footprint through internal growth and smart acquisitions in Belgium, the UK (JM Finn and Co, 2011) and the Netherlands (Oyens & Van Eeghen, 2015).
By the end of 2019, the Delen Group had €43.6bn in assets under management.