From the factory floor of her father's steel business, to some of the biggest boardrooms in Europe, the rise and rise of Emma Marcegaglia has been meteoric to say the least. Business Vision takes a closer look at the woman being tipped by many to become a future prime minister of her native Italy…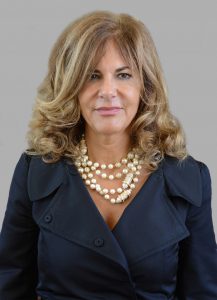 THERE was a time when most European business leaders had never heard of Emma Marcegaglia. Most Italians had never heard of their fellow countrywoman either. To be fair, not many people in Mantua – her home town – had a clue who Emma Marcegaglia was.
But that's just the way she liked it.
Marcegaglia has been one of the key business figures in both Italy and Europe for years, but she's happy keeping her head down, and quietly going about her business with determination, professionalism and nerves of steel while many of her counterparts live to enjoy a moment or two in the limelight and even court publicity.
She rose up through the ranks of her family's business – a steel tube manufacturer employing almost 8,000 people across half a dozen countries – before being invited to be a panellist on specialist Italian TV to discuss trade and industry issues. By her own admission, the motivation for the invitation was, at the time, driven by her glamourous looks and a striking beauty that shone like a well-polished jewel in the grimy belly-button of a sweaty, string-vested Italian heavy industry.
She may have been drafted in for her appearance, but she quickly demonstrated to the purveyors of institutionalised sexism in Italian commerce that she had the brains to match, calmly delivering powerful ideas and insightful prose where previously there had been very little.
Within a short time, the girl from the family firm was in demand throughout Italy's trade circles. It wasn't long before she was appointed president of Confindustria – Italy's highly influential employers' association. Placid and articulate, she grabbed the wheel of the nation's industrial leadership vehicle with cool and soothing hands that steered it away from hazardous waters on more than one occasion.
For all her quiet charm, however, she is far from demure. The way in which she stood up to the stubbornness of former Italy prime minister Silvio Berlusconi as his attitude towards the importance of his own office during his careless final years was utterly exemplary. She often displayed far more balls than her male contemporaries when dealing with the wayward playboy.
As the first woman to take charge of the Italian business lobby she had a torrid time going toe-to-toe on an almost daily basis with Berlusconi as his curious regime jerked and twisted through its death throes in 2008 as he began publicly finger-jabbing at the increasing anger of his country's corporate community.
She didn't falter. Instead, her credibility went through the roof. Berlusconi's hovering fist over the self-destruct button finally gave in to the temptation of the punch, and a stoic Marcegaglia emerged triumphant, albeit with a desperate urge to shrink out of the limelight that was beginning to pool around her.
Six years down the line, however, Italy's new prime minister, Matteo Renzi, begged her to chair the country's biggest listed company – the energy group 'Eni'. She didn't hesitate. The appointment, alongside people like Francesco Starace at electricity body Enel, and Francesco Caio heading up Poste Italiane, represented a breath of fresh air in a new era for Italy.
In the past, the country's state-owned companies had been tainted with paint splashes from the sticky brush of corruption. A 'jobs for the boys' mentality had existed, with many of the country's high offices being handed to friends of the powerful in return for a good deed or services rendered, rather than to the best managers that could be sought. In Italian business circles, the phrase 'toto nomine' (loosely translated as 'an appointments sweepstake') was often attached to the practice by way of a shrugged acceptance of the fact political allies were being rewarded with cosy positions.
Marcegaglia's elevation to the role was enough to encourage the board of BusinessEurope to offer her the position of president at the Brussels-based umbrella organisation of more than 40 European business organisations.
In recent times, the combination of her chairmanship of Eni and presidency of BusinessEurope has caused her to break out of the serene shell that had once defined her. Marcegaglia has been known to deliver plenty of stern words as and when she sees fit.
Only recently has she becoming comfortable with putting herself in the spotlight to make sure she's getting her forthright views and opinions across to the business world. It's only in the last few years that Marcegaglia has become a recognisable figure in European commerce, a polarising character her own country, and now something of a local hero in her home town.
One thing she has learned sharply from suddenly being thrust into the spotlight as an international businesswoman with massive responsibilities across Europe, as well as being a wife and mother, is the need to focus on the essentials. After all, she has a weekly commute from the remote town of Mantua into Brussels while taking in three or four European capitals along the way.
"I have become very strong on priorities – business and family must be balanced well," she advises.
"I have to ensure that I cut out all things that are not essential, and, when you look at your day in that way you learn that many things have no use so therefore you must cut them out. Something that once took an hour to discuss must now not be allowed to happen – we must now resolve this in minutes."
Brevity has become a powerful tool in Marcegaglia's already impressive armoury, but what of the infamous walls of red tape put up by Brussels? Surely that hinders her progress as leader of BusinessEurope?
"The European Commission is not a problem for me," she smiles.
"There are ways to deal with the barriers they present, and if we are to be the dominant voice of business in Europe then we must be constructively outspoken.
"There is still an economic crisis in Europe which can only be overcome with growth – something that is delivered by private entrepreneurs which we must stand behind rather than in front of."
So how about the talk that Marcegaglia is destined for a higher office still – the prime minister of Italy, for instance?
"This really is not the case," she sighs, with a narrowing of the eyes that betrays a slight irritation at the question.
"I am doing this with BusinessEurope for the experience of becoming an expert on international trade and agreements across Europe – that is the purpose of my time here, and it is not some kind of preparation for something else."
Looking into her eyes as she responds, it's hard not to ask if this is the real answer, or if Emma Marcegaglia is being constructively diplomatic. Only time will tell.