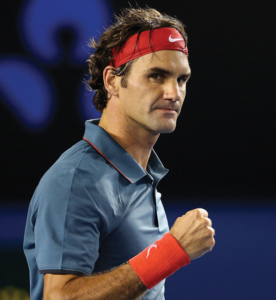 Out with friends celebrating his 18th birthday in December 2004, young Spanish tennis fan Juan Aparicio had the grievous misfortune to be involved in a serious car crash which left him in a coma lasting more than eleven years. To the amazement of medics, friends, and family alike, he suddenly awoke in August 2015. Extraordinarily, his memories of the accident were intact. In the days that followed he caught up with news of current affairs in Spain and across the world, and asked after his tennis idol Roger Federer who at the time of the accident had won four grand slam titles and thus claimed the top slot on the world ranking at the age of 23.
Mr Aparicio is reported as saying: "It came like a flash to my mind and I asked about Roger. I thought he had retired. When I knew that at 34-years, he is still playing and is number two in the world, I thought they were kidding me. When I heard that he reached 17 grand slam titles, I put my hands on my face." It is indeed phenomenal that an athlete can remain at the top of such a demanding individual sport for over a decade.
Roger Federer is a Swiss professional tennis player who many commentators and players regard as the greatest tennis player of all time, a much debated designation that tennis fans abbreviate to GOAT. Mr Federer is currently ranked world number three behind the seemingly unbeatable Serb Novak Djokovic and Scotland's Andy Murray. Now 34, he is still playing at the top level in world competition, and his appetite for the game shows no sign of abating as he sets his sights on the 2016 Rio Olympics.
Mr Federer is often described as a genius of tennis and lauded for his balletic fluidity, artistic economy of movement, his gracefulness, and the ability to improvise on the court. His career has been extraordinary, and his longevity at the top level of his sport is unparalleled.
Remarkably for such a physically demanding sport, he has largely avoided serious injury and continues to enthral tennis fans as he continues globetrotting, collecting titles, and accolades on the worldwide tennis circuit. Mr Federer is an instinctive and imaginative tennis player with superb reflexes. In the summer of 2015, he stunned the tennis world when he unleashed a new shot in the final of the Cincinnati Open where he beat the world's top player Novak Djokovic in straight sets. The SABR – Sneak Attack by Roger – involves advancing on the opponent's second serve to hit a half-volley right on the edge of the service box before rushing the net.
Mr Federer has earned nearly a hundred million dollars in prize money. On top of that, his elegance, charm, and ability mean he is much sought after for corporate advertising. In summer 2015, the London School of Marketing named him the world's most marketable sports star. The study calculated the brand value of the athletes, taking into account their current income from sponsorships as a percentage of their total earnings, and also factored in their social media presence. Mr Federer has long-term deals with Nike, Rolex, and Credit Suisse. He recently extended his Mercedes-Benz deal for another three years, and also includes Wilson, Lindt, Jura, Moet & Chandon, National Suisse, and NetJets among his portfolio of sponsors.
The 2015 Forbes list of the highest paid sports stars reports that for the ninth year the Swiss star is the top earning tennis player with a combined $67 million in prize money, endorsement deals, and appearances between in the twelve months to June 2015.
Mr Federer's trophy cabinet is packed with the biggest prizes available in tennis. On court, he has won 24 ATP World Tour Masters 1000 titles and six Barclays ATP World Tour Finals. Off court he continues to collect awards and accolades as well.
Mr Federer was born in Basel the son of a Swiss father and South African mother. He began playing tennis at age eight and was a successful junior player before taking the senior circuit by storm. The charismatic Swiss maestro is fluent in English, German, and French and can also muster some Swedish and Italian. In 2003, he set up the Roger Federer Foundation which supports disadvantaged children in South Africa and promotes sport for young people.
Away from the tennis court he is a devoted family man and a father to two sets of twins. Athlete, role model, and corporate advertisers' dream, Mr Federer is one of nature's aristocrats. Despite years of hard grind on the international tennis circuit, his appetite for the game appears undiminished.