From helping China open up its economy (1976) to avoiding war between Greece and Turkey (1988) and bringing together West and East Germany (1989); few non-governmental initiatives boast a more impressive CV than the World Economic Forum (WEF). However, most of the forum's accomplishments are less tangible and result from setting an agenda and inviting forward-looking thinkers and doers to come up with ideas and ways to tackle the issues raised. While the WEF facilitates brainstorming on a global scale, it doesn't often receive credit for the outcome.
The forum has long outgrown its Alpine home in Davos, Switzerland, to morph into a globe-spanning network of groups and events that map trends, investigate policies, put out feelers, gauge moods, and produce embryonic solutions. The WEF has also gained a well-established reputation for prodding governments, private enterprise, and other agents of change into action.
Though the annual WEF summit in Davos draws most attention, the event has lost most of its original lustre as an informal venue that allowed participants to freely exchange ideas and experiences without being held to task by either press or peer pressure. Contemporary Davos has grown into a stage that enables leaders of all stripes to deliver sweeping statements on any topic that commands the world's attention. The relaxed atmosphere of the early years has become a carefully choreographed media event where little is left to chance and pundits deconstruct every word uttered to find hidden meaning and detect shifting opinion.
This is not what founder Klaus Schwab had in mind when he launched the European Management Forum in 1971 to offer leading business people from across the continent a venue to meet with their American counterparts and become acquainted with the latest corporate management techniques they developed. An economist and engineer, Professor Schwab was one of the first to propose an all-inclusive approach to business management that took into account not just the interests of shareholders and customers, but also those of workers, communities, and governments.
With that broader approach in mind, Prof Schwab in 1974 invited politicians to attend the annual meeting. Thirteen years later, in 1987, the event's name was changed to World Economic Forum to better reflect the vast scope of proceedings which now also included opinion makers, academics, and leaders from civil society.
Going Regional
While the annual meeting in Davos has outgrown its original intend, the WEF's founding principles moved offstage to smaller regional venues. The forum's regional meetings allow participants to discuss specific issues in close proximity to the actual scene of events. The upcoming meeting on Africa, scheduled to take place in Kigali, Rwanda (May 11-13), is set to debate the impact of digital technology on the development agenda. Leaders from the region will explore the opportunities for structural transformation presented by the advent of the digital economy.
Rwanda was chosen to host the 26th WEF Africa meeting as the country symbolises the resurgence of an entire continent, boasting the highest economic growth in Sub-Saharan Africa thanks to a vastly improved business climate. Now one of Africa's most competitive economies, Rwanda also moved to the fore with smart policies and investments aimed at encouraging the digital revolution.
Rwanda Finance and Economic Planning Minister Claver Gatete pointed out that his country proves that Africa may aspire to a bright future: "After losing over a million people, our most precious resource, to genocide in 1994, Rwanda is rising from the ashes and shows that a much brighter future can be built with high standards of good governance. Rwanda is now a safe place to live and to conduct business. The country is politically stable under the rule of law and with zero tolerance for corruption."
The regional WEF summit in Kigali is expected to draw over 1,200 participants from around seventy countries and will be followed June 01-02 by a meeting in Kuala Lumpur, Malaysia, on the challenges faced by East Asia. Here, the newly launched ASEAN Economic Community (AEC) will take centre stage. The AEC aims to bundle the economic prowess of the ten ASEAN (Association of Southeast Asian Nations) member states along lines not entirely dissimilar from the original European Economic Community which in 2009 was fully absorbed into the European Union.
The 25th edition of WEF East Asia aims to discuss the pitfalls of economic integration and how to maximise its benefits through enhanced trust, transparency, and mutual understanding, not just between governments, but amongst all layers of society. Uniquely, participants of the Kuala Lumpur meeting will also exchange ideas on more esoteric existentialist questions such as the meaning of accelerated economic growth: what is its ultimate purpose; how can it contribute to overall societal well-being; when is it enough; and how does it impact the environment?
Agriculture and Food Security
Economic Growth and Social Inclusion
Employment, Skills, and Human Capital
Environment and Resource Security
Future of the Global Financial System
Future of the Internet
Global Gender Parity
International Trade and Investment
Long-Term Investing, Infrastructure, and Economic Development
Problem-Solving 2.0
As the world premier organisation for fostering public-private cooperation, the World Economic Forum can afford to ask questions, and debate at length all answers, that border the abstract. While not bereft of pragmatism, the forum in its many guises is explicitly not a policy-setting instrument. "There has been a fundamental change in how global problems can be solved. New non-state networks of civil society, private sector, government, and individual stakeholders are exploring alternative forms of cooperation, social change, and the production of global public value," says Canadian Adjunct Professor Don Tapscott who heads the Global Solutions Network (GSN) Programme at the University of Toronto.
A newcomer to the World Economic Forum, which he joined in 2015 as a senior advisor, Mr Tapscott emphasises that the new networks now emerging seek to address issues that traditional multilateral entities and groups such as the World Trade Organization, United Nations, G20 and many others have been unable to tackle, let alone solve. "Many of the world's problems can simply not be pigeonholed or compartmentalised and do not fit neatly defined remits. Rather, they sprawl all over and resist unidimensional solutions."
Mr Tapscott explains that networks such as the World Economic Forum are enabled by the digital revolutions which allows global interconnectivity: "Global solution networks bring together a diverse array of independent parties around any given issue they perceive as important and which cannot be handled by any single group on its own. The network communicates and coordinates the activities of groups not controlled by nation states and does so in a non-competitive manner."
Within this universe of global solutions networks, the WEF occupies a singularly important place as a truly global institution that combines the capabilities of different types of GSNs. As such, it may perhaps best be thought of as a super network. There are few areas of human endeavour that the World Economic Forum does not touch upon: "The WEF addresses every conceivable issue facing humanity, from poverty, human rights, health, and the environment to economic policy, war, and Internet governance."
Mr Tapscott is particularly impressed with the forum's Center for the Global Agenda which aims to tackle nine global issues that have been identified as the most pressing facing humanity. While an outflow of the annual meetings in Davos, the Global Agenda is not a single, periodically returning, event, but rather a continuous technology-driven effort in real-time collaboration between stakeholders. The Global Agenda Platform allows communities to coalesce around the issues by providing a virtual space where participants can meet to formulate interdisciplinary and multi-stakeholder approaches to global challenges. The idea is not so much for the Global Agenda Platform to produce ready-made solutions, as it is to allow a way forward to be found via the unencumbered flow of ideas and experience.
At any given time, the World Economic Forum is engaged in more than eighty initiatives as a facilitator.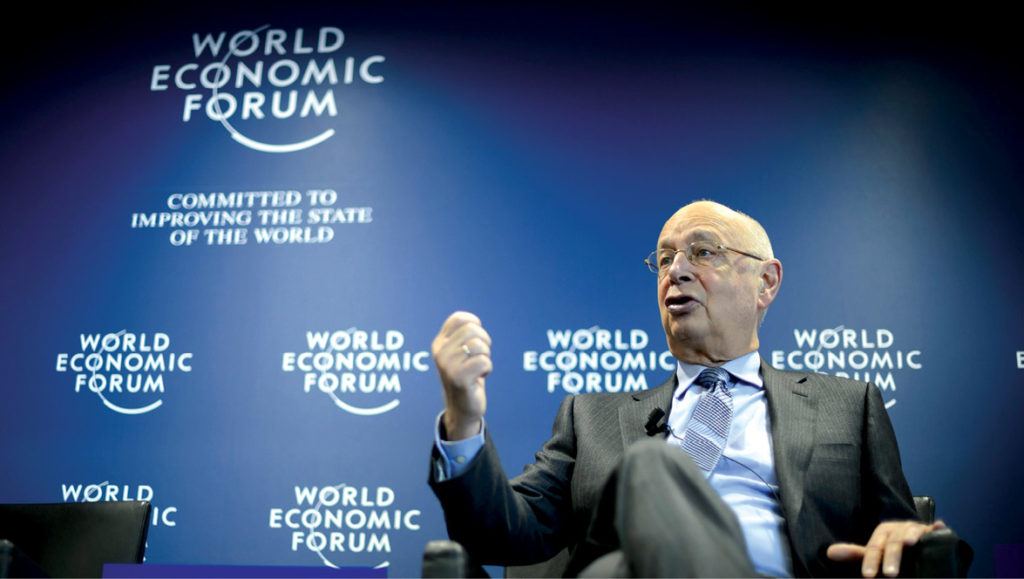 New Visions
The New Vision for Agriculture Initiative, one of many, has helped bring industry, government, international institutions, civil society and academia together in a public-private effort to leverage agriculture's potential and increase food security and environmental sustainability – and open economic opportunity. The initiative plugs into the G8 and G20, and eleven countries in Latin America, Africa, and Asia. Amongst others, it also spawned the Grow Africa partnership with the African Union Commission and NEPAD (New Partnership for Africa's Development) that provides an investor-friendly platform to guide and mobilise funds for agricultural development in a dozen countries.
Set up in 2011, Grow Africa engages over 300 companies and organisations working to implement over $10bn in investments. The network aims to develop markets by linking stakeholders in value chains. It engages with small farmers to improve their business models and promote best practices. Grow Africa also connects with financial services providers to explore holistic solutions that reduce risk and offer tailored credit solutions. On a macroeconomic scale, Grow Africa prods governments into promulgating reforms that improve the overall business climate with a view to attracting private investors.
Another of the WEF undertakings that goes beyond discussion to deliver tangible results is the Partnering Against Corruption Initiative (PACI), started ten years ago and now one of the forum's most successful programmes. PACI was developed by and for private companies that seek to design and adopt effective corporate policies aimed at preventing, detecting, and addressing corruption. The initiative also led to the creation of a set of global benchmarks against which individual corporates may measure their performance.
PACI constitutes a textbook example of what the Davos summit can and does produce. From discussing their experiences, captains of industry gathered in the Swiss town found that they all battled the same foe: corruption. This discovery may not have been earth-shattering; it did lead to the beginnings of a consensus that paying for favours was not a particularly smart way to conduct business. One thing soon led to the other, with all unanimously agreeing that a level playing field would probably serve corporate interests better than courting favours. Common ground, found in Davos, resulted in a global initiative to end the bidding war that had lined the pockets of corrupt officials. It soon transpired that governments as well showed an interest in stamping out corruption. Today, PACI comprises a number of regional programmes and strategic dialogues that involve the business community, governments, and civil society in discussions on ways to improve transparency.
PACI also includes a range of industry-specific projects such as those focused on the infrastructure and real estate sectors. Building Foundation for Transparency, a multiyear collaborative programme, brings together CEOs to develop a comprehensive framework that allows participants and others access to tried-and-tested tools and procedures that help increase operational transparency.
Adding It Up
Whereas it may seem, to the untrained eye, that the World Economic Forum's annual summit can be surmised as an annual gathering of the high and mighty; in reality, Davos constitutes little more than a footnote, albeit a flashy one, to the forum's vast universe. Though it is in the Alpine resort town that some of its ideas took flight, the hard work of "improving the state of the world" is done elsewhere. Indeed, WEF grindstones are found in most countries, often in unexpected places. A network of networks, rather than an organisational monolith, the World Economic Forum has evolved from a meeting of rather uninspiring businesspeople to become the facilitator of choice for global dialogue.
Though at times bewildering, this cacophony of voices produces an output that, while tangible, is hard to grasp. Governments, corporations, and entities end up claiming credit for accomplishments that emanated from collaborative efforts initiated by the forum. Not that anybody in Switzerland really minds: The World Economic Forum is not in the business of delivering and cashing in on results. Instead, the organisation is quite content to act as a mere catalysing agent. As such, it is peerless.