Though the company has issued five profit warnings in less than two years, Rolls-Royce remains one of the world's largest and most successful manufacturers of aero-engines. The company powers over 35 types of commercial aircraft and has more than 13,000 engines in service globally. Rolls-Royce is also the world's second-largest purveyor of military aero-engines, serving in excess of 160 clients in 103 countries with an operational engine base of around 16,000.
More than merely an engine maker, Rolls-Royce has evolved into an engineering company that constantly pushes the technological envelope to design and build ever-more powerful and efficient engines that use less fuel and boast a reduced carbon footprint.
Though the wider public knows Rolls-Royce perhaps best for its motorcars – exquisitely crafted understatements of quintessential British class – the company has been in the aero-engine business since 1914. Around half of all aircraft engines used by the allied powers during World War I were produced at Rolls-Royce factories.
However, it was the Merlin aero-engine, first flown in 1935, that established the company's reputation as both an innovator and a supplier of superior power plants. A liquid-cooled V-12 piston engine with a displacement of 27 litres, the Merlin produced up to 1,580 hp. The engine was used in both fighter planes, such as Hawker Hurricanes and Supermarine Spitfires, and Avro Lancaster heavy bombers, amongst others. Ultimately, Rolls-Royce produced close to 150,000 Merlin aero-engines in over fifty marks.
UltraFan
Today, the company's flagship aero-engine is the Trent XWB gas turbine, an exceptionally efficient design that uses Rolls-Royce's proprietary UltraFan technology. Airbus has chosen the Trent XWB as the standard power plant for its A-350 extra-wide body twin-engine jetliner which was first taken into service early last year by Qatar Airways. The A-350 is quickly replacing the Boeing 787 Dreamliner as the world's most popular long-distance commercial airplane.
By last May, Airbus had received 802 firm orders for the A-350, securing Rolls-Royce years of work and driving the expansion of the production line at its Derby factory, adding 350 jobs. The company has already received £30bn of orders for Trent WXB aero-engines. Airlines are eager to take Rolls-Royce-powered A-350s into service on their long-haul routes for the added range the plane affords and the significantly reduced fuel burn-rates it delivers.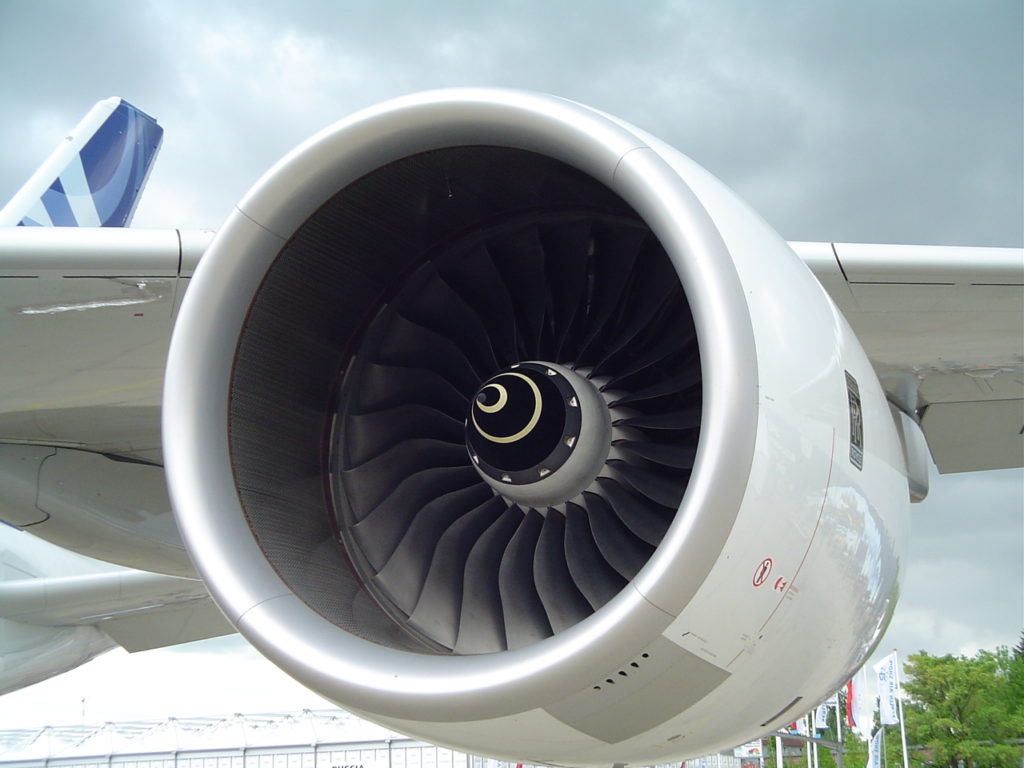 Fully two-thirds of the around £1.1bn Rolls-Royce invests annually in research and development is now destined towards further improving the environmental performance of its products. Additionally, the company conducts research and manages technology programmes and initiatives on behalf of governments and other entities around the world.
In order to trace its vectors of technological progress, Rolls-Royce developed a unique three-tier approach. The company constantly updates its considerable inventory of currently employed off-the-shelf technologies that can easily be incorporated into its products. The second layer of the Vision Programme comprises new technologies that are undergoing validation and may come to fruition within the next decade. When working on the design of future engines, Rolls-Royce engineers source their ideas from this tier.
Finally, and most interestingly, the third layer is composed of sci-fi elements; technologies – often mere ideas – that are nowhere near release but hold great promise. Vision 20 explores the concepts that will power future generations. As such, this tier entails strategic research of emerging, though not yet proven, technologies that only may become mainstream in twenty years or so. Rolls-Royce maintains close ties with a number of premier universities and research centres to explore and investigate concept formulated under its Vision 20.
The Vision Programme was set up to give the company's research and development effort direction and to ensure that Rolls-Royce maintains at the forefront of aero-engine industry.
With a carefully balanced mix of investments, risk-taking, and innovation, Rolls-Royce has deftly managed to keep – and expand – its leading edge. Now widely regarded as standing at the pinnacle of British engineering, and employing over 23,000 people in Great Britain, Rolls-Royce remains a hallmark of quality.
An example of Rolls-Royce innovation is the development of wide-chord hollow fan blades which save considerable weight – and thus improve engine performance while reducing fuel consumption – but require space-age manufacturing techniques. Rolls-Royce's light-weight hollow fan blades also allow for savings to be obtained in ancillary gear such in the fan disc, structure, and containment parts.
The company has also introduced turbine fans with blades made of composite materials which enable fans to become larger and, thus, turn at slower rates for the same air displacement volume. This trend, coupled to Rolls-Royce's open rotor technology, represent a significant improvement in engine efficiency that reduces fuel burn rates by up to 30%.
In order to apply the innovations to the work floor of its manufacturing facilities, Rolls-Royce established seven Advanced Manufacturing Research Centres – five of them located in Great Britain – which help the company and its industrial partners adapt its processes to the requirements imposed by new technologies. The facilities produce solutions for advanced machining, material forging and forming, net shape manufacturing, and a host of other proprietary manufacturing techniques that allow the company to seamlessly turn its research findings into real-life applications.
Resilience
Whilst Great Britain's possible, if not likely, departure from the European Union does have the company concerned; the uptick in European defence spending, the continued buoyancy of the commercial aviation industry, and – perhaps most important of all – the formidable reputation it enjoys should provide ample offset to any headwinds.
In late June, Rolls-Royce assured its stakeholders that the company did not expect any immediate fallout from the referendum's outcome. In a press communiqué, Rolls-Royce also reaffirmed its commitment to Great Britain though it lamented the vote to leave the EU: "It was not the outcome the company wanted."
Though the overall market slid into a trough in the immediate aftermath of the referendum, market analysts in London were bullish on Rolls-Royce's prospects, driving up the share price, since the company stands to benefit from the weakening of sterling as the bulk of its revenue is obtained from sales outside the UK.