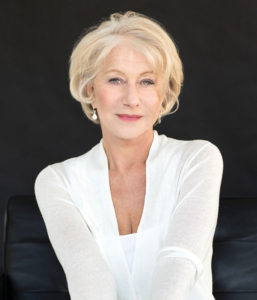 While female actors of a certain age bemoan the absence of suitable roles, the versatile septuagenarian Dame Helen goes from strength to strength. A star of stage and screen, the highly respected and versatile actor is much acclaimed and continues to work as energetically as ever.
Her career, spanning half a century, has seen her take on many and varied roles. After training at London's New College of Speech and Drama Dame Helen Mirren made her debut with the National Youth Theatre in 1965. She graduated to the Royal Shakespeare Company before working with Peter Brook's theatre company Centre de Recherche Théâtral, touring Africa and America. She has gone on to play many classic roles and continues to garner stellar reviews.
Television made Dame Helen Mirren a household name in the 1990s when she starred as the tough, independent-minded detective DCI Jane Tennison in the gritty, ground-breaking series Prime Suspect. Her cinema career started in 1969 and rarely a year goes by when she does not add new films to her CV. Notable successes include Hitchock (2012), Calendar Girls (2002), Last Orders (2001), Gosford Park (2001), The Cook, The Thief, His Wife and Her Lover (1989), and Mosquito Coast (1986). Now aged 70, at an age when retirement entices many to cut back on their workload, Dame Helen Mirren shows no signs of slowing down.
She has taken on roles ranging from rags to royalty, from call girl to assassin. The dame describes her upbringing as antimonarchist but this has been no bar to her portrayal of British queens on screen. She played Elizabeth I in the 2005 television series of the same name, Elizabeth II in The Queen (2006), and Queen Charlotte, the wife of George III, in The Madness of King George (1994).
Dame Helen Mirren's title role in The Queen, portraying the emotionally detached head of state struggling to regain public respect after the death of Princess Diana in 1997, was much acclaimed. Two physical impersonations stood out: Dame Helen's transformation into The Queen and Michael Sheen's portrayal of Prime Minister Tony Blair were striking in their verisimilitude.
Her performance landed Dame Helen an Oscar and a Golden Globe for Best Actress. During her acceptance speech at the Academy Award ceremony, Dame Helen praised the incumbent monarch saying that she had maintained her dignity and weathered many storms during her reign as queen. Dame Helen was reciprocating a compliment, for the queen had appointed the actor as a Dame of the British Empire in 2003.
Ten years later Dame Helen stepped back into the role of queen starring in Peter Morgan's play The Audience in London's West End. She won an Olivier Award for Best Actress. In February 2015 the play transferred to New York with Dame Helen continuing to play the title role.
Dame Helen Mirren is an engaging, opinionated, vivacious, and attractive character. She was born in London, the daughter of a working-class English mother Kitty Rogers and a Russian father Vasily Petrovich Mironoff. Her paternal grandfather was an Imperial Russian Army officer who became a diplomat. He was in Britain to negotiate an arms deal when the Russian revolution took place.
Rather than return to his homeland, the aristocratic Colonel Mironoff remained in exile, becoming a London taxi driver and settling with his family in England. His son, Helen's father, changed his name to Basil Mirren when Helen was nine. In 2009, Dame Helen connected with her Russian roots when she played Tolstoy's wife Sofiya in the film The Last Station, a biography of Tolstoy's final months.
Basil and Kitty moved to the Essex seaside town of Leigh-on-Sea with their three children, of whom Dame Helen was the middle child. At the age of 13, she saw an amateur production of Hamlet which determined her future career path. "We grew up without TV and never went to the cinema, so after Hamlet, all I wanted to do was get back into that world where all those fabulous things were possible," she recalls.
The term Essex girl has been used since the 1980s as a synonym for brash, sexually uninhibited, rather unintelligent young women from that county. Dame Helen Mirren may have grown up there but clearly, she is no ordinary Essex girl.