Lockdown was indisputably dull, but as FRANKIE THOROGOOD recounts, the boredom led to an exciting business idea…
THE INSPIRATION for Pott'd came during a Groundhog Day period that my girlfriend Sascha and I had been slowly sinking into.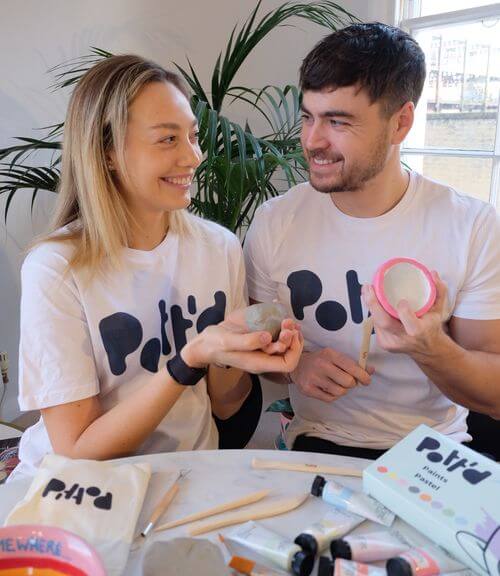 It was a time of entire days staring at computer screens and evenings in front of the TV, followed by hours of bedtime scrolling on our phones. This routine was taking a toll on our emotional well-being, and we began to crave respite.
Pining for some quality time together, and an excuse to close the laptop and put our phones away, we started experimenting with a few ideas. We were searching for a hobby that required minimal space, could be done from home and, importantly, meant we'd spend time together.
The search led to air-dry clay. Making bowls, plant pots, trinkets and vases, this creative outlet quickly became a source of joy for us. The activity had a positive effect on our mental health.
We felt compelled to share with others, and realised there was potential for a business plan somewhere in there. We started to experiment, pulling together a product that would come with everything you need to get started in pottery.
I used my experience from previous entrepreneurial ventures to find suppliers, decide on branding, and create a complete product. Sascha and I tested prototypes, and spent hours cutting up blocks of clay and wrapping them in clingfilm.
Once the foundation was in place, we looked towards expansion, and I retained a role that played to my strengths. My previous work experience had given me a holistic view of the roles that would need filling, and finding the right people was a smooth process. I had loads of ideas for other products and brands I wanted to bring to market, but while I am good at thinking of great ideas, I am not an expert at developing them or working with suppliers. The hunt began for a full-time product developer, and soon we brought in our first full-time employee. I also knew I needed operational help at scale and reached out to a former colleague — who became my COO.
From conceiving the idea, developing the product and working on expansion, the Pott'd kit is now being sold across the UK, the US, and Europe. We have big product plans, as well as an ambitious plan for global expansion — and we're excited to see what the next few years will bring.
Click here for more information on Pott'd.