There were some impressive claims amid the recent hype surrounding the MC-21, Russia's new medium-range passenger jet.
The Siberian-made airliner is said to weigh 15% less, consume 15% less fuel, cost 20% less to operate, and could be 35% cheaper to buy than the Boeing 737 and Airbus 320, which currently dominate the market for short to medium-haul airliners.
But there were other factors that neither the Russian government nor Irkut – the MC-21's manufacturer – dwelled on during a showy unveiling of the airliner in early June. Most significantly, the MC-21 isn't flying passengers yet, as it is still undergoing tests and technical refinements. That is despite a reported 100 billion roubles spend on the project since its pre-design phase in 2009.
The long-awaited newcomer was supposed to start replacing Russia's aging fleets of Tupolev Tu-154 and Tu-204/214 aircraft last year, but this will not happen until at least 2018. Some experts reckon certain Russian airlines cannot wait that long and might be forced to buy jets elsewhere.
One of the MC-21's biggest problems is trade barriers – mainly western sanctions imposed over Moscow's controversial role in the Ukraine – which have starved the local suppliers of critical parts. The Russian-made plane still depends on US and European technology in areas such as avionics, landing gear, hydraulics, power systems, and engines.
It is no wonder that Dmitry Medvedev, Russia's prime minister, was mobilised to explain the importance of competing with the world's top aircraft makers: "This is a huge victory for our aviation industry, our scientists, designers, engineers, and workers. I'm sure this is going to be a good machine, reliable, and efficient. I am absolutely certain that the airliner will be the pride of Russian civil aviation."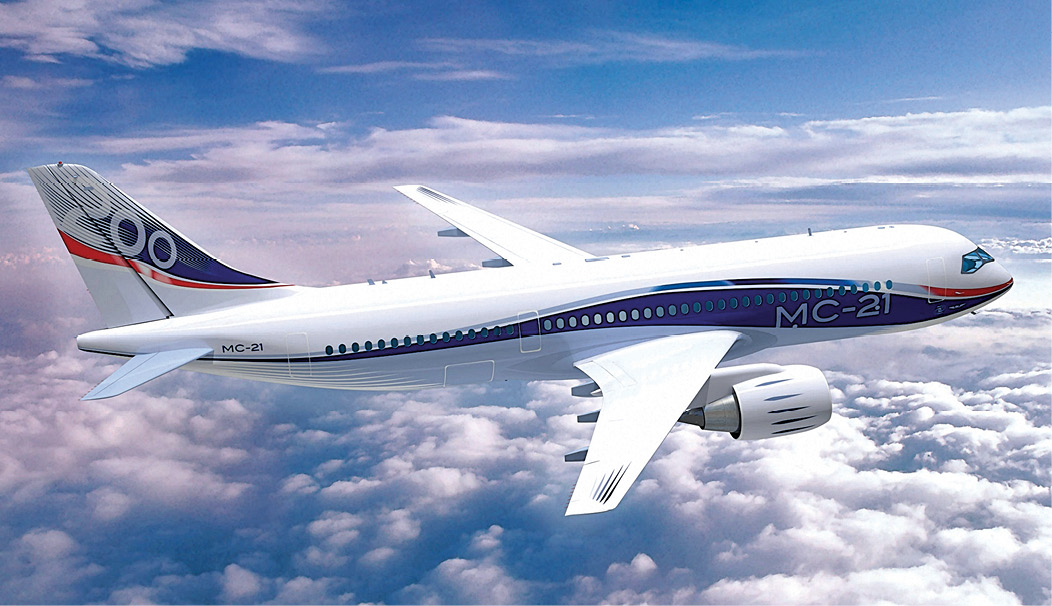 Such sentiments are understandable. The MC-21 will be Russia's first serious medium-range passenger aircraft developed in the 21st century, proof of the country's commitment to revive industrial capabilities and become less reliant on western imports.
Irkut – a subsidiary of the state-controlled United Aircraft Corporation – will build two variants of the twin-engine airliner: the MC-21-300 with between 160 and 211 seats, and the MC-21-200 with between 130 and 165 seats, both flying routes of up to 4,000 miles.
Despite high costs, delays, and production challenges, Russia hopes to sell up to one thousand MC-21 airliners over the next twenty years, and already has received 175 orders. This includes 45 MC-21 troop transporters for Russia's military, with a revamped version as a reconnaissance aircraft also in the works.
Vladimir Volkov, Irkut's vice-president, told the media: "It is not made of metal, but of composite materials. That allows us to give the plane a special shape. As a result, it is much lighter and stronger which represents a great step in the development of our aviation industry."
What Mr Volkov didn't say is that the East Siberian factory where the MC-21 will be produced was previously making Sukhoi fighters and Yakovlev trainers. Observers say it is only currently able to assemble around 72 airliners a year – little more than the monthly outputs of 737s and A320s.