All engine, no wheels: self-help tome struggles to convey its central concepts with clarity
By NIGEL BOOTH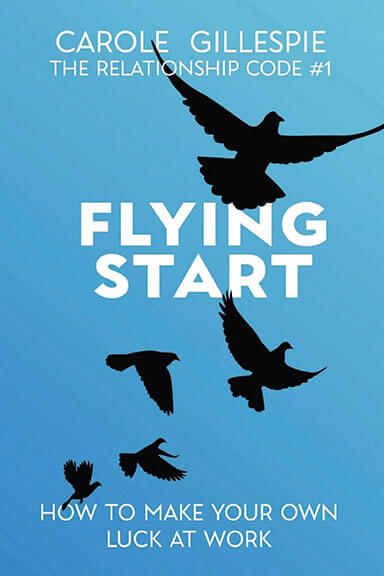 CAROLE Gillespie's Flying Start, How To Make Your Own Luck At Work, is a self-help book aimed at people entering the workforce. People who have ambition – and difficulty in forming relationships.
It begins with the basics: creating a network of contacts (it's who you know, not what you know, remember) and develops its theme with a concept called The Relationship Code. The code is broken down into easily digested components.
The main premise is that relationships are built on four pillars:
knowing and being known
trusting and being trusted
understanding and being understood
valuing and being valued
After exploring each of these steps (in a rather limited way), Gillespie builds on them by describing six behaviour patterns that she sees as fundamental. Being fair and consistent, for instance, and being honest and constructive. By effectively mastering the six behaviours, Flying Start asserts, readers may begin building those influential networks.
The behaviours Gillespie focuses on are those that most people would recognise as essential to a strong interpersonal relationship; in this instance, the traits are adapted to meet the needs of career development in a business environment.
The book makes no attempt to address the fundamental personal-image issues that drive the way individuals interact with others, such as shyness or a lack of self-esteem at one end of the scale, and confidence and articulacy at the other. She writes for those struggling to build relationships, with examples of real-life situations. Gillespie gives answers to specific questions that have been raised by people she has encountered in the course of her work. These conversations are used to illustrate and support her assertions, and while useful in positioning a concept, their effectiveness isn't demonstrated with examples to illustrate the outcomes. Nor is there practical guidance on how to reinforce and cement relationships.
I found the book a little confusing, mixing concepts and content sometimes hard to knit together until I reached an illustration – more than halfway through the book – which neatly encapsulates the idea. Overall, the book lacks visual aspects to link concepts to concrete examples or inspire readers with some clarification of Gillespie's ideas.
In the latter half of the book, the theme shifts back to branding, which had been given an almost dismissive, one-page introduction in the opening pages. More space could have been given to the importance of branding to set the foundation for those four pillars, for a start. Taking the time and space to illustrate the fundamental concepts that relate to the core values and beliefs that drive behaviour would have further supported the contention that it is the scale and quality of a network that influences personal success.
Gillespie's own story is a compelling one. She positions herself as coming from a disadvantaged, but parentally supportive, background. She uses her upbringing as grist, suggesting her circumstances were the blueprint for potential failure, rather than the driver of ambition and desire for betterment. She could have made more of her personal story to communicate the essence of how she has achieved success in her chosen fields of writing, speaking, and coaching business people in relationship development.
Flying Start is a book of principles, and I have no argument with the basic ideas. They just stand in isolation, rather than forming a coherent whole. We have an engine, just not the vehicle. As a practical guide, it lacks a framework for regular or daily activity. As a primer it may serve to set a reader on the path to greater learning; as a complete work, it lacks depth and clarity.
* Flying Start: How To Make Your Own Luck At Work by Carole Gillespie is published by Clink Street. (RRP £8.99 paperback, £3.99 e-book). It is available online and can be ordered from bookstores.