Reviewed by JOHN FOOT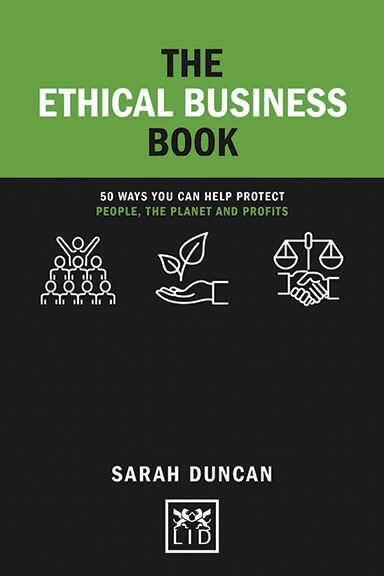 SARAH Duncan is to be congratulated on producing The Ethical Business Book, a timely and important presentation of "50 ways you can help protect people, the planet, and profits".
The author makes a strong business case for taking the ethical road, and companies ignore it at their peril. She explains that traditional corporate social responsibility (aka CSR, often a bolt-on after the money has been made) is being superseded by new ethical standards for business.
We are now required to live up to society's expectations while generating profits. Business owners should be thinking about the "triple bottom line", which measures not only profitability but also integrity and sensitivity to the environment.
Duncan's tone is never hectoring, and she is sympathetic to individuals and companies that need to take baby steps. "Don't be afraid of the half-way house — all businesses are a work in progress," she writes. "Companies just need to be able to legitimately say that initiatives are being set in train and this is part of an ethical journey to better things."
The reader is challenged to produce an action plan for greater employee engagement and happiness. It's a no-brainer when you consider that, according to The Macleod Report, well-motivated staff generate 43 percent more revenue (with 12 percent higher productivity), take far fewer sick days, and are 87 percent less likely to quit. That's going to ease the recruitment budget somewhat.
Mahatma Gandhi is credited here with having carved out the Ten Customer Commandments (in essence "Though shalt look after them"). But looking after — and retaining — customers as consumer conscience rises will depend partly on their commitment, too. Some will be ready to switch to similar businesses that display better sustainability credentials.
Marketing in this new era moves from manipulation to authentication, adding the values and proof of ethical impact that customers demand. Duncan suggests reinventing BOGOF to "Buy one GIVE one free". She commends Toms Shoes (a raft of support to the needy), Mindful Chef (school meals for poor children), and Hey Girls (free sanitary towels to those who could not otherwise afford them). Advertising seems to be confined to the informative (which may sadden those who consider the better commercials to be minor works of art).
This guide will be useful to those who are aware they should be doing something for the environment, but aren't sure quite what. It's also an admonishment to people who stuff old newspapers in with household waste when no one is looking. Never again, Sarah, I promise.
In the UK, as elsewhere, teenagers' interest in the Brexit saga is rightly giving way to concern for the welfare of the planet. Young people are worried and in five years, 75 percent of the workforce will be Millennials — who are already shunning companies with poor ethical standards. The Baby Boomers may have eased-off on their idealism, but those born in the 1980s and '90s appear to be in for the long haul.
The author tells us that this is the age of the eco-leader, who recognises that quality, profitability, sustainability and social responsibility are connected. So how do we lead, follow and adapt?
This little book could help. Duncan writes well, wasting not a word. The layout and illustrations are superb, with plenty of room for reader response. The author invites us to consider our position in relation to the new business ethics and jot notes in the book. She is realistic about the time needed to reflect on these matters before putting pen to paper (take heed, Dr Phil) and this would seem to be a very useful exercise.
It's a small volume that could be devoured at one sitting — but it will be referred to many times thereafter.
168 pages. Published (2019) by: LID Publishing Limited, London