By HAL WILLIAMS
FOUR Danish companies are poised to provide low-emission fertilizer for Indonesia. Oh, and one of them is a nuclear power firm…
Topsoe, Alfa Laval, Copenhagen Atomics and Aalborg CSP, along with two Indonesian state companies, hope to build a facility in Bontang, a city on the east coast of Borneo, capable of producing a million tonnes of "ultra-low emission ammonia" each year.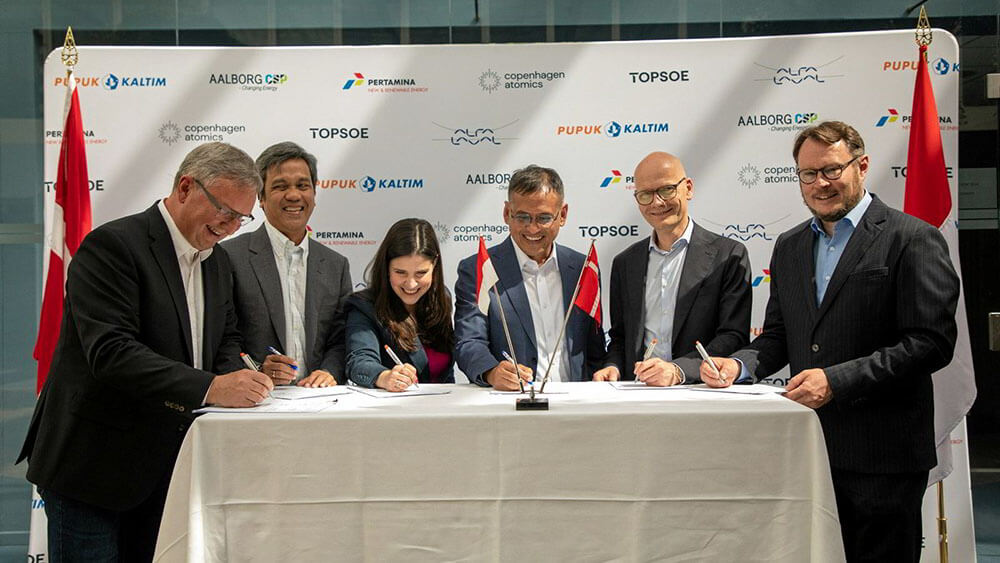 That's enough to produce fertilizer to grow food for 45 million people, the group says. In the next six months, final examinations are due to be completed and the legal landscape in Indonesia "fully mapped".
It is claimed that the plant will save 1.7m tonnes of CO2 emissions each year compared to natural gas-based fertilizer production. And the facility will be nuclear powered, courtesy of Copenhagen Atomics and its small, modular nuclear reactors, or SMRs. British firm Rolls-Royce is investigating similar technology for power generation in the UK.
The plant will generate 1GW via 25 SMRs, and the entire plant should run for 50 years. It is expected to open in 2028. It will be a first for Copenhagen Atomics' modular molten salt thorium reactors.
Topsoe will supply electrolysis cell technology, called SOEC, which makes the production of hydrogen cheaper and more efficient. Hydrogen is an intermediate stage in the production of ammonia.
Alfa Laval will deliver heat exchangers to optimise the energy balance, and desalination to produce water for the electrolysis process.
Aalborg CSP will design and supply thermal energy storage systems. The economics of the overall project have not yet been finalised, but the construction is expected to cost around $4bn.
The ammonia produced can potentially be used as CO2-free marine e-fuel, and is central to reducing the agriculture and shipping footprint from fertilizers and fuel.