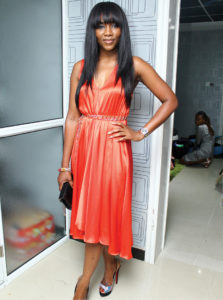 Genevieve Nnaji is used to being in the public eye. Her career took off at the age of eight when she appeared in Ripples, a popular Nigerian soap opera. She went on to become a household name starring in over eighty films. Ms Nnaji is one of the faces of Africa's largest film industry and among the best paid actors in Nollywood.
The Nigerian film industry – aka Nollywood – boomed in the 1990s and peaked in the mid-2000s when it became the world's second largest film industry in the number of annual film productions, placing it well ahead of Hollywood and only slightly behind Bollywood. Nigeria turns out at least a thousand movies annually. Nollywood capital Lagos is said by locals to have produced more films than there are stars in the sky.
In Nigeria, only the government employs more people than the film industry. With more than a billion Africans, 155 million of them in Nigeria, the potential audience is huge. The use of English, rather than any of Nigeria's 521 local languages, gives Nollywood films a huge potential market across the continent. Aggressive marketing campaigns have paid off in mushrooming sales of DVDs and CDs for home consumption.
Nollywood movies significantly influence culture across Africa and the Nigerian diaspora. Its actors are household names across this hinterland. In 2013, the Nigerian movie sector's combined revenue leaped to £5.6bn.
The genesis of this big business is an unlikely story. Nigeria's film industry was born out of economic desperation during the military dictatorship of the early 1990s. Low oil prices and structural adjustment of the economy meant that the Nigerian economy was on the rocks. Budget cuts at the national television station cast actors, cameramen, and film technicians aside. Cinemas closed because the streets were dangerous, especially at night.
Legend has it that the first Nollywood movie was made by a small-time electronics trader who, after an ill-advised business venture, needed to sell his large stock of blank videotapes. He decided to shift the tapes by recording a movie about a man who sells his soul for wealth. He hired a theatre director to make a cheap film and copied it onto the tapes.
Living in Bondage, the story of a farmer in a big city who loses his wife and is haunted by her ghost, sold more than half a million copies. This established Nollywood's archetypal plot elements: marital discord, greed, and conflict between Christianity and juju. Nigeria's indigenous thriving film industry soon blossomed. From this unlikely beginning, the industry continued to explore Africa's troubled journey to modernity.
Ms Nnaji – the Queen of Nollywood – started working as child model at a Lagos agency. She has not looked back since. In 1998, aged 19 and a student at Lagos University planning to become a lawyer, she made her debut in the burgeoning Nigerian film industry with the movie Most Wanted.
A succession of roles followed. Ms Nnaji's style and good looks have kept her in demand as a model. In 2004, she signed a recording contract with a Ghanaian record label and released her debut album with an eclectic mix of styles. Four years later, she launched her the St Genevieve fashion line which donates a percentage of the proceeds to charity. In 2015, she turned to movie production and starred in her first self-produced movie Road to Yesterday. It tells the story of an estranged couple that tries to mend their relationship on a road trip to a relative's funeral. The film is featured at the Africa International Film Festival.
Ms Nnaji, mother of a grown up daughter, remains single and is cherished by her 1.4 million social media followers. She describes herself as Lagos born and bred and says she cannot imagine living anywhere else. Determined, focused, humble, and creative she is an influential advocate for Nigeria.