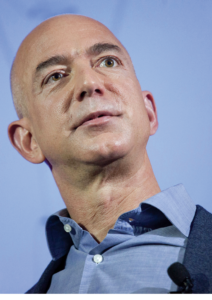 Best known as the founding father of Internet behemoth Amazon, Jeff Bezos is more than a one-multi-global-success-trick pony. A divisive figure – mainly due to reports of staff mistreatment and claims he has destabilised the publishing industry leaving booksellers, writers, and other retailers struggling more than ever – he is without doubt a disruptor.
The online giant now sells practically anything one might think of – new and used electronics equipment, beauty products, fashion, sports gear, cars – and plenty you might not, such as nappies and cat food. It has also branched out into TV and film production and fresh groceries and now, Mr Bezos wants to win an Oscar too.
He doesn't appear to be a man who balks at a challenge. Having set up space company Blue Origin, Mr Bezos declared its number one opponent as "gravity" and envisions people living and working in space. He also bought the Washington Post in 2013, a time when print journalism had ceased to be the money-spinning, opinion-forming medium it once was.
Mr Bezos apparently formulated a business plan for Amazon during a drive from New York to Seattle in 1994. His vision was for it to become the most customer-centric company on the planet.
Having thrown his spanner into the works of the publishing industry, he then set about redefining – or for some people removing – one of the fundamental appeals of the book via the Kindle, a digital e-reader which could potentially do away with physical books altogether. In a clear sign that books made from dead trees are not quite done yet, Amazon recently opened its first brick and mortar bookstore in Seattle. The company also unveiled plans for additional retail locations in California and New York.
It's not just his products which disrupt. Mr Bezos' approach to business is not the most orthodox – yet he continues to be popular with investors. He is quoted as saying of Amazon: "We are going to be unprofitable for a long time. And that is our strategy."
Still, it is a strategy that has apparently amassed him a fortune of around £40 billion. Meanwhile, he pays himself a modest salary of £57,000 per annum.
But who said disruptive had to mean for the common good? Reports say Mr Bezos was initially attracted to online retail by the fact that in the US businesses don't have to charge sales tax in states where they lack a physical presence. Europe had a similar loophole which has now been closed. Despite the vast amounts of money sloshing around, Amazon paid all of £11.9million in UK taxes last year on sales of £5.6billion. Retail sales to UK customers are recorded in Luxembourg.
Mr Bezos clearly thrives on power and being in control. Rather than use existing software, for example, he has his companies design their own. This led to Amazon Web Services (a massive financial success) and Arc, which the Washington Post now uses. He's a notorious micromanager and his flagship business has been described as "a soulless, dystopian workplace where no fun is had and no laughter heard," something he has denied. In 2014, Mr Bezos was declared the World's Worst Boss by the International Trade Union Confederation.
For those who are alarmed by reports of employee mistreatment at Amazon, there may be worse to come. Two years ago, Mr Bezos announced plans to develop drones that can take over from humans to deliver packages and perform other tasks. Under Mr Bezos' vision, many of us may have to move to space just in order to get a job.