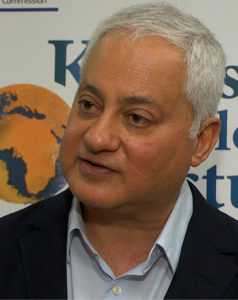 Professor Ilan Kapoor doesn't believe in participatory development. He considers the concept little more than a misleading slogan – harsher words have been used – that cloaks a liberal agenda which oftentimes results in authoritarian and exclusionary practices.
Professor Kapoor lectures Critical Development Studies at the Faculty of Environmental Studies of York University in Toronto. His research focuses on postcolonial theory and politics, and participatory development. He is one of the first academics to bring postcolonial analysis to the field of Development Studies.
His books include The Postcolonial Politics of Development (Routledge 2008) and Celebrity Humanitarianism: The Ideology of Global Charity (Routledge 2013). Prof Kapoor is currently writing on psychoanalysis and development.
However, Ilan Kapoor first came to prominence in the early 2000s for his journal articles on participatory development which involving giving beneficiaries a voice in the decision-making process. In his 2008 book, Prof Kapoor argues that development workers and westernised elites are often complicit in perpetuating imperialism, albeit in contemporary form. Prof Kapoor suggests aid workers, institutions, and academics engage in a bit of radical self-reflection in order see the error of their ways and come to understand the need for greater democratic dialogue.
The last two decades has seen the rise of celebrity forms of humanitarianism, spearheaded by Hollywood stars, billionaires, and activist NGOs. Think Bono, Angelina Jolie, Bill Gates, and Save Darfur). Prof Kapoor is quite unhappy with this trend and argues that the altruistic pretensions belie a tendency to promote both the celebrity's brand and the image of caring Western nations. This form of charity is entrenched in a marketing and promotion machine that helps advance corporate interests. It also seems to rationalise the very global inequality it seeks to redress.
Prof Kapoor posits that aid new-style supports a post-democratic liberal political system that is outwardly democratic and populist, yet largely conducted by unaccountable elites. It uses and abuses the developing world, making Africa a dumping ground for humanitarian ideals and fantasies. Professor Kapoor is also suspicious of media-savvy do-good organisations such as Save Darfur or Médecins Sans Frontières that seek their own celebrity status.
Prof Kapoor uses the term decaf-capitalism to describe the phenomenon whereby enormous wealth accumulation and significant global inequality coexist alongside each other, with some conspicuous charity offering a band-aid. He emphasises that it is "celebrity humanitarianism that supports decaf-capitalism by doing the bare minimum to stabilise the system, thus preventing it from spinning out of control.
While Prof Kapoor is highly critical of celebrities' charity crusades, victims of famine, war and other conflagrations probably prefer short-term aid to perishing during the waiting for long-term solutions.
Outside academia, Prof Kapoor has worked with a number of international organisations such as the International Council for Local Environmental Initiatives (ICLEI), International Centre for Human Rights and Democratic Development (ICHRDD), Canadian International Development Agency (CIDA), International Development Research Centre (IDRC), and the United Nations Development Program (UNDP). As befits an opponent of celebrity charity, he keeps his personal life out of the public domain.
Born in Mumbai in 1959 to a Hindu father and a Jewish mother, Ilan Kapoor's family initially came from Baghdad where his grandfather was the cantor of the Pune synagogue. Prof Kapoor gained his Baccalaureate in Economic and Social Sciences in Monaco before moving to Canada where he gained a BA at the University of Waterloo in Ontario, an MA in International Affairs at Carleton University, and a PhD in Political Science, Comparative Politics, and Political Theory at the University of Toronto.