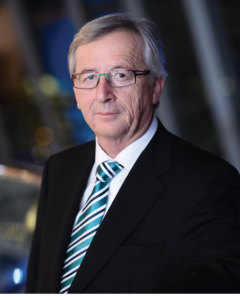 Jean-Claude Juncker's political fuse was lit at an early age. The trajectory of his ballistic career path tracked straight and true to the most powerful position in the EU's vast edifice: President of the European Commission.
Luxembourger Juncker became his country's labour minister at the age of 30. He later held the twin positions of finance minister and prime minister. His reign as PM – from 1995 until Xavier Bettel took over in 2013 – made him the longest-serving head of any government in the European Union.
Mr Juncker smokes, drinks, and lives in a modest house – way edgy for a Eurocrat. He is fluent in English, French, and German – the hallmark of EU heroes. The fortnight Mr Juncker spent in a coma after a traffic accident in 1989 is probably the closest this workhorse has come to any real time off.
Back in 1991, Mr Juncker was a driving force behind the signing of the Maastricht Treaty, paying particular attention to the clauses focusing on European monetary union. He was awarded the Charlemagne Prize in 2006 and anointed president of the European Commission in 2014 by member states after being nominated for the job by the European Parliament.
This story is not without its twists and turns, and Mr Juncker's power-walk to the top hasn't been all beer, skittles, and policy-making. Or – according to some – perhaps it has: Mr Juncker's decidedly continental drinking habits – including a revitalising shot of cognac with breakfast if British tabloids are to be believed (which they are not) – have reportedly caused concern "at the highest levels" of the EU. He has also been chastised for chain-smoking through meetings and blamed for budget blowouts on grandiose domestic projects.
Mr Juncker had the misfortune to be at the helm as the good ship Europe founders on the financial and sovereign debt crises – perhaps a storm too perfect. While he has won plaudits for his dedication to the European cause, he is far from universally popular. David Cameron hinted at a British EU pull-out in 2014 should Mr Juncker be appointed commission president. He was and Mr Cameron, in turn, left the scene after his bungling Brexit performance.
Disgruntled Brexit referendum voters – who, by now, may be the only kind of the species left – most recently revered Juncker for calling out Nigel Farage – who had the front to pitch up, post-referendum, to Brussels – with the words, "why are you still here?"
Mr Farage severely dislikes the European Union but is much less averse to pocketing his £79,000 compensation as a member of the European Parliament. He is also well-versed in maxing out his EU expense account.
Mr Juncker is a man never far removed from the headlines. One of the most enticing, in recent weeks, comes from the July 10 edition of Britain's Daily Mirror: Jean-Claude Juncker Believes Aliens Are Worried About Brexit – claiming he had "heard from leaders of other planets". Online footage does indeed show Mr Juncker referring to other planets. Perhaps it was something he had for breakfast.
One of the most telling, and possibly prophetic, headlines came from Deutsche Welle the very next day: Jean-Claude Juncker, The EU's Scapegoat.
If there's any veracity to either of those headlines, it will doubtless come to the fore eventually. In the meantime, this planet should be grateful for Jean-Claude Juncker's presence, for his drive, his focus, and his fortitude. The man is not unlike a machine, huffing and puffing but keeping momentum.