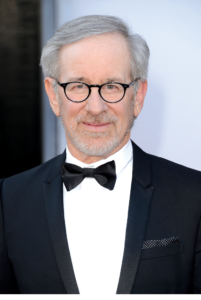 It takes a remarkable man to change the course of a whole industry with one mechanical shark. Steven Spielberg did just that with his 1975 American thriller Jaws which raked in an estimated $2 billion at the box office and kick-started the era of the Hollywood blockbuster.
Being right out on the edge, using muscles he never knew he had – fear, or anticipation of the unknown – is the drive that Spielberg credits for his talent. His bold approach, insight, and painstaking observation of angles and techniques in all-time great movies has culminated in a golden equation for the visual entertainment industry.
Today, his name conjures up a kaleidoscope of images – ET, the engaging extra-terrestrial; Indiana Jones dodging snakes and disaster in the Raiders of the Lost Ark trilogy; adrenalin-jerking dinosaurs in Jurassic Park, through to his intuitive rendering of a Japanese prisoner of war camp, with a wide-eyed young Christian Bale chasing aeroplanes and counting weevils in Empire of the Sun.
Dubbed Prince of Hollywood by the press, Mr Spielberg has channelled his huge creative freedom to craft films across all genres and tackle issues from racism, incest, and war. His controversial dramatization of The Colour Purple received eleven Oscar nominations. His haunting Schindler's List won multi Academy Awards for its portrayal of Oskar Schindler who saved more than a thousand Polish-Jewish refugees during the Holocaust.
Growing up in Phoenix, Arizona, Steven Spielberg's fascination for film-making first came to light as a young boy when he decided to film his toy trains having a crash. Later, for his Scouts merit badge, he used the family video camera to craft a short Western starring himself and his friends in their cowboy costumes.
Young Mr Spielberg's passion for his craft drove him to create several films and by the age of sixteen he had made a 140-minute film, Firelight, which was screened in a local theatre. Shortly afterwards he moved to Los Angeles where he landed an unpaid internship at Universal Studios via a family friend – a life chapter which has been a fertile breeding ground for catch-me-if-you-can style anecdotes of him sneaking in and commandeering studios.
Anecdote or not, when Syd Sheinberg, head of TV production at Universal, saw his 26-minute film Amblin' Mr Spielberg was immediately offered a seven-year gig – making him the youngest ever director to land a long-term contract with a major Hollywood studio.
Despite guffaws from an occasionally hostile crew not keen to take orders from a long-haired love beads wearing teenager, by the age of 22, Spielberg was directing Joan Crawford in the pilot episode of Night Gallery for Universal Television.
Mr Spielberg took the cinema industry by storm with his 1971 release of Duel. The suspense-driven thriller was made for TV but was later released into cinemas. It catapulted him into full length feature films.
For millions of people across the world, Steven Spielberg represents all that is powerful in the essence of filmmaking. For a generation he has dominated the art form. In the hands of a master filmmaker, humanity can be looked at from all dimensions.