"Are you up for it, Mr Farage," demands an aging aristocrat of Polish descent brandishing his sword and demanding a duel to settle a grievance. Offended by Farage's vitriol towards eastern European migrants Prince Janek Zylinski called out his opponent via a YouTube video offering a modern twist on a traditional way of settling disagreements.
Self-styled people's politician Nigel Farage has an eye for publicity and a knack for soundbites. It has attracted new followers in droves to his United Kingdom Independence Party. Mainstream political parties of every hue now fear the impact of the xenophobic "kippers" on election day. However, Mr Farage was out-manoeuvred by the eccentric and engaging London-born Prince Janek Zylinski.
"I've had enough of the discrimination against Polish people in this country," he says. "The most idiotic example I've heard of has been Nigel Farage blaming migrants for traffic jams on the M40."
His objective: "I'd like us to meet in Hyde Park one morning with our swords and resolve this matter in a way familiar to an 18th century Polish aristocrat and an English gentleman."
Sadly, the duel will not take place. Mr Farage is keeping an uncharacteristically low profile, resisting the prince's offer for a duel of sword or word. The prince suggested they meet in a television studio instead of Hyde Park.
Prince Janek Zylinski was born in London in 1952 and has lived in Ealing all his life. He is an energetic and engaging character, fiercely proud of his Polish royal ancestry which he can trace back to 1224.
Highlights of the family's 20th century history includes a heroic cavalry charge led by the prince's father when Poland was invaded by Nazi Germany in 1939. Twenty-nine-year old Captain Andrezej Zylinski led a squadron of 88 Uhlan horsemen in a charge against the German 44th Infantry Regiment. The valiant cavalry sustained heavy losses in liberating the Polish town of Kaluszyn and saving many Jewish lives.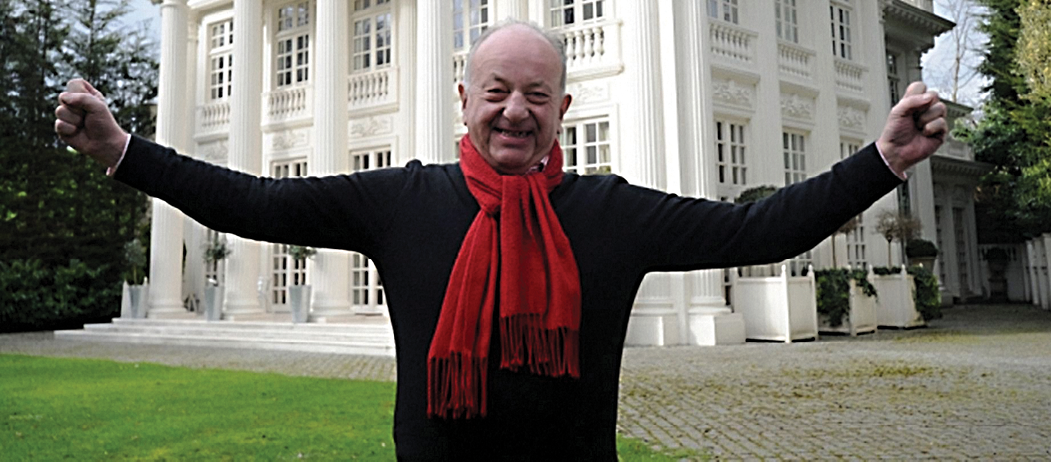 The event took place on September 12, a date which the prince has named The Day of The Gold Horseman in honour of his father. Prince Zylinski commissioned a 40 ton gilt-bronze statue of a horse and rider in heroic pose based on an early 19th century painting of Napoleon crossing the Alps on horseback. The massive Gold Horseman monument was erected in the centre of Kaluszyn.
Last year on the 75th anniversary of the charge, the prince organised a large scale re-enactment of the event which was filmed and shown on a big screen back at home on Ealing Common. Prince Zylinski: "We are going to celebrate the day of The Gold Horseman every year, even in Ealing, so that it educates young people."
The Second World War caused the Zylinksis to flee Poland and set up home in London. The ancestral home was burned down by the post-war communist regime but the young prince pledged to recreate his grandmother's house in his new surroundings.
It took many years, but Prince Zylinski has been true to his word and now lives with his wife in a palace set in its own private gardens in the unlikely setting of Park View Road, Ealing. Prince Zylinski himself designed the 18th century-style White House based on the family palace in Poland. It took seven years to build the new palace. It was completed in 2009. The opulent Louis XV interior of the hidden gem include marble, gold cornices, and chandeliers. The 21st century palace is in demand as a setting for photo-shoots and films. The British TV drama Secret Diary of a Call Girl was filmed there.
For centuries people from afar have arrived and settled in the British Isles. Vikings, Angles, Saxons, Romans, and Normans were early invaders and colonisers. Refugees and migrants from across Europe and further afield have all played a part in making modern Britain. Prince Zylinski's forbears are from Poland but he is very much a modern British subject. As John Stuart Mill said: "Eccentricity has always abounded when and where strength of character had abounded; and the amount of eccentricity in a society has generally been proportional to the amount of genius, mental vigour, and courage which it contained." Britain has a long history of colourful eccentrics and Janek Zylinski is a noteworthy member of this club.