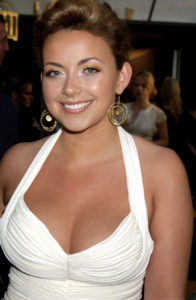 At age of eleven, Welsh schoolgirl Charlotte Church's fabulous voice and classical song repertoire catapulted her onto the global stage and into the headlines. Fame can bring fortune but the excessive media interest which accompanies it is less welcome. As Charlotte and her family soon discovered, tabloid gossip pages are a very exposed place for adolescents.
The Voice of an Angel, Ms Church's first album, is a collection of arias and sacred songs in English, Welsh, Latin, Italian, and French. A contract with Sony Music paved the way to stardom and hit songs in both the US and the UK. Thirteen-year-old Charlotte was offered £100,000 to sing Pie Jesu at Rupert Murdoch's New York wedding to Wendi Deng in 1999. The magnate has since replaced Ms Deng with former super model Jerry Hall.
At the suggestion of her manager, Charlotte Church did not charge the Mr Murdoch for her appearance, preferring favourable coverage by his newspapers instead. However, within months Ms Church had sacked her manager and soon after the deal was to bomb spectacularly. The tabloid press held the young singer firmly in its sights. Though Ms Church had chosen to stay in her home town Cardiff in order to enjoy the normal life of a Welsh teenager, she was almost constantly preyed upon by photographers determined to record her every move.
Charlotte Church moved away from her classical roots to enter the realm of pop, releasing records and hosting a chat show. A relationship with photogenic Welsh rugby star Gavin Henson only heightened her appeal to the paparazzi. In 2007, Charlotte and Gavin were ranked the 49th richest young people in Great Britain with an estimated joint wealth in excess of £12 million. The couple has since split up.
In 2011, Ms Church appeared at the Leveson Inquiry that investigated the ethics and culture of UK media in the wake of the phone hacking scandal uncovered at Rupert Murdoch's News International. She described the detrimental effects on her personal life of the persistent intrusions by members of the press.
News International agreed to pay £600,000 in damages and costs arising from the scandal in an out of court settlement. During the Leveson Inquiry, Ms Church underwent a political awakening of sorts. She has since appeared on Question Time and Have I Got News for You, and became a regular at events such as anti-austerity marches and similar protests.
In the 2013 John Peel Lecture she criticised the music industry for maintaining a culture that encourages female artists to project a sexualised image.
Ms Church has packed a lot into her life: a global superstar at the age of 12 she went on to sell ten million records in under a decade, host a primetime television talk show, and become a single mother of two. Now aged thirty – feisty, opinionated, and outspoken – Ms Church remains true to her Welsh working class roots. Her latest venture is a musical version of Hans Christian Andersen's fairy tale The Little Mermaid commissioned by Festival of Voice – an international arts festival in Cardiff.
This self-declared prosecco socialist – one notch up from the salon variety – will continue to use her high profile to act as a spokesperson – if not role model – for the disenfranchised.