In May 2015, newly elected Glasgow MP Mhairi Black travelled to London for only the second time in her life when she and 55 fellow Scottish Nationalists headed south to take their seats in the House of Commons. The feisty, plain-speaking young Scot looks set to bring a breath of fresh air to the fusty green leather benches traditionally dominated by middle aged members of the old boys' club.
In a diary for The Big Issue, she describes starting her new job: "I've been to London once before with my family, just over a year ago. We went on a tour of Westminster as tourists. This time was a wee bit different. When we visited last year, I didn't think, 'I'd like to come here as a politician'. I'd never considered being a politician. This is the first time I've actually described myself as one, that's mental!"
Elected when only 20 years and 237 days old, the official Baby of the House is the UK's youngest MP since the 1832 Reform Act. On May 7, Ms Black overturned Shadow Foreign Secretary Douglas Alexander's majority of 16,000 in the constituency of Paisley and Renfrewshire South. Her election campaign was conducted while she was in the final year of her Politics and Public Policy degree at Glasgow University. In fact, she only completed her dissertation – on how the SNP's party structure has accommodated the influx of new members since the referendum – once the election finished.
Life will never quite be same for Ms Black who is now a politician with an exceptionally high profile. Political success brings media scrutiny and as a keen twitter user since the age of 14, Ms Black's adolescent tweets have been subjected to a degree of examination that no adult would welcome. Her (now deleted) timeline illustrates the preoccupations of a normal teenager: school work, TV, music, social life. In March 2010, she observes "maths is shite". Other tweets extol the virtue of a good night out, alcohol, live music and Partick Thistle Football Club.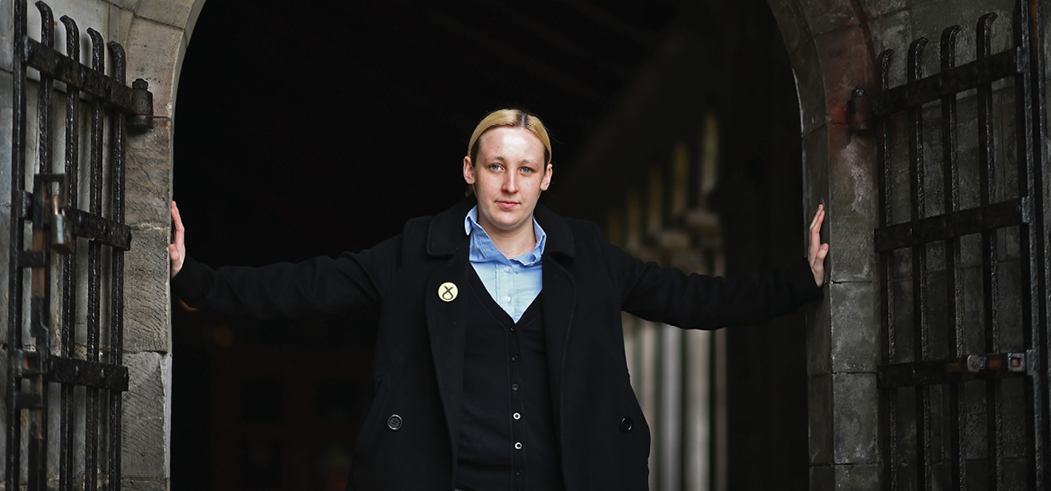 After the election the crowd-sourced gossip account @eyespymp laid into the new MP claiming "SNP's @mhairi1921 opting for champagne in the invite-only BA Glasgow Airport lounge." Ms Black dealt with this adeptly, tweeting "I think you need to check your sources – it was highland spring and a bowl of soup for me. Sorry to disappoint!"
The independence referendum last September led to an upsurge of political engagement in Scotland with the SNP attracting unprecedented levels of support before and after the vote. Arguably the most stunning result of the May 2015 election was the emphatic election of 56 SNP MPs in Scotland, wiping out almost all opposition. The campaign platform was left-of-centre, anti-austerity, and pro-devolution. With the SNP now the third largest party in Westminster it will be interesting to see how this will play out in forthcoming debates and legislation.
Political activist Mhairi Black became a parliamentary candidate only in November 2014. Her political influences include Keir Hardie, Tony Benn, and Margo MacDonald – a Glasgow SNP MP in 1973-74. Ms Black says she is not religious but reads her Bible and sees being an MP as an opportunity to help people. Her last job was working in a chip shop.
After the election count was in, her message to voters was inclusive: "Whether you voted for the SNP or not, and whatever your views are on Scotland's future, I will seek to represent you and everyone in this constituency to the very best of my ability. This election is about making the voice of this constituency and the whole of Scotland heard more effectively at Westminster than ever before."
Many young people feel disillusioned by politics which they see as having no relevance to their lives. They fail to relate to largely middle-aged and middle-class politicians. The whirlwind arrival in Westminster of Ms Black – with her idealism, energy, and enthusiasm – could go some way to enfranchising and politicising a generation of young citizens who are the future of British democracy. Exciting times lie ahead as the new MP looks set to make her mark in Westminster as well as in Paisley and Renfrewshire South. She is definitely the one to watch.