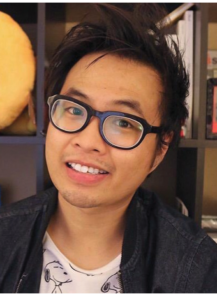 Vine has propelled Khoa Phan to fame and fortune. The young Californian explains: "I started making "vines" to bring my imagination into reality for people to see." His vines, six second looped videos, have led to an accolade as one of Forbes 30 Under 30 for marketing and advertising: "Simply put – six seconds changed my life," says Mr Phan.
Mr Phan creates his stop motion vines by quickly tapping the screen within the associated app to create frames which he brings to life using the classic methods of animation. His quirky and creative clips piqued the interest of brands that now want him to create animated video loops optimised for use on social media marketing channels.
The rise of the smart phone has seen a surge in new mobile applications and possibilities. The Vine Channel debuted three years ago, and was rapidly snapped up by Twitter. What makes the app special is that users can record short video clips with their device's built-in camera. That camera records only while the screen is tapped, enabling users to edit on the fly or create stop motion effects. "Vine was my big take off and will always be my go-to since it's easy and straightforward," says its creator.
Mr Phan was working in a vehicle-exporting business when Vine was launched. He had experience in storyboarding but not in making videos. He was quick to see the creative potential of the new channel and pioneered some of the techniques now widely used: "With the whole six seconds video concept, I figured there's a lot of frames to play around with. I used that to my advantage to produce stop-motion animation."
Digital media website Mashable named Mr Phan Vine's Most Creative Stop-Motion Animator. "Being first also allows me to test the waters of the new platform."
Mr Phan says that coming up with an idea is the hardest part of creating vines. Once the concept is in place, he will roughly frame how he wants the vine to look using a sketchbook. Then, Mr Phan sets the angle of the camera and works from there, timing each frame, filming, and minor editing, adding sounds or brightness. Flawless transitions are a hallmark of his creations. His early vines made a lot of use of construction paper – the medium that was to hand.
"My vines are very laborious when you consider the amount of time that goes into the thought process. I don't really care much about how many loops my vines get. I just want to produce videos that I'm proud of." As it happens, Mr Phan's vines have clocked up over 15 million loops. That is quite impressive.
His work on Vine has led to commercial collaborations with many big brands including Peanuts Worldwide, Chevrolet, CNN, Coca Cola, Samsung, Toshiba, and MTV. However, Mr Phan is keen to put his skills to work for charitable causes as well and has generated vines for Livestrong and UNICEF.
Mr Phan describes himself as an animating tech geek from San Diego. He shares his home with a corgi – a breed of dog also at home in Buckingham Palace. However, Mr Phan's corgi stars in some of the vines he produces, giving the dog a worldwide fan base.
Vine has developed a lot in its three years and Mr Phan is still excited about its possibilities: "The whole fleeting captured moment concept is a big draw. It forces you to watch, since it's time sensitive and you may never see it again."
Mr Phan is an optimistic and upbeat young man whose trademark message Have a Nice Day can be found in many of his vines. His advice to would-be viners is to "unlock your imagination and let it take flight." It certainly worked for him.