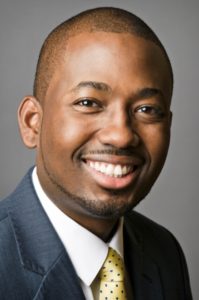 LIKE many successful businessmen, Sangu Delle's career as a relentless money spinner began in the school playground. Unlike his contemporaries, for whom a pop-up tuck shop or selling CDs out of a school bag were the norm, Delle's starting point was a little more cerebral. Instead, he used to sell his home made revision guides to grateful classmates who were willing to pay for a welcome leg-up in Ghana's famously unforgiving education system.
He was an exceptionally bright youth, and was quickly singled out to be offered a scholarship that could take him to further his studies in the USA. Hence the revision guides. His aim was to raise enough money to fund his own travel and expenses.
Fancying himself as a bit of an opportunist wheeler-dealer, he used the excess funds to buy some discounted clothes that he could then sell on at a profit. The simple sounding plan quickly became his first major business lesson.
"All the clothes I bought turned out to be fake and I lost all my savings," he recalls. "It was my first exposure to arbitrage, but I never forgot the lesson from it – be careful what you invest in."
Before long, Delle was being accepted into Harvard where he threw himself into the study of business and its relationship with sustainable development. He fostered the idea that a capitalist attitude towards business and finance could be used not just to turn a profit, but also transform the lives of people – particularly in his native Africa.
From this context, Golden Palm Investments was born. The company, of which he remains CEO, was entirely devoted to improving, sustaining and monetising agriculture, healthcare, property, technology, and financial services.
The results have been nothing short of inspiring.
Already, Golden Palm Investments has funded a string of hospitals in Ghana and, through investments in drug monitoring systems like mPharma, has been able to revolutionise the way in which medicines are prescribed in the country.
This caring spirit, according to Delle himself, was instilled into him by his parents who, during his childhood, risked their lives to shelter refugees from nearby Liberia and Sierra Leone which were gripped by civil war – an act he says will never be forgotten.
"I believe I have a moral responsibility as a privileged African to give back," he says. "In the absence of government action, the role of non-profits is to fill the void."