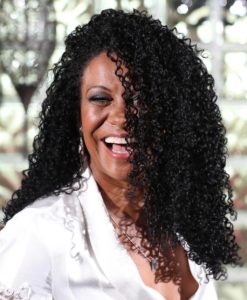 AS a child in the seventies, Zica Assis and her family had nothing. They lived, like thousands of others in the run-down favelas of Rio de Janeiro's backstreets, in complete poverty.
Money was scarce, and food was rarely more than rice and scraps. Starving and desperate, she set out at nine years old to try and earn cash to help feed herself and her family by taking on part-time work as a nanny. It didn't pay well, but she was able to provide enough to put food on the table. When she was a little older, the youngster then took on more physical jobs as a laundry woman and cleaner.
It was helping to provide what her family needed in Rio's squalor, she thought, but it was no life.
To get better jobs, she tried hard to control her frizzy hair by using whatever products she could get her hands on to straighten her natural afro. It may have opened vocational doors for her, but the thought of suppressing a hairstyle that was natural to millions of Brazilians, made her uncomfortable.
She developed such a deep fascination in afro hair that she enrolled in a hairdressing school where she began to work on her own formula to enhance her natural curls. It took ten years 'and a lot of mistakes' to get the product right before she was ready to find a market for her invention.
Assis soon realised she could be more successful by taking control of her own brand, rather than trying to sell the product – 'Super Relaxante' – by the bottle, so she opened a salon in 1994 called Beleza Natural where trained staff could apply the treatment and offer hair care advice.
Beleza Natural was an instant hit, and demand went through the roof. There are now almost 40 Beleza Natural Salons in Brazil, and Zica Assis is well on her way to becoming one of Rio's wealthiest women. She also carries the label of being one of the country's most influential entrepreneurs.
But that title hasn't produced a desire to rest on her laurels. Quite the opposite. With a world of customers scrambling for her products, and crying out for salons to be opened outside of Brazil, Assis is on the brink of a worldwide explosion of success. There's talk of salons being opened in London, New York, Milan and an impressive list of fashionable hotspots across the globe.
Zica Assis – the starving nine-year-old who straightened her hair to get a job – is now a 55-year-old self-made millionaire on the brink of world stardom.