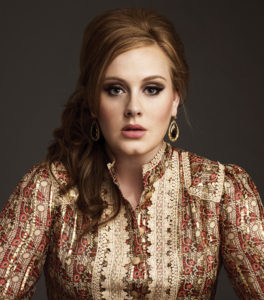 Saturday evening UK primetime television is dominated by competitions designed to find new singing sensations. The programmes follow the journey of wannabe stars as they are schooled, groomed, and manicured by Svengali-like impresarios to fit the pop mould.
Adele Adkins did not tread this route to stardom and has resolutely retained her authenticity while becoming an artist of unsurpassed standing.
A substantial figure with a powerful, mature, and original voice, Adele writes and sings about universal yet personal themes of heartbreak and sadness often accompanying herself on guitar. A self-described soul singer, she has been compared to Dusty Springfield, another of the blue-eyed soul singers, with a powerful mezzo-soprano voice. Adele writes about her own experience of love gained and lost. Music critic Paul Gambaccini says: "She's right in the headspace of that singer song writer creativity."
Now aged 27, Adele has released three stellar albums: 19, 21 and 25. Each one is named for her age at the start of the project. In her ten-year career Adele has amassed dozens of prestigious awards.
Adele attended the same school as Jessie J, Leona Lewis, Katie Melua Kate Nash, and Amy Winehouse. The BRIT School for Performing Arts and Technology is a state-funded school in Croydon, South London which has the backing of a music industry trust and has become a factory of stars. Following the success of the film Fame, the BRIT school was set up in 1991 to provide education and vocational training for talented 14 to 19-year-olds.
Growing up in North London, Adele always loved singing. As a teenager she discovered Ella Fitzgerald and Etta James. She credits the two musical greats with helping her to discover her own voice: "There was a passion in their voices. I believed every word they sung. There was so much conviction."
While at school she began recording and distributing songs online. The independent label XL Records snapped her up in 2006, to add to its stable of artists which included Dizzee Rascal and White Stripes. XL's image was edgy and cool and this reputation attached to the young Adele.
In 2007, she first appeared on the Jools Holland television show by which time a buzz was already developing around her. She won a Brit award before releasing any records, which she describes as "really weird." Her breakthrough song about growing up in London, Hometown Glory, was released in October 2007.
Adele's debut album 19 was released in January 2008 and went straight to number one. It is a remarkable album: Adele's powerful voice is applied to simple pared-down arrangements, accompanied by a single guitar. Her fantastic melodic gift is demonstrated with characteristic deft flipping from soul voice to falsetto. Recording engineers that worked with her describe Adele as astute, confident, and bold. She is also a "one take wonder", able to record her songs in a single recording session.
Her second album 21 was more bluesy and collaborative. She co-wrote more of the songs. In 2012, Adele released the single Skyfall, written and recorded for the James Bond film. The song won a clutch of awards. In November 2015, she released her third highly successful album 25 to great acclaim.
Adele represents substance over style: her albums and performances are about music, not image. She is a lady who does not look like a pop star or feature, scantily clad, in sexy videos. Adele doesn't need such gimmicks: "I don't want to be some skinny-minny with my tits out."
Curiously enough, Adele dislikes publicity. Her private life might be the inspiration for her songs, but she prefers to keep a low profile, avoiding celebrity gossip: "I'm uncomfortable with celebrity. Me being photographed in Waitrose is being famous for no reason and that is something that I am not up for and I will not stand for."
This working class London lady remains true to her Labour Party roots. She recently warned US attention-seeker Donald Trump against using her songs at campaign rallies after she found that he was using her smash hit Rolling in the Deep – with its "we could have had it all" refrain – to whip audiences into a frenzy. Perhaps her annoyance at this misappropriation will be turned into a song in her next album – not unlike Neil Young did in This Note's for You (1988), his protest against rock stars selling out to big business and politicians.