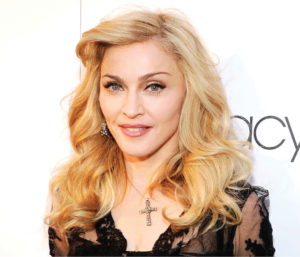 Over her career, the Queen of Pop Music racked up a staggering 300 million record sales. She may claim the title of all-time best-selling female recording artist. Singer, songwriter, dancer, actor, director, businesswoman, and – most of all – performer, Madonna's famed ability to reinvent herself time and again, not quite unlike David Bowie, ensures both freshness and a sheer endless number of surprises.
More than three decades after embarking on her career, she shows no signs of flagging and continues – indefatigable – to take centre stage in spectacular shows such Rebel Heart, the latest in a string of world tours. Her net worth is estimated at well over $500m.
Madonna Louise Ciccone was born in Bay City, Michigan, in 1958, the third in a family of six children. Tragedy struck at a tender age when her mother died. Not long after, her dad remarried and two new siblings were added. "The anguish of losing my mom left me with a certain kind of loneliness and an incredible longing for something undefined. If I had not experienced that emptiness, I would not have been so driven." Still a kid, she decided to grow up fast: "I'm going to be really strong if I can't have my mother. I'm going to take care of myself."
Thus a rebellious streak was born. Madonna's desire to stand out from the crowd was apparent from her schooldays where she gained a certain degree of notoriety for unconventional behaviour and a refusal to conform. That, however, did not preclude her from becoming a cheerleader and a straight-A student.
She enrolled at the University of Michigan with a dance scholarship and signed up for ballet. However, brighter lights beckoned. In 1978, young Miss Ciccone dropped out of college and into New York and a career in modern dance.
Leaving the bucolic Mid-West for the Big Apple required oodles of guts and stamina. Initially, the former country girl supported herself by working as a waitress while taking dance classes. Madonna's career got a boost when she started landing gigs as a backup singer and dancer for established artists. The Breakfast Club, the rock band she formed with two ex-boyfriends, enjoyed modest success and became her launch pad. She soon left to form the short-lived Emmy and the Emmys before taking the reins of her destiny and going solo.
Madonna's debut single Everybody, released in 1982, immediately stormed the US club circuit and took the Billboard Hot Dance Club chart by storm, peaking at the number three spot. Burning Up, the second single to come out, proved equally successful and established Madonna's name. Now working on her first album, the contours of the future Miss Perfection were already visible. Replacing the producer in a relentless quest for a new sound, Madonna eventually delivered an instant classic. The eponymous Madonna album with its dissonant disco beat – courtesy of synthesisers, samplers, electronic drums, and other then-novel gadgets – is celebrated to this day.
A second studio album was released in November 1984. Like a Virgin propelled Madonna to the top of the charts. The title track and its professionally produced music video brought her wide recognition, intense publicity, and much admiration as well. The singer also became a sensation thank to her forthright and outspoken approach to stardom and her inability to peddle platitudes.
Madonna's use of explicit religious symbolism, sexual imagery, and hard-hitting lyrics more than once ruffled clerical feathers and caused outrage amongst conservatives and parental watchdog groups. She notably incurred censure from the Catholic Church, her former religious home. However, all the protestation proved water off a ducks back and Madonna has continued unabashed, writing and performing as she sees fit.
There has always been far more to Madonna than music. In the 1980s, her appearance and dress, her performances, and her music videos were of seminal influence. Her characteristic ensemble of lace top, fishnet stockings, decorative crucifixes, bracelets, and bleached hair set the fashion trends for the decade.
Two decades and twelve albums later, it has become clear that Madonna's success was no flash in the pan. Her skill as a writer of songs with memorable hooks is peerless. Madonna's singing and dancing skills may be slightly less stellar; her sixth sense and ability to identify talent and assemble a team more than makes up for it.
Her achievements outside the music world include leading roles in films, launching the Material Girl fashion line, writing books for children, and establishing primary schools in Malawi – the nation she adopted. Madonna has been married to US actor Shaun Penn and UK director Guy Ritchie. She has four children, including two adopted from Malawi. Madonna was introduced to Jewish mysticism in 1997 and retains a strong interest in the Kabbalah.
Currently on the Rebel Heart world tour, at 57 Madonna shows no lack of the energy, drive, or enthusiasm. Always innovating, her next step is hard to predict other than that there will be one.