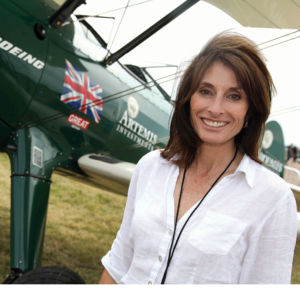 An intrepid aviator and adventurer, Tracey Curtis-Taylor has made a name for herself recreating the ground-breaking solo flights of the first female aviatrixes at the dawn of human flight. Ms Curtis-Taylor's latest voyage saw her fly from England to Australia in a vintage 1942 Boeing Stearman biplane, bringing Amy Johnson's – the first woman to fly the route – achievements to the forefront of the world's attention once again.
Ms Curtis-Taylor draws her own inspiration from what she calls the greatest female role models in history – the aviators. She retraces the routes used by these aviatrixes and concludes that their courage is all the more impressive: "They were up against an exclusively male establishment which was often obstructive and dismissive."
Ms Curtis-Taylor's first aviatrix recreation was based on a route set by Lady Mary Heath, the first woman to hold a commercial flying license in Britain. Among her many athletic and aeronautical accomplishments, Lady Heath became the first pilot – male or female – to fly solo from Cape Town to London in 1928. It was this journey that Ms Curtis-Taylor undertook in 2013; having wanted to fly across Africa since the 1980's, she decided to turn her dreams into reality after hearing about Lady Heath's pioneering flight.
After four years of preparation, Ms Curtis-Taylor was finally able to retrace and document Lady Heath's journey in the BBC4 documentary The Lady Who Flew Africa – The Aviatrix. Two years later, Ms Curtis-Taylor and her Boeing Stearman touched down in Sydney after flying non-stop for three months; this time paying homage to Amy Johnson – the first woman to fly solo from England to Australia.
Ms Curtis-Taylor developed a love for flight, history, and exploration from an early age, taking her first flying lesson at sixteen and devouring books like the three Flambards novels, and the biographies of the first African and polar explorers. However, much like the aviatrixes she admires today, her passions were anything but encouraged by the male-dominated society of the time. Ms Curtis Taylor has to put her love of flying on hold while trying to find other feasible avenues to experience the life she read about.
She took a job in Whitehall working for the Foreign Office in 1981, hoping it would lead to a post in Africa. After having her future at Whitehall clearly spelt out by being told, "The best you can hope for is to marry an ambassador," Ms Curtis-Taylor decided to realise her own ambitions without diplomatic assistance: she gave up her career at the Foreign Office and moved to Johannesburg. In 1982, after nine months of menial labour, Ms Curtis-Taylor was ready to have her first African expedition, and drove overland for five months through jungle, savannah, and desert from Johannesburg to London in a Bedford truck.
Ms Curtis-Taylor then emigrated to New Zealand, where she immediately placed her focus on aviation: "I used to hang around the aero club and hitch flights with the local farmers." She promptly completed her private pilot's license, followed by a commercial and instructor's license, and took a job in aerial mapping.
During this time, she undertook a rafting expedition as a photographer to Papua New Guinea where she explored uncharted parts of the Watut River and became the first white woman local tribespeople had ever seen. It was in Papua New Guinea where Ms Curtis-Taylor also learnt to scuba dive, spending much of the early nineties in Australia, Vanuatu, and Fiji exploring World War 2 wrecks, finding fragments of aircraft, and searching for abandoned military airstrips.
However, she eventually left everything and everyone in New Zealand and returned to England to pursue her passion for vintage aircraft; helping to organise Duxford's Flying Legends air shows in 1997, later becoming the first female pilot to be based at the historic Shuttleworth Collection. While at Shuttleworth, Ms Curtis-Taylor grew to love flying open-cockpit biplanes more than any other aircraft, and became obsessed with the people who flew them. The previous expedition across Africa left her aching to return to the continent. After discovering Lady Mary Heath's inspiring flight from Cape Town to London, she knew what her next voyage had to be – the rest is history.
Ms Curtis-Taylor overcame adversity in order to experience the same kind of adventure her pioneering heroes lived. There is something poetic about the pursuit of grand dreams. Ms Curtis-Taylor has done just that, and in doing so will undoubtedly inspire countless more.