Mention Iran to a stamp collector, and it's quite possible you'll witness a human being salivate like a dog being teased with a bone. For, once upon time, back when Iran was considered an exotic and mysterious land, its postage stamps were among the most highly prized adornments to any collection.
Even to this day, many a philatelist will wax lyrical about the most elaborately festooned page in their collection books – some of which will stretch back to the days when Iran was known simply as Persia. The popularity and value of Iranian stamps has remained unwaveringly high since the time they were first stuck on to an envelope. Unfortunately, the same cannot be said for Iran itself.
Unlike its stamps, Iran's relationship with the rest of the world has been, well, rather inconsistent. In fact, it's fair to suggest that since as far back as the 6th century, the country has swayed somewhere between being a rampaging bull and a playful puppy. There's been very little in the way of middle ground – it's been a long and exhausting history of extremes.
If it wasn't for its location, Iran might not dominate so many agendas on the international stage, but in a game of geo-political chess, it would be one of the most significant pieces on the board. Sandwiched between Asia and Europe, it is a gateway between east and west.
Today, Iran is giving the impression of a country that is very much ready to cast off its colourful and borderline schizophrenic past in order to become the economic butterfly it has promised so many times to be. Indeed, as the human race toasted its way into 2016, Iran and much of the western world began to brace itself for a new era of redefined relations.
Less than a year ago, six of the world's great powers reached a landmark agreement over Iran's nuclear ambitions and flung open the doors to its latest incarnation – a peaceful, neighbourly place that wants to do business with the world. Well, on the face of it, that's what Ayatollah Ali Khamenei would have us believe.
He must be reasonably convincing. Already, the wealthy nations of the world are sitting up and taking notice. This July, for instance, British Airways are set to reinstate direct flights between Tehran and London – that's not a decision taken lightly considering the service was shelved in 2012 with BA chiefs claiming the route wasn't commercially viable.
The shackles of international sanctions, now removed, have given Iran a little quiet time in which to think. The result now appears to have been a new country which is even keen to help its neighbour Iraq – a regular sparring partner for many conflicts over the decades.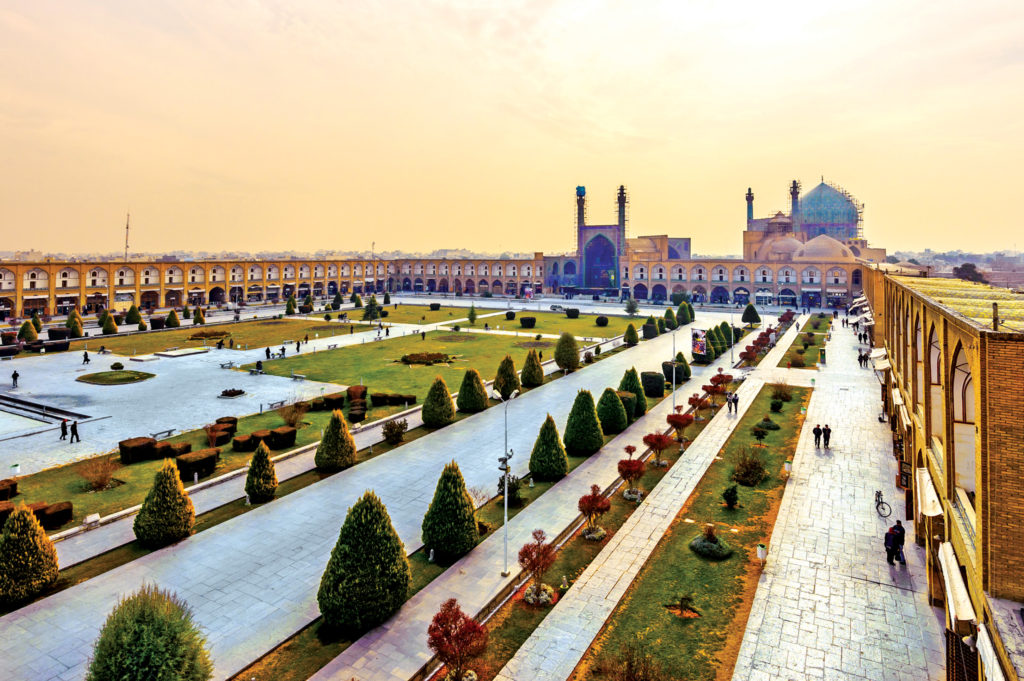 Rap Sheet
But before we present a "welcome back" cake to the seemingly reformed bad boy of the region, let's examine the lengthy rap sheet of this serial offender.
It's only fair to dismiss the catalogue of misdemeanours that occurred between 550BC and 1890. After all, there are precious few nations that can't claim to have not attempted some mild form of world domination, civil war, regicide, slaughter of innocents, religious conflict, and a riot over tobacco. Instead, most of the Iranian misdemeanours which stick in the gullet of dozens of offended countries tend to have occurred during the last hundred years.
After adopting the name Iran in 1935, a time of relative peace blighted only by a couple of military coups and an assassination ensued until 1951 when relations with Great Britain turned sour after the Iranian government voted to nationalise the oil industry which had been largely dominated by the privately-owned Anglo-Iranian Oil Company. A blockade followed which left the economies of both nations bruised. A couple of years later, Prime Minister Mohammed Mossadeq was overthrown in a military coup which, it later transpired, was plotted by Britain and the United States. And so began decades of rumbling animosity between Iran and the West.
Before even mentioning the Iran-Iraq war, uranium enrichment, terrorism, and George Bush's shaming of Iran as being a part of the axis of evil, it is simple to understand why many observers find themselves suspicious of the country's sudden emergence as a seemingly moderate wonderland eagerly thrusting out an arm in readiness to shake hands with anyone who offers anything more than a cursory glance its way.
It seems an almost unthinkable situation to be in, but the hard facts are that Iran is, for all intents and purposes, trying hard to be taken seriously. There's even talk of Iran becoming a major holiday destination over the next couple of years – a notion that would have been considered lunacy not too long ago.
The Upside
Past wrongdoings aside, there are plenty of positive issues which simply can't be ignored. For instance, this potential regional super power has one of the best educated populations in the world. It always has. In contrast to a largely faith-based political system, which is no doubt viewed as outdated by most western economies, its approach to education is envied far and wide. As too are its financial assets.
Over the years, international sanctions against Iran meant that around $100 billion in assets had been frozen – locked away and inaccessible – throughout various international financial institutions. But now those frigid assets are beginning to thaw, and the drips are slowly turning into a torrent of cash gushing back into the Iranian economy. Already, more than $30bn have been released, with the rest reportedly languishing in various banks. It is the sort of wealth explosion that would see many capitalists happy to forget their past quarrels with Tehran, and swiftly put the Open for Business sign back in the window.
With the lifting of sanctions, and the sudden inflow of cash, it makes sense that Iran would want to quickly get back in the game of international commerce. Given the financial situation, it would also be fair to assume that the country is now brimming with economic promise.
There has been some fear that the windfall would be used to fund Middle East regimes and organisations that are opposed to UK and US policy in the region – Hezbollah and Hamas, for instance. Yet, according to experts like Richard Nephew, a former sanctions chief for the US government, in all likelihood the money will be used to shore up the Iranian infrastructure by creating jobs and pumping more cash into its economy. If that's the case, then Iran could end up being a viable investment opportunity for the long term. Such a move, given the vast post-sanctions financial boost, could see Iran quickly rise to be one of the most dominant economies in the region.
Beware
However, Mr Nephew warns that dreams of rapid economic promise could remain fragile until the US builds its trust in Tehran: "We didn't actually give them a blank cheque, and we didn't clean the slate," he says of releasing assets, "We still have a lot of sanctions authority that's going to make life difficult for business people in Iran."
That being said, Iran was swift to fire up the stagnant engines of its economy earlier this year by agreeing to buy 118 new Airbus aircraft. The deal includes a dozen Super Jumbo A380s which certainly signals an intent to revive long-haul flights from Tehran. The move will restart the country's civil aviation sector, and see Air Iran return to the skies.
Another potential banana skin for Iran's new era is the ongoing friction between Shiite and other Muslims. Iran is one of the few Islamic countries where Shiites outnumber Sunnis, therefore deep religious beliefs are showing their dominance in both political and economic decisions. Potential investors are being told this impasse is unlikely to change in the country's seemingly bright new future.
The religious stalemate isn't helped by Iran's Islamic Revolution Guards Corps – a viciously anti-Israel brigade of military enforcers who are, effectively, the executive arm of Ayatollah Ali Khamenei. It had been believed their imposing and sinister presence would retreat to the shadows as a friendlier version of Iran emerged, but this is proving not to be the case. Some would even argue that Khamenei – Iran's supreme leader – is using the IRGC to aggressively target president Rouhani as part of a quiet desire to eradicate moderates and reformists. Khamenei's wildly shifting rhetoric on the US would certainly back this theory up.
That said, there is no doubt in the international community that Iran is back in business.