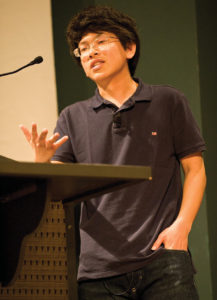 Mark Bao is a young man who likes to takes on big challenges and understand human behaviour in order to solve complex problems.
While still at school, Mr Bao became a serial entrepreneur starting no less than eleven businesses in under a decade. He started his first company when in 5th Grade to market an app he wrote to help manage homework flows. Mr Bao sold his first brainchild for five dollars a pop to fellow students.
A few years later, while dabbling with scripting languages and web design, Mr Bao created innovative software for use by high school and college debating teams. While in high school, he launched several Internet start-ups and a couple of foundations for good measure. One of the former, Genevine, helps families easily share snapshots, messages, and videos via a simple online platform. Meanwhile, the Genevine Foundation promotes family and community values and helps fight homelessness and poverty. "I want to promote positive philanthropy – that's my main goal. I can create value to solve people's problems."
At 17, the prolific tech innovator launched a website called threewords.me which encourages users to describe their friends in three words. The site became incredibly popular with a quarter of a million users signing up over the first three weeks, generating over 17 million unique page views.
Mr Bao describes the site as a project to juxtapose two ideas: how to acquire customers through viral marketing and how to get an honest opinion of yourself. Within weeks it had become massively popular and was targeted for buy-out. Despite the popularity of the site, Mr Bao sold out to Kevin Ham, an Internet entrepreneur who peddles domain names and owns $300 million in dotcom addresses. The price of the sale is, however, not in the public domain, but Mr Bao was reportedly very happy with the deal.
Mr Bao is currently based at Columbia University in New York where he secured a job as research assistant at the Centre for Decision Sciences. Here, he conducts experiments on decision-making processes with an academic emphasis on human behaviour, habits, and strategy. At Columbia, Mr Bao discovered game theory, exploring such esoteric concepts as the Nash Equilibrium and the Prisoner's Dilemma.
"I'm interested in how we can use an understanding of human behaviour as a lens through which to decipher complex systems, identify the biggest problems within them, and solve those issues with a combination of strategy and technology."
Mr Bao is an interesting character. He reflects on his days as a teenage tech prodigy: "It's so much easier to start a company when you're in high school or college. You don't have many living expenses so you don't have to rely on your business for an income."
The most important lessons he learned include to fail fast and not to fear failure: "One of the most important things about start-ups is the concept of failing fast. If you do so and keep refining your idea, company, or business model, you'll gain a better understanding of what is actually happening."
Mr Bao has packed a lot into his short life. He was born in Harbin, China, in 1992 and emigrated to the US with his parents at the age of four. He grew up in Wellesley, Massachusetts, the only child of two oncologists.
As he has grown older, his interests have evolved while his entrepreneurial drive has slowed down some. However, it seems a certainty that his latest research interests will spark a few start-ups. "I am now quite interested in artificial intelligence, and how AI could assist scientific processes by helping researchers make discoveries and – who knows – adding to human knowledge all on its own."