In a fast-moving world driven by relentless technological progress that disrupts everything in its path, unhurried comfort and timeless style have become statements of luxury. It is rather comforting to know that some things never change. Depend on the Hotel du Cap-Eden-Roc to remain the preserve of old-world elegance.
This is the one place that has not succumbed to the yet unrefined tastes of the nouveau riche: the recently arrivés are, of course, welcome to enjoy a stay at this temple of class and celebrate their undoubtedly much-merited accomplishments amidst its understated opulence. A sojourn in Antibes on the French Riviera will also surely contribute to impair a sense of style on those seeking to join that rarefied social stratum in which money is an unmentioned given and good taste a sine qua non. By the way, arriving by helicopter is out of the question.
Originally a writers' retreat set up by Hippolyte de Villemessant, founder of Le Figaro newspaper, in 1869, Villa Soleil was made into the Grand Hôtel du Cap in 1889 by Italian hotelier Antoine Sella. However, its link to the world of letters was not severed. Ernest Hemingway and F Scott Fitzgerald became habitués, the latter immortalising the now much expanded hotel in Tender Is the Night as the Hôtel des Étrangers.
In the wake of the writers came a host of famous guests: The Kennedys, Marlene Dietrich, Winston Churchill, Marc Chagall, and many others. However, name dropping is not encouraged at the Du Cap-Eden-Roc for it goes without saying – in, fact much does – that such a grand hotel would attract its fair share of the savoir vivre demographic.
Expanded with the Eden-Roc pavilion, two private villas – Villa Eleana and Villa les Cèdres – and 33 cabanas along the rocks facing the Mediterranean, in addition to the Les 2 Fontaines piano bar, the landmark hotel, a small world onto itself, includes a 54-acre subtropical garden which surrounds the various stately buildings and creates an atmosphere of refined serenity. The complex – a rather poor description for such a sumptuous facility – underwent a $70m renovation in the early 2010s. The project was coordinated and overseen by Maja Oetker, widow of the German billionaire businessman Rudolf August Oetker (1916-2007).
The Oetker Gruppe, founded as a food processing company in 1891, early-on diversified into hotel management, taking a stake in the Brenners Park Hotel & Spa in Baden-Baden in 1921, acquiring this playground of the Shah of Persia and King Edward VII outright two decades later.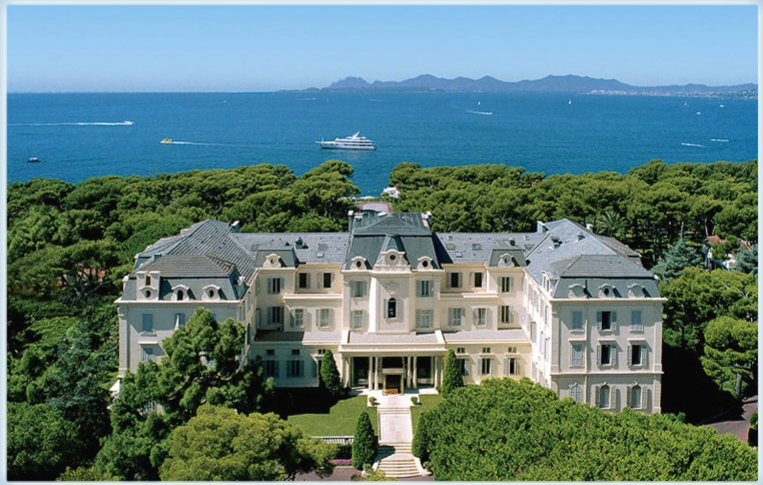 Since then the Oetker Hotel Collection has slowly expanded to include nine ultra-luxury hotels: four in France, and one each in London, Marrakesh, and Saint Barthélemy in addition to the original Baden-Baden hotel and the Frégate Island in the Seychelles.
The Oetker Hotel Management company recently announced the opening of its first luxury property in Latin America. The Palácio Tangará Hotel, set in the sprawling Burle Marx Park in Brazil's megalopolis São Paulo, is expected to open its doors to the public early next year to offer an urban oasis of tranquillity.
The Palácio Tangará, with 141 rooms including 59 suites, does not only aim to be one of South America's finest hotels; it also seeks to create a truly unique atmosphere via the lush tropical gardens and forest that surround it. The 24-acre Burle Marx Park, which hosts the new hotel, is named after Brazil's celebrated landscape architect and botanist Roberto Burle Marx (1909-1994), an environmentalist pioneer, a driving force of modernistic landscape design, and creator of some of the world's most famous avant-garde gardens and cityscapes such as Rio de Janeiro's hallmark Copacabana promenade with its four-kilometre long mosaic of ocean waves.
In 2018, the Oetker Hotel Collection will welcome its eleventh member with the opening of a "masterpiece hotel" in New York. Details of the company's North American debut are still sketchy, though industry insiders expect OHC to make a big impact on the hospitality scene. Wherever it goes, OHC stands at the very apex of traditional European hospitality. Strung together like pearls on a chain, each of the OHC offers a unique experience devoid of standardised brand-wide solutions or approaches. Promoting, via time-honoured understatement, a "passion for living" – a deep appreciation for culture, gastronomy, and nature – OHC's masterpiece hotels take excellence in hospitality to a solitary height.
At the Hotel du Cap-Eden-Roc, the renovation of 2011 may have introduced minibars and flat screen television sets, it has successfully thwarted other attempts to let modernity impinge on the old world glamour for which the hotel is known and celebrated. Maja Oetker, the hotel's arbiter of taste, is reported to have resisted the placement of big-screen sets in the suites heroically. In the end, however, the regal Mrs Oetker was forced to except defeat: "It is a crime! It's like something from a hotel chain, with TV cabinets that become the centre of the room—and I hate that. If guests want to spend all day watching television, they can stay at home."
Pundits agree that the refurbishment of the 147-year old property has left much improved and even more unchanged. Mrs Oetker and the hotel reform-minded director Philippe Perd managed to pull of an out-with-the-old, in-with-the-seemingly-old philosophy: the new floral drapes look as dated as the ones they replaced and electronic intrusions – minibars and television sets – are carefully stowed out of sight behind finely crafted wooden doors destressed to look antique. The enlargement of the pool deck required the garden to be moved back about ten metres. The job was tackled by numbering each plant and rock, and taking their coordinates, in order to ensure all was put pack precisely as-was.
Some of the hotel's more arcane house rules were changed as well. Now guests may settle their accounts by flashing – discreetly of course – plastic. The hotel had become quite (in)famous for only accepting cash or wire transfers, requiring guests to carry wads of banknotes. Wireless Internet is now also available throughout the property. The hotel's meticulously maintained and updated record of guests' preferences – complete with the aliases employed by royalty and lesser, but still notable, mortals – is now being computerised. The advent of modernity did, however, stop at the door: card keys have not made it to the Hotel du Cap-Eden-Roc where shiny brass keys remain de rigueur. The rock side cottages – available at €550 per day – still lack both running water and electrical power. Some things are just not meant to change – ever.