How business is benefiting from the genius of women who have chosen to run their own enterprises in London
By Jason Agnew
Business Vision's JASON AGNEW meets with three female entrepreneurs and discovers that behind every great city, there are great businesswomen…
London has always had an association with ambitious young women, many of whom have gone on to scale the heights of their respective endeavours.
From Boudicca, queen of the Iceni, who sacked the fledgling Roman commercial settlement of Londinium in 61AD, to Nell Gwynne, whose skills as a vendor of oranges caught the eye and won the heart of a king, the female contribution to London life in every sphere has been significant
In the world of business there was Madame Marie Tussaud who, having narrowly escaped the guillotine herself, crossed the English Channel in 1802 and spent more than 30 years touring Britain with her morbid array of wax death masks of those unfortunates who had failed to avoid the chop.
More recently, Dame Vivienne Westwood started off selling jewellery on a stall in London's Portobello Road market, went on to create the modern punk look, dressed the Sex Pistols, and ultimately created a multi-million-pound fashion empire, twice earning the accolade 'British Designer of the Year' without seemingly compromising her style.
If you believed the history books you would think that a woman's role has been limited to that of housewife and mother, but the reality is somewhat different and there has been no shortage of female role models and entrepreneurs over the centuries.
Today, in an age when many claim that London is again the world's leading metropolis, I met three young women who all came to London with a dream that they are in the process of turning into reality. These are their stories…
IRLANDA ZAPATERO
ByMusa (Luxury accessories for dogs)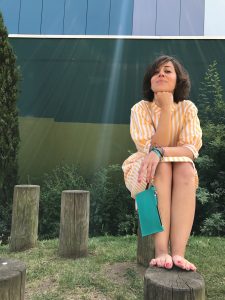 Irlanda Zapatero was born in Zaragoza, ancient capital of the Kingdom of Aragon, and, while very young and still living at home, managed to win a contract supplying her jewellery to Spanish retail giants, El Corte Ingles.
She then transferred to artsy Sitges, near Barcelona, where she opened a clothes shop, convinced that there was a bigger market for fashionable apparel than for accessories.
"That was a big mistake, but I learnt from it," she confesses with a wry smile.
Never one to admit defeat, she upped sticks and made the bold move to London despite not speaking English.
"I moved to London eight years ago with the purpose of learning English and selling my clothes to the world. However, in eight years a lot of stuff can happen and I realised that clothes and accessories for human beings were everywhere.
"Also, learning the language was not easy for me and took a lot more time than I thought, and that slowed things down."
Irlanda possesses very expressive Iberian features, smiling and rolling her eyes as she describes every setback and obstacle that she had to overcome, so I ask her what she did next to develop her business skills.
"What didn't I do? I studied fashion, photoshop, Illustrator, I worked in so many different jobs to support myself and sustain my dream, did a lot of bar work – which really helped with my English – and found jobs in various fashion retail stores to stay in the field. I learnt so much about how other businesses work and where I had gone wrong with my shop."
She pauses, suddenly changing from effusive to reflective, melancholic even.
"A couple of years ago, my dog died, my constant companion and inspiration, and I promised her that I would make a brand in her name, in her honour, and ByMusa was born."
Irlanda is insistent that ByMusa is fair at every stage of the process. I ask her what she means by that.
"When I started doing research, I had a clear idea that I didn't want to outsource to China or India to cut costs," she explains.
"If my business is based here I am going to do everything here. I want to help local businesses the way local customers help me.
"I design here, the workshop where I make the collars, leads and purses is in Dalston, east London. I source my leather in London (some is Italian but mostly English), I print the fabrics here, I sew my raincoats here."
She adds that she would like to use only environmentally-friendly products but that's not yet possible.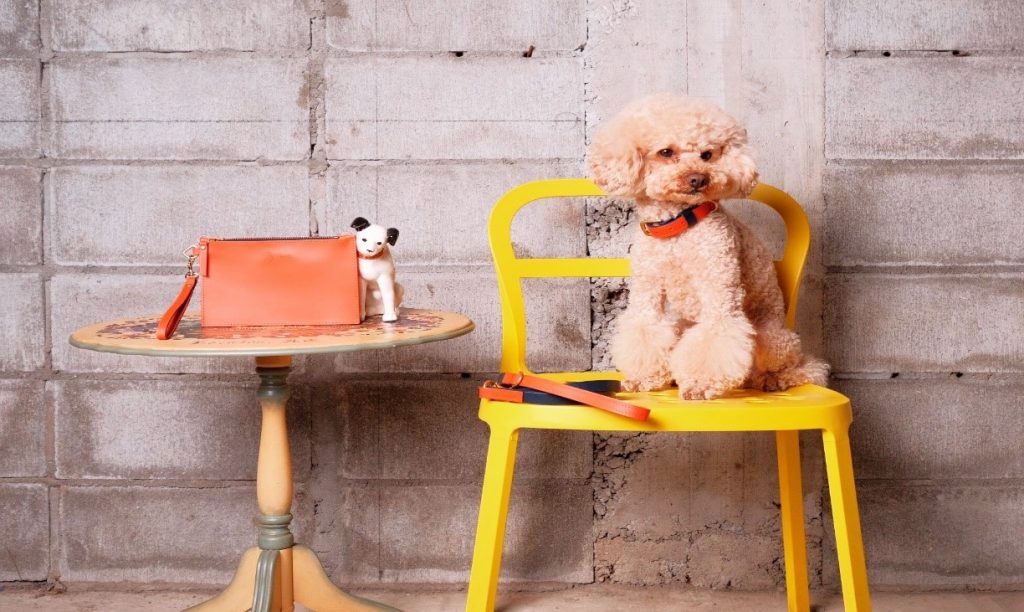 "Because my products are for dogs, I can't use soft fabrics, and, so far, I haven't found any tough ones – but I keep looking!"
Once again, she shows her indomitable spirit when questioned in the stylish surroundings of a cafe in trendy Westbourne Grove – a stone's throw from fashionable Notting Hill.
I dare to ask: "Would this kind of area be your target market – rich people who spend more on their fur-babies than most people can on their real babies?"
She reacts with instant animation to my loaded question.
"My target market is stylish people between the ages of 25 and 99 who know what unconditional love is! Single people whose dog is everything to them, childless couples where the dog is the child, families with big houses, children and dogs, with a nice income who like their dog more than most people, who like fashion and quality."
We turn the conversation to how business is going in terms of sales, her plans, whether she intends to stay in London, open a shop, sell online or even return to her native Spain.
"I've just started and it's hard being a new brand but when I get an order, I love sending out the parcel and always kiss it. Little by little, more people are learning about ByMusa," she reveals.
"I love London – it's home. I love the crazy mix where you can see a Balenciaga exhibition in the morning, have lunch in an Indian restaurant and then go for a walk in the Japanese garden in Holland Park. I'm not a fan of the weather but I do love it when it's a tiny bit sunny and everyone starts smiling. Best of all it's only two hours away from my papa in Zaragoza.
"I would love to stay but nobody knows what's going to happen with Brexit, so if this city stops being marvellous, then I will go with my cats and my English boyfriend.
"I sell online as it's the future, isn't it? At least it is in this city where it's impossible to afford the rent. I'm talking with a few department stores about stocking ByMusa so fingers crossed."
Finally, last word to Ms Zapatero on her ambitions for the future.
"ByMusa is a luxury brand. It is going to be the Prada of the canine world. I will give a percentage of my profits to dog and cat rescue homes and ByMusa will help give a better life to lots of animals. I sell quality and luxury to the fortunate ones to give some quality of life to the less fortunate ones.
"This is my dream and gradually it is coming true."
With that she gets on her bike and takes her infectious zest for life somewhere else.
MARIJANA DEBELIC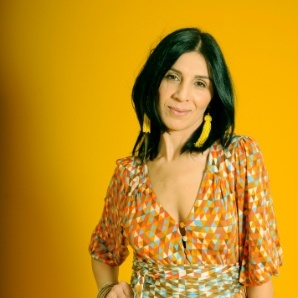 Marijana Debelic came to London in 2004 on a working holiday and, within a month, knew she was never going back.
"I loved everything about the city – the architecture, the people, the culture, the music, the opportunities, and the ease of travel to other countries, including my own dear Croatia," she says.
Marijana was born and grew up on the small Adriatic island of Rab. At 15 she left home to study at the School of Economics in the nearest big town, Rijeka. Soon after, the Yugoslavian civil war broke out and she fled with her then boyfriend, who was of Croatian/Bosnian extraction, to Germany, where she spent two years as an illegal immigrant, an experience she describes as, 'painful and humiliating'.
Refused residency, she moved to Australia, where she spent six years before that life-changing visit to London.
I ask Marijana how she got into property.
"It was completely by coincidence," she smiles.
"I got a job as an accounts clerk in an estate agency and soon spotted an opportunity to study to become a property manager. Later, I joined a property development firm where I learnt on the job and managed to become a project manager/interior designer.
"It was an instant fit for me – I fell in love with the job as it allowed me to be creative while earning a decent living at the same time."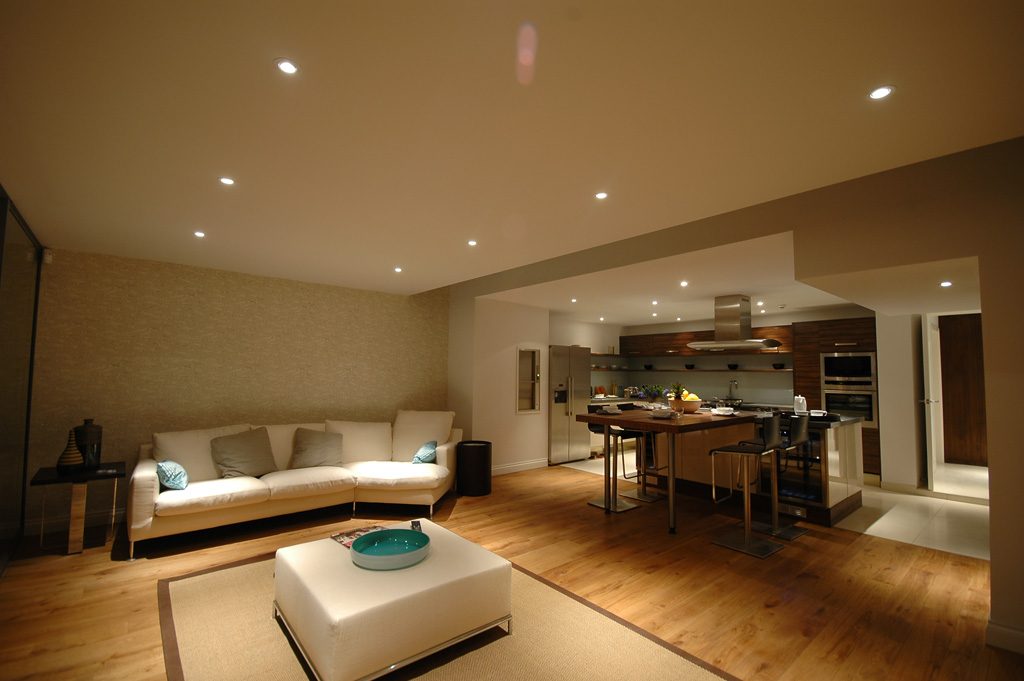 Her love for the job and comfort in the role soon gave her the confidence to look at setting up her own business, but not before fate intervened and forced her hand.
"After eight years giving my all for the property developers, I had a baby and they laid me off as they felt I wouldn't be able to give as much," she recalled.
"This is the kind of unfair treatment and discrimination that women experience all the time even in a 'so-called' civilised country. I was devastated but, as is often the way, it turned out to be the best thing that ever happened to me professionally."
She goes on to explain further in her impeccable English, perfected in the cutthroat world of London real estate.
"It was daunting but I started up on my own," she said.
"It helped having a supportive partner (Robin, a Welsh chef) but I enjoy being my own boss and I can provide for my family financially and organise my day to spend as much time as possible with my beautiful daughter (four-year-old Georgie).
"It can be frightening and extremely stressful having to constantly worry about the next month but I wouldn't change it."
So, how does Marijana see her future and the future of Goldborne Design in the current climate?
"Confused and not really sure what to expect," she sighs.
"I am very optimistic by nature and feel that I won't just be asked to leave after paying tax in the UK for thirteen years and owning a flat here. If it does happen, I won't be worried as I've made it here and would be quite happy to move to pastures new.
"London isn't the same city I fell in love with all those years ago, which makes me very sad. My daughter is British and will never have the same issues I've had but we are feeling an impact on the economy already and one thing all the setbacks I've experienced has taught me is not to be afraid of change."
CARMEN MACHADO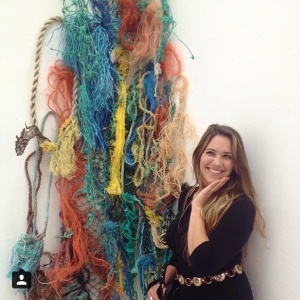 Carmen Machado's childhood on the Caribbean island of Puerto Rico inspired her to come up with a unique and creative idea. Snorkelling while growing up, she realised the devastating impact that industrial fishing and the dumping of waste was having on local marine life.
This galvanized her to retrieve the discarded fishing lines and netting and transform them – you would never guess the origin of the finished product –  into exquisite woven textiles to use in upholstery for outdoor seating as well as objets d'art.
"I was always interested in textiles – my father collects antique carpets so I was exposed to textiles from a young age," she explains.
"I took my first weaving class during my Bachelors at the school of the Art Institute, Chicago, and instantly fell in love with the process. I find the whole concept of starting with a single thread and ending up with a unique piece of cloth very rewarding."
Having a British mother, which entitles her to dual nationality, and recognising London as a major creative centre, Carmen then decided to enrol in an MA course in Textile Design at the prestigious Chelsea College of Art and Design. After successfully completing the course, she was the recipient of the 2016 The Cockpit Arts/TheClothworkers' foundation award – the UK's only business incubator for craftspeople – which affords her studio space in Deptford, serviced office facilities and public selling and profile-raising events.
"I am now in my second year of producing and showing my work and am currently setting up my online store. My products are made-to-order furniture, particularly outdoor seating," she said.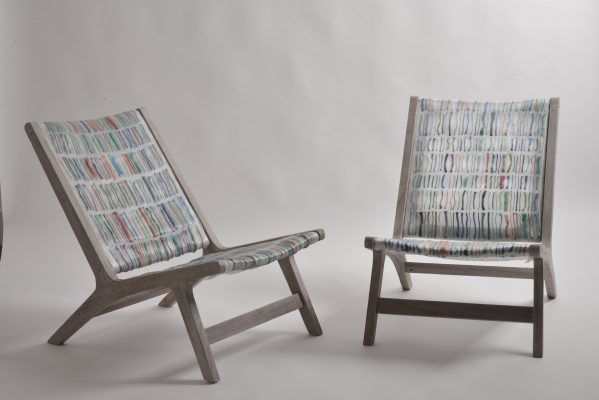 "I'm producing and selling out of Deptford. I've received a lot of positive press in the last year including two industry publications. I'm at an early stage in my business so apart from exhibiting at the London Design Fair and the upcoming New Designers, I am focusing on further developing my product range of woven textiles made with retrieved ghost netting."
Carmen is also collaborating with a woodworker to refine her furniture designs, and there have been a few design challenges along the way.
"I feel that now, after two intense years working on the product, it is finally ready," she adds.
Carmen plans to stay in London for the foreseeable future as 'it is a really great place for entrepreneurs and that level of support is not easily found in other places', before eventually moving closer to the coast to facilitate the collection of marine debris.
I the interview up by asking Carmen what her ultimate business ambition is and how she plans to realise it.
"My ultimate business ambition is to have a furniture/textile line that not only spreads awareness about ocean pollution but helps in re-using the debris so that it does not harm marine life or end up in a landfill," she concludes.
"I plan to donate a percentage of sales to marine conservation and scale up my beach cleaning efforts to have a greater reach."
All three of these young women have demonstrated not just passion but also business savvy, and have brought individual qualities and visions to their respective fields.