George Clooney isn't just a pretty face. It turns out the Hollywood heartthrob is also a shrewd businessman…
By Darren Parkin
WHEN celebrated actor George Clooney and a couple of friends were passing the time distilling some homemade tequila one lazy spring, it's hard to imagine any of them would have thought it could be a billion-dollar business.
However, as is often the saying in Hollywood – anything can happen.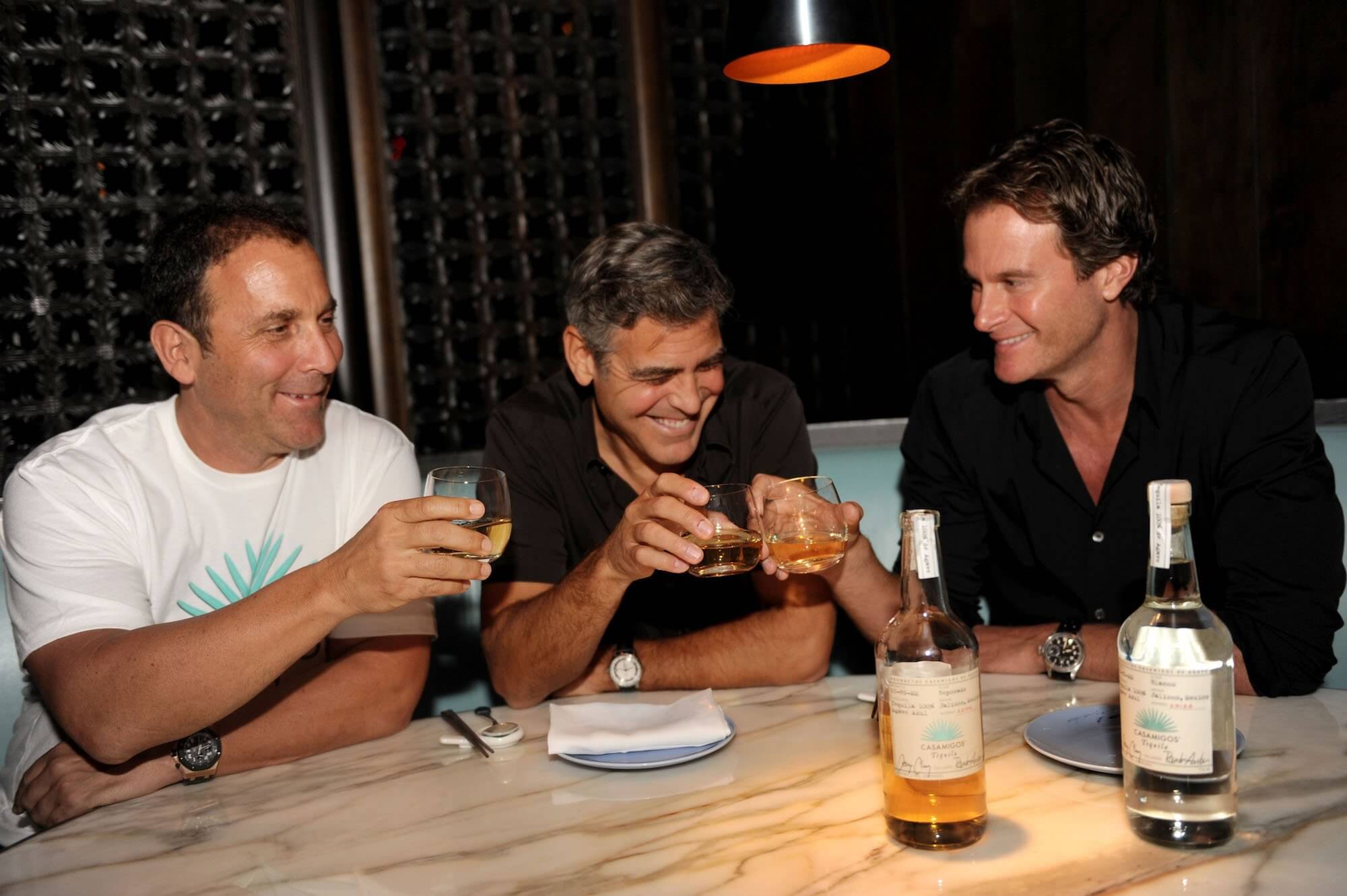 Clooney was enjoying some time off in Mexico with pals Rande Gerber (Cindy Crawford's husband) and property developer Mike Meldman when the 'three amigos' decided to have some fun making their own tequila. It turned out they were rather good at it.
At first, their desire appeared only to be able to enjoy bottling the clear spirit and gifting it to neighbours and friends near their Mexican holiday homes. Soon after the first batches were distributed, local law dictated their amateur distillery required a permit which, by a curious stroke of legal luck, automatically established their well-meaning enterprise as a legitimate business. Baffled, the trio were pressed for a name, eventually settling on 'Casamigos'.
As the months went by, the sudden 'officialness' of what had been a whimsical hobby planted the seed of an idea. The wealthy band each chipped in $600,000 and set about a mission to develop the very best tequila they could possibly create. What began as 'a bit of a laugh with the guys' suddenly turned into a serious business venture fuelled by a passion to succeed, and plenty of tasting sessions.
"We love tequila – on the rocks, by the shot, at times straight from the bottle," enthused Clooney as they decided to launch 'Casamigos' in 2013.
"Our idea was to make the best tasting, smoothest tequila, whose taste we didn't have to cover up with salt.
"We worked on the creation of Casamigos Tequila for over five years with our master distiller in Jalisco, and conducted blind tastings with friends until we knew we got it right."
Well, the portents of 2013 clearly had good taste, because it looks like George Clooney and his friends certainly did get it right – in business terms at least – because UK-based drinks firm Diageo have just bought Casamigos for a staggering £790m ($1bn).
Diageo – the heavyweight behind international brands like Johnnie Walker, Smirnoff and Baileys – identified the start-up as the fastest-growing super-premium tequila brand in the USA. It paid $700m up front, with a further $300m waiting a decade down the line if the celebrity-endorsed spirit delivers the performance the buyers expect.
The deal includes clauses that ensure the founders will continue to promote the brand, so expect plenty of Nespresso-style TV adverts featuring Clooney himself.
Casamigos is sold in three premium varieties in the range of $45 to $55 a bottle which shifted 120,000 nine-litre cases last year, with a projection to finish this year with at least 170,000. Diageo are expecting to quadruple this figure by 2020.
"If you asked me four years ago if we had a $1bn company, I don't think we would have said 'yes'," Clooney announced following the deal.
"This reflects Diageo's belief in our company and our belief in Diageo. But we're not going anywhere – we'll still be very much a part of Casamigos, starting with a shot tonight. Maybe two."
On the face of it, the deal looks like tremendously good business for all involved. From Diageo's point of view, they have a brand which is doing extremely well in the US, but has guaranteed global appeal with the endorsement heritage of one of the world's most famous actors, who just happens to be one of the people who came up with it in the first place.
Ivan Menezes – CEO of Diageo – has already said his goal is to take Casamigos into Europe and other world markets in order to 'capitalise on the significant international potential of the brand'.
Diageo is clearly banking on tequila becoming the next big fashionable 'premium' drink. They recently bought Don Julio from Casa Cuervo, with Bushmills Irish Whisky travelling in the other direction. Diageo already has DeLeon and Peligroso in its high-end tequila stable.
While many investors will argue Diageo are going into this with the distinct swashbuckling hue of a gamble, the figures do point to the odds being stacked in their favour over the coming years. The emergence of the premium drinks market, coupled with tequila seemingly shaking off its image as the party mixer stuck at the back of the drinks cabinet for years on end, are solid ingredients for a profitable cocktail. Tequila sales shot up by 5.2% last year – a clear spike in a spirits industry whose average growth across the board was little more than 0.3%.
The Casamigos deal certainly won't harm George Clooney's wallet either, particularly as the company is set up between the famous trio and the distiller. It is understood the company was established purely with the stakes of Clooney, Gerber and Meldman, therefore there is no risk from outside investment prior to the acquisition.
That adds up to a startling bit of business. The opening $700m payment from Diageo, split three ways, leaves $233m each, pre-tax. After the US Government has taken its cut, it leaves Clooney and Co with a cool $140m each, with the possibility of raking in another $100m a decade hence, should the brand perform as expected.
Of course, the entire situation begs the mildly cynical question: 'Is this deal going ahead because three men have created the greatest tequila ever made, or is it because one of them is George Clooney and, frankly, this stuff could taste like cockroach juice and nobody will care because a Hollywood golden boy is drinking it, therefore everyone else will?'.
The only sensible answer, of course, is that Casamigo may well be a splendid drink – to some. It may also be unpalatable nonsense – to others. But, at the end of the day, this is a business deal where the main players probably don't care if everyone falls to their knees and worships at the altar of salt and lime before offering their tequila libation to the gods of Diageo, or not.
The winner here is business itself. Because, like the product or not, it will make the very thing that makes the business world go round. And plenty of it too.