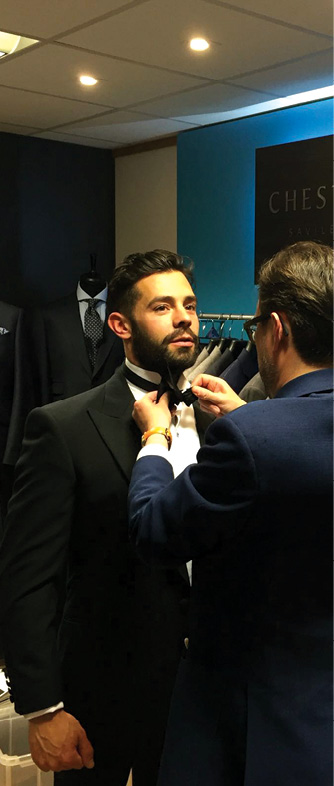 A social media personality, British television presenter Charlie King has a direct line to over 420,000 people who signed on to his Twitter feed. Mr King has worked at ITV News and London Live TV. He also made numerous appearances on ITV Daytime, ITV2, and ITVBE promoting a healthy lifestyle. Mr King is an up and coming fitness model and graced the cover of fitness and health periodicals. He debuted on television as a participant in the British hit television reality show TOWIE – The Only Way Is Essex. CFI.co asked Mr King to visit Saville Row and find out how the world's rich and powerful – and those wanting to attain that status – get dressed.
As a red carpet host and presenter I have had the privilege to attend many noteworthy events over the years. As such, I met a great many impeccably well-dressed people. This made me wonder: how and where does one acquire this absolutely spot-on look. In the pursuit of the gentleman's style, there is no denying that the classic dinner suit wins every time. It is timeless, classic, and has the remarkable ability to bring out another dimension to a man's persona.
I have always wanted to discover what it is really like – and, even more importantly, how it feels – to wear something especially selected and tailored to fit one's physique. Invited to assume the official role of red carpet host for this year's LGBT Awards in London's Grand Connaught Rooms, I knew that the moment had arrived to find answers to my questions: I needed to embark on a pursuit of the suit.
Hosted by Mel B of Spice Girl and X-Factor fame, actor and singer Duncan James, and yours truly, the LGBT Awards event was expected to generate considerable interest of the London press corps; its members unfailingly attentive to even the tiniest of wardrobe malfunctions, mismatches, or faux pas. We just had to look the part.
The LGBT Awards celebrate individuals, organisations, and charities who are proactively working towards inclusion and acceptance when it comes to diversity and equality. With headline sponsors RBS and the awards voted for by the public, there has been surge of interest in the event. Each year, the LGBT Awards Night grows in both scope and reach as it becomes better known. With people flying in from the US, Australia, and elsewhere just to see and be seen, the LGBT Awards have become one of the biggest nights on London's already well-stocked awards calendar.
This year's event saw the largest attendance yet. The press build-up to the evening was also significantly bigger than in previous years. TV appearances, radio interviews, and social media campaigns were carefully choreographed and scheduled to highlight the importance of the award – concrete proof progress is being made when it comes to equality and inclusion.
This year's ceremony was streamed live on social media with appearances from Queen guitarist Brian May, actor Sir Ian Mckellen, comedian Alan Carr, amongst many other stars and personalities.
So, for me to feel confident and deliver the best content to camera, I just knew that looks and the resulting presence had to be, well, picture perfect. I called a stylist friend for advice on what to wear. His answer was simplicity itself: "Charlie you want classic, sophisticated, mature and classy. You want Savile Row."
That was an eye opener of sorts. Not for a single moment had I thought the answer was to be on, of all places, Savile Row. However, I soon found myself, and my persona, entrusted to the professionals of Chester Barrie – founded in 1935 by English tailor Simon Akerman and located at No 19 Savile Row.
Chester Barrie was the first tailoring house to bring ready-to-wear clothing to The Row – at the time, an act not entirely devoid of subversive dimensions. Number 19 acts as Chester Barrie's flagship establishment for the brand, showing the clothes and accessories at their level best and serving an international clientele.
Chester Barrie flourished as an independent business for over forty years, establishing a solid reputation echoed far beyond British shores. In 1978, the company became part of the Austin Reed Group which continued to develop the brand and took it into licensing. In 2000, it was sold on again and passed through a number of hands before the fashion and retail specialists of Prominent Europe took over the business in 2007 with a view to reinvigorating the Chester Barrie brand.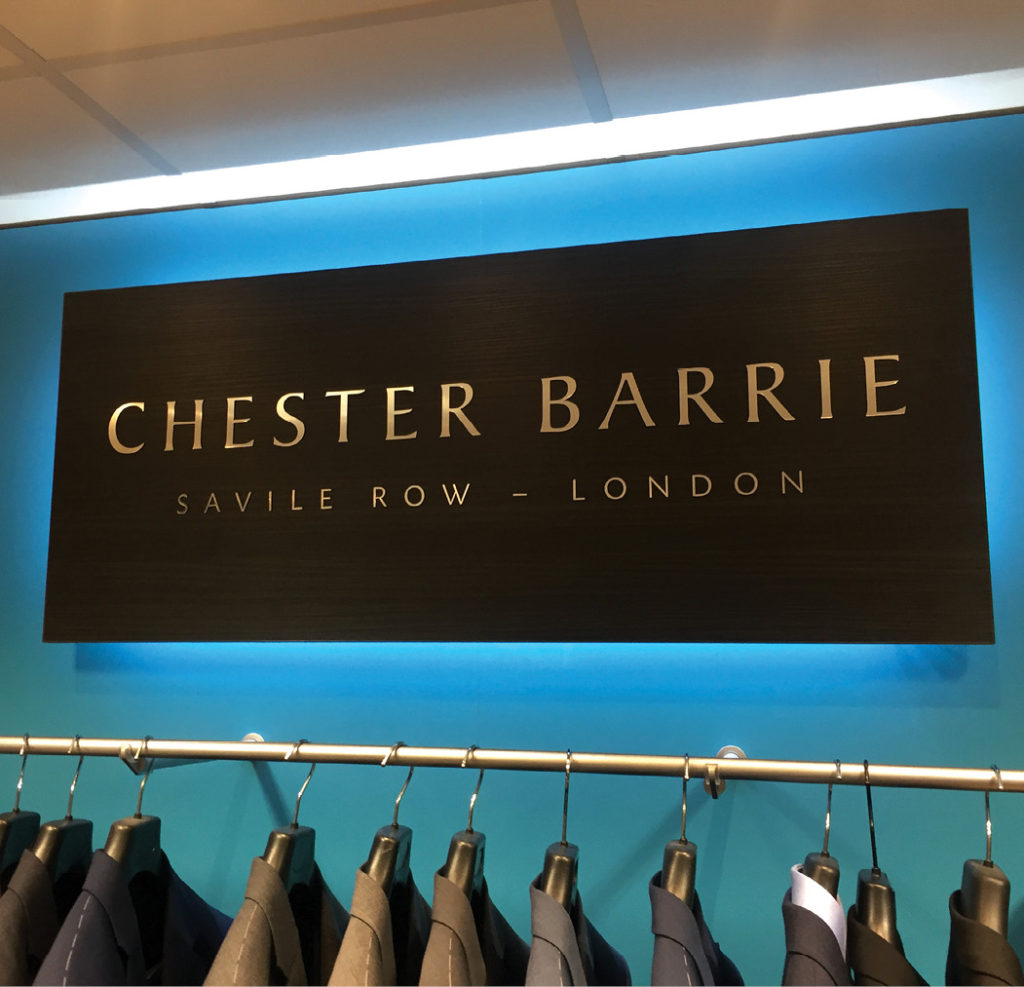 Savile Row, legendary, fashionable and very chique, maintains an air of understated confidence. An immaculate street, Savile Row is lined with shops featuring marble marquees, immaculate display windows, and a whiff of brass polish, rendering an unperturbed look. This is not a place that subjects itself to the vagaries of passing fads or momentary fashion statements.
Savile Row shops offer a wide range of attire delivered with a personal service and touch like no other. It is where the discerning gentleman heads to when serious about wishing to look and feel smart. All revolves around the fabric and how it makes you feel. Suffice to say that I felt incredible in my Savile Row suit.
On meeting senior creative director and buyer Christopher Modoo – architect of what some have called the Chester Barrie Revolution – my anxieties instantly evaporated: I was in good hands. Taken downstairs to where fittings take place, I was asked what look I aspired to.
That was a rather simple question to answer: as a red carpet host, it is critically important to look good but to do so while not stealing the show. A stylish understatement was called for. Of course, it is more about who I'm interviewing than about me. All the same, I wanted to feel good, handsome, and – quite possibly – part of the elite. A good suit makes a powerful statement: it has a firm place in the male wardrobe and speaks for itself.
On finding out a little more on Chester Barrie, I asked Mr Modoo how the Savile Row suit compares to the designer labels available on any high street. He didn't skip a beat and promptly replied that a Savile Row suit is in a league of its own: it is about the individual wearing the suit and how it fits the body properly.
Any man may visit a department store and purchase an Italian designer suit. However, that won't even come close to a suit procured on Savile Row where the cutting is still done by hand, although to average measurements rather than to a pattern designed for the individual customer.
Chester Barrie's ethos is quality over quantity. However, the company also wants Savile Row to be accessible and offer an all-in unique experience. The expertise of finely honed skills and unsurpassed excellence in customer service are the two main pillars that sustain the street. Savile Row's enduring success entails less tangible elements as well: tailors know that their trade is about making the person wearing the suit feel comfortable and self-assured: "We want you to feel alive in the suit," says Mr Modoo.
Saville Row offers a living testimony to London's unique position at the very apex of the world's metropolis. Simply put, there no other city quite like it. Renowned and celebrated for its many traditions, rich history, and air of self-confidence, London is the preferred destination of the rich and famous and all those aspiring to reach that rarefied status. Hence, it is no wonder Savile Row became a global institution with clients flying into the city from far and wide to visit its shops. In an analogy of the parable involving Mohammed and a mountain, some gentlemen pressed for time, have tailors flown to far-off places to take measurements in-situ.
Even though elite and seen as producing attire destined for the über-wealthy, tailors such as Chester Barrie also sport a range priced more reasonably. For example, the establishment's high street suit collection Chester…by Chester Barrie starts at a mere £350. A more exclusive range is priced from £1,500. Regardless of price, Chester Barrie's house style is standard in all the firm's ranges: a suit that shapes the body – structured and three-dimensional. A Savile Row suit flatters the gentleman and his body with broad shoulders and narrower at the hips.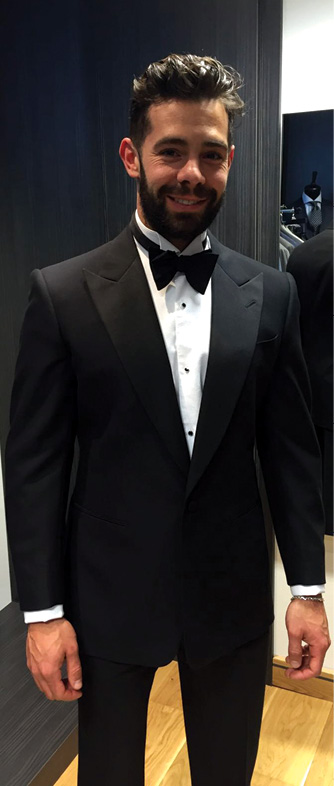 Chester Barrie currently have multiple concessions in selected House of Fraser department stores where the company offers its ready-to-wear tailoring in addition to its made-to-measure service. As such Chester Barrie has taken its brand outside of London with facilities in Belfast, Cheltenham, Glasgow, Guildford, Manchester, and Norwich besides a presence at an expanding number of distinguished retailers elsewhere.
Savile Row has built its formidable reputation by dressing certain types of quintessentially middle-aged gentlemen. Over the years, patrons included Sir Winston Churchill, Cary Grant, and Frank Sinatra who were attracted by the brand's classic tailoring, exquisite fabrics, and fine attention to detail. Over the last few years, attention has shifted to the younger gentleman. Mr Modoo is convinced that the classic suit isn't going anywhere: even though most men do not wear a suit every day, that doesn't imply they lack the knowledge of how to wear one should the occasion call for one.
I have to be honest: until recently, I didn't possess that knowledge. I didn't think Savile Row was accessible to me. It is quite amazing how being in trusted hands makes one more comfortable to experiment with looks. I found myself eager to experiment with different fabrics, colours, patterns, and – inevitably – bow ties. Being measured accurately for the first time also made me realise that previously the suit wore me as opposed to me wearing the suit. After my fitting, and gaining a wealth of new knowledge, I felt surprisingly and wholly confident that I was all set to look the best I possibly be. As such, I couldn't wait for the LGBT Awards night to come.
When it comes to spending on big ticket items in economically uncertain times, purveyors of high-end luxuries feel the pinch more than others do as even the rich roll back extravagant spending. Tailoring is a trade which may perhaps not be booming; it definitely holds its own when it comes to testing times.
The plain truth is there will always be a demand for quality. Likewise, there will always be someone willing to invest in any product or service offering an exceptional feel-good factor – especially if it helps them reach for personal heights not otherwise attained.
Where Savile Row stands secure and proud is that the levels of service and experience on the street are peerless. In fact, Savile Row enjoys such a name, that it has become a tourist draw: even those not in the market for a suit, visit the street just to gawk at the display windows of the famous and celebrated tailors. An institute of Britishness as few others, Savile Row has stood the test of many unsettling times to show and prove that the power of the suit resides not just in the person wearing it, but in the indefatigable Row that stands behind it – unwavering and dedicated to perfection.