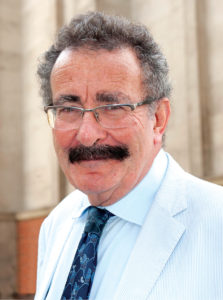 It takes a rare talent to straddle science and the arts, but Professor Robert Winston can lay claim to this fame. A pioneer in fertility treatment since the 1970's, he juggles a mind-boggling portfolio of roles across both worlds – including professor of Science and Society and emeritus professor of Fertility Studies at Imperial College London and chairman of the Genesis Trust – which funds research into the health of women and babies.
Prof Winston is also chair of the Royal College of Music Council, a one-time award-winning theatre director, a TV presenter, author, and politician – he was appointed a Labour peer in December 1995.
His prolific TV career includes BAFTA award-winner The Human Body, and Child of Our Time – a ground-breaking and ongoing BBC documentary charting the lives of a group of children, all born in 2000, as they grow to the age of 20.
Raised an orthodox Jew, Prof Winston has found himself in the middle of the debate between science and religion – although he doesn't see it as a clash of two opposing paradigms, and believes the debate to be largely artificial.
"Both are important, both reflect on some aspect of our personality, both reflect our humanity, both are needed and they shouldn't be seen in competition with each other," he told the BBC in 2010.
He presented The Story of God, which first aired in December 2005, exploring the development of religious beliefs from the three Abrahamic faiths and the issues around belief in God in a scientific age.
A prolific author, Prof Winston has more than 300 scientific papers on human reproduction and early pregnancy to his name. One of his many books, The Essential Fertility Guide, was published by Quadrille in September 2015.
He was married in 1973 to Lira Helen Feigenbaum (now Lady Winston), and the couple have three children – whom the professor regards as his best achievements.
With a string of high ranking positions, memberships, and awards, and with characteristic grace, Prof Winston says he is most proud of the work for which he is best known – helping infertile couples.
The gynaecological surgical techniques he developed in the 1970s boosted the success rate of fertility treatments, and he pioneered improved IVF treatments enabling screening for genetic diseases – allowing parents carrying faulty genes to have children free of illnesses such as cystic fibrosis.
Professor Winston runs a research programme at the Institute of Reproductive and Developmental Biology, focussed on transgenic and gamete biology, which by injecting one man's sperm into another may result in infertile men being able to father their own children.
Outreach is a big feature of Prof Winston's work – as well as a myriad of public lectures, he founded the Reach Out Laboratory in Imperial Collage – which brings schoolchildren of all ages into the university for practical science sessions and to debate the issues raised by science and technology.
Prof Winston was a council member of the Imperial Cancer Research Fund and Cancer Research UK, and until 2013 was a member of the Engineering & Physical Science Research Council where he also chaired the Societal Issues Panel.
Rarely can one man excel at many things – but with his stupendous range and energy, Professor Lord Winston shows it's not impossible.